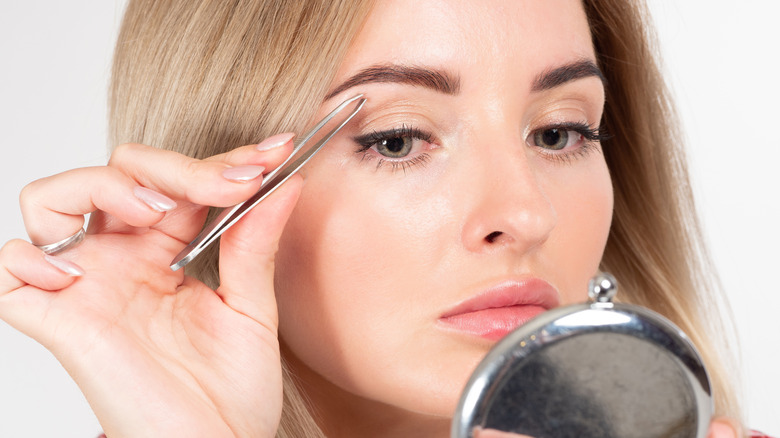 FOTOGRIN/Shutterstock
By Louisa Marshall/Aug. 27, 2021 2:02 pm EDT/Updated: Aug. 27, 2021 2:23 pm EDT
If you've fallen into the dark hole that is skincare TikTok, then you know that there are some trendy habits to follow. If you've stumbled upon ASMR TikTok (that's auto sensory meridian response), the popping of balloons, detailed culinary videos, and heightened sleep noises have probably taken you to new heights of satisfaction. But what if these two trends came together and created a social media algorithm that showed you the best of skincare, while also presenting the most satisfying products with some fantastic results? Well, you're in luck because, while it may take some time and patience on your end to finally reach that TikTok algorithm that presents you the best of both worlds, we've done some digging to find the most satisfying beauty products and habits that need a place in your routine.
When we say satisfying habits, we don't just mean cleansing your face regularly or making sure you use the right moisturizer — most skincare fans already have those habits down. What we're talking about is that one face mask that is just so satisfying to peel off the skin, or the nail polish that comes in pen form so you don't have mistakes spilled over your cuticle. So buckle in, because these are the oddly satisfying beauty habits you need in your life.
You should always keep blotting paper in your purse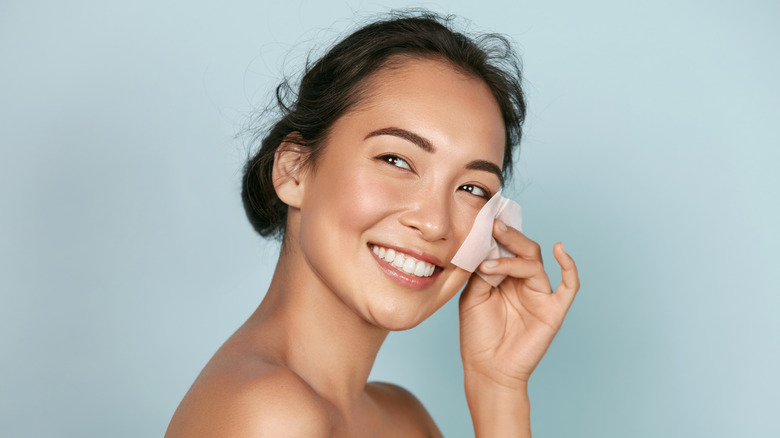 When it comes to oddly satisfying beauty habits, few rival the effectiveness of using blotting paper. As noted by Vogue, blotting paper ranked up there given the product's ability to soak up oils in a super pleasing way. What's great about using oil-blotting paper is that you can keep your skin looking fresh and vibrant, but you don't have to rely on mattifying your face with setting powder. If the dewy look is more your vibe, then blotting paper is definitely for you. 
As Vogue added, blotting paper is a lot more effective than using a tissue or paper towel to get excess oil off your face, as it's usually made with materials such as green tea, cotton, and rice. The combination doesn't cause nearly as many breakouts, and the oil is basically zapped away from the face. Plus, there is something oh-so-satisfying about pulling that oily blotting paper off the skin — come on, we know you can picture it. If blotting paper sounds like the habit for you, try the Tatcha Aburatorigami Japanese Blotting Paper or the NYX Professional Makeup Blotting Paper, as recommended by Byrdie. The latter goes for just $4.
Start using pimple patches at night and it will change your life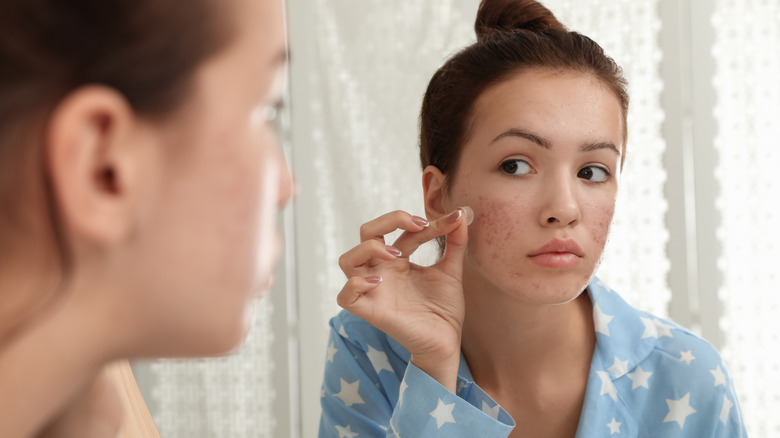 We all get zits, but there is a super-satisfying habit that you need in your life when it comes to battling acne. As noted by Vogue, incorporating pimple patches into your beauty routine can save you time, energy, and makeup products that would be used to cover up the redness that is a pimple. What's even better about utilizing a pimple patch is that it stops you from picking at your breakout which, if you're experienced in the unhealthy habit, you know that picking can cause scarring (and no one wants that). What's more is that it's super satisfying — granted in an odd way — to pull a pimple patch off your skin. 
As described by Vogue, the patch basically works as a "vacuum" and just gets all the gross gunk out of your skin. Oddly satisfying? Yes. Effective? Absolutely. And you've probably seen the viral TikTok hack of using Band-Aids designed to heal blisters as pimple patches. The hydrocolloid patches are "ultra-absorbing," according to dermatologist Joshua Zeichner, and are a super effective way of battling a breakout. Plus, you get the satisfying job of peeling back the bandage to reveal clear skin, as noted by Men's Health.
Apply this satisfying peeling mask on your self-care days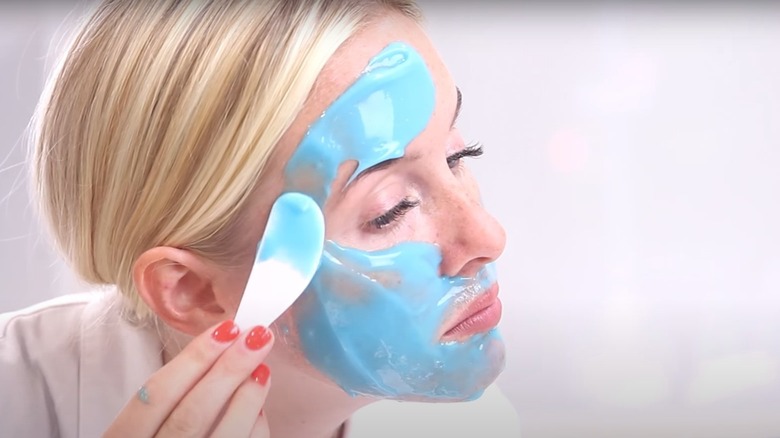 There's almost nothing more satisfying than washing off a face mask after a long day. Think about it — you get off work after a draining day, pour a glass of wine (for us 21 and older folks, mind you), and put on your favorite face mask while watching television. There isn't a lot of self-care that rivals such a beauty habit, but we're here to elevate your face mask game to the next level. Fashionista noted that there are a number of oddly satisfying face masks on the market (and we'll get into a couple more further down) but, in order to take your gratifying beauty habits to a heightened state, you should try incorporating the Hyaluronic Marine Hydrating Modeling Mask from Dr. Dennis Gross. 
What makes it truly something that needs to be in your beauty routine is that it's a "rubber" mask, meaning that it's super thick and slimy. The mask itself is bright blue, and has a "jelly slime" feeling made up of its primary ingredients, marine algae and hyaluronic acid. Taking off the mask is so oddly satisfying, that one customer called the experience a "science experiment" given how she had to mix the mask together, apply it, and then slowly peel it off.
Perfect the art of shaping eyebrows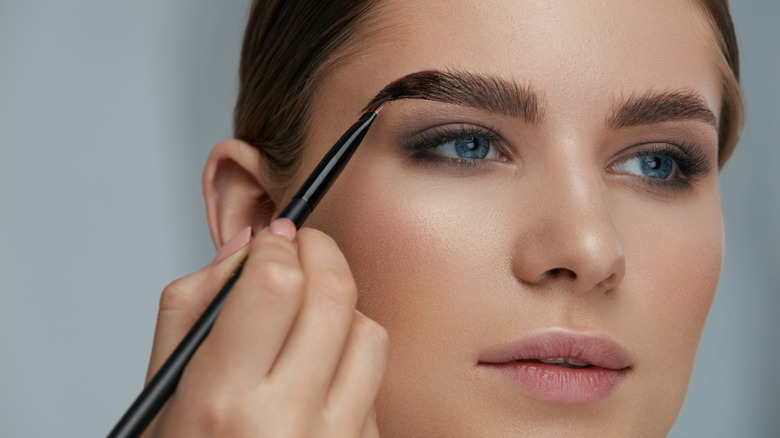 We all know that eyebrows are a staple of the beauty industry, and we're here to tell you that it can be oddly satisfying to master your arches on your own. Yes, going to a pro is a nice option, but why dish out all that money? As noted by Refinery29, you should tackle your brows by mapping out where the arch starts, where it peaks, and where it ends. To do so, you should utilize a brow pencil — a favorite of ours is the Instant Lift Brow Pencil from e.l.f., as it only costs $3 — and outline the shape that you want your brows to take. 
According to brow expert Jared Bailey, you should use different anchors of the face to map out your eyebrow shape, namely the nostril and the corners of the eye. After tracing out the shape, you can go in and tweeze the hairs that fall outside your penciled line. This beauty habit is a little bit more technical, but when you get it right, it can be so satisfying and it can save you a ton of money.
Reusable makeup remover wipes will transform your beauty routine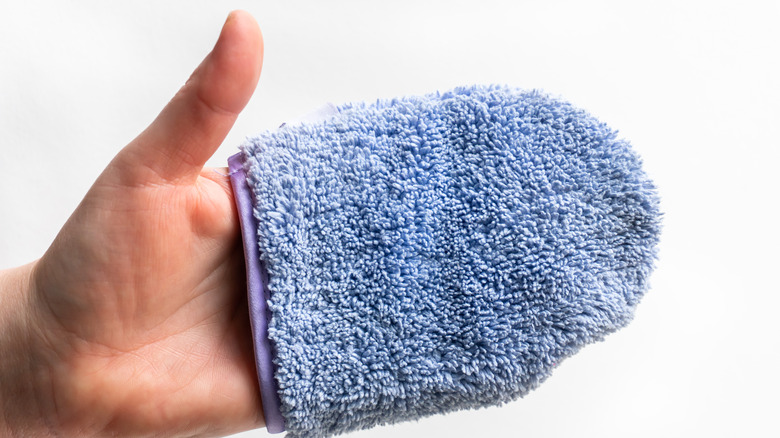 There is nothing more satisfying than taking your makeup off. The makeup remover wipe can be a good go-to in a pinch, but single-use wipes aren't exactly the best for the environment — a point that hits even harder when you know that there are more sustainable options. So, we have a solution to add to your beauty routine, and it's a great move for those of us who have the planet on our minds. 
As noted by Vogue, makeup remover cloths are here to make a big difference in your beauty routine, and your skin will absolutely thank you for it. Typically made out of a microfiber material, makeup remover cloths are "a fuss-free alternative to harsh makeup remover," and can even get rid of the toughest eye makeup or concealer. Not only that, but just think of the satisfying way your makeup will come off your face when you use the microfiber cloth to wipe away the day. If this oddly gratifying habit sounds good to you, opt for The Original MakeUp Eraser, which is reusable up to 1,000 machine washes — i.e., you'll have it for at least three to five years.
Exfoliate your scalp with a special shampoo once a week
It's safe to say that most of us are in the habit of shampooing our hair. While you definitely shouldn't be washing your hair every day (gotta maintain those natural oils), proper hair care is essential. But have you ever thought about exfoliating your hair and scalp? The answer for us was no, so this leads us to an oddly satisfying beauty habit that we will absolutely be adopting ourselves. 
The Amika Reset Jelly Exfoliating Shampoo is made up of a pink clay and refined sea salt, among other ingredients, according to Sephora's listing of the product. Ideally used once a week, this shampoo is essential for getting that super clean feeling we all want. This shampoo is great if you have an itchy or oily scalp, and the product leaves the hair "feeling ready for another week of to-dos." This oddly satisfying habit of exfoliating the hair may sound strange, but it's definitely worth trying out.
This foot peel will take a couple days to see results, but it's so satisfying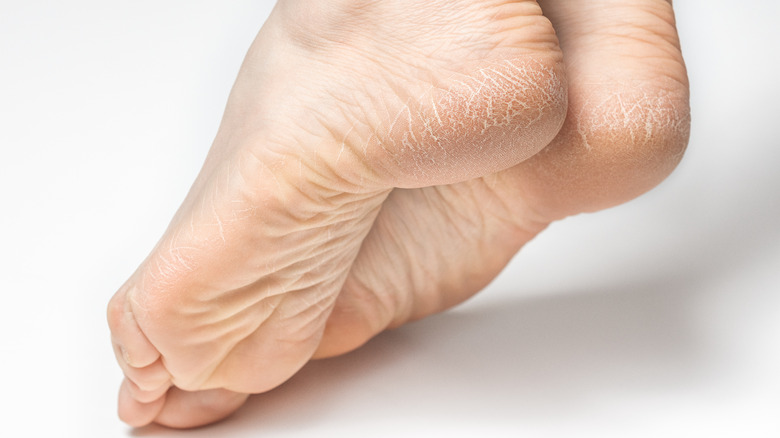 The area of your body you might be overlooking is your feet, but we have the most oddly satisfying habit to add to your arsenal. If you're into sort of gross videos like ones showing pimple-popping, you might have seen the foot-peeling videos, with results courtesy of the Baby Foot Original Foot Peel Exfoliator. The Baby Foot peel comes in the form of booties. All you have to do is simply slip the booties onto the feet, leave them be for an hour while you read a book, and then take them off and rinse. In five to seven days, however, you'll see some insane skin peeling going on courtesy of the booties, and it'll result in the most oddly satisfying experience you've maybe ever had. 
As noted by the product description on Amazon, the foot peel is made up of 16 natural extracts, such as chamomile, orange, and grapefruit. The acidity from the citrus "reduces the adhesive power between dead skin layers," and leads to the insane peeling that comes days later. Get into the habit of using this product every two months, and you won't be disappointed.
Using nail polish pens is a game changer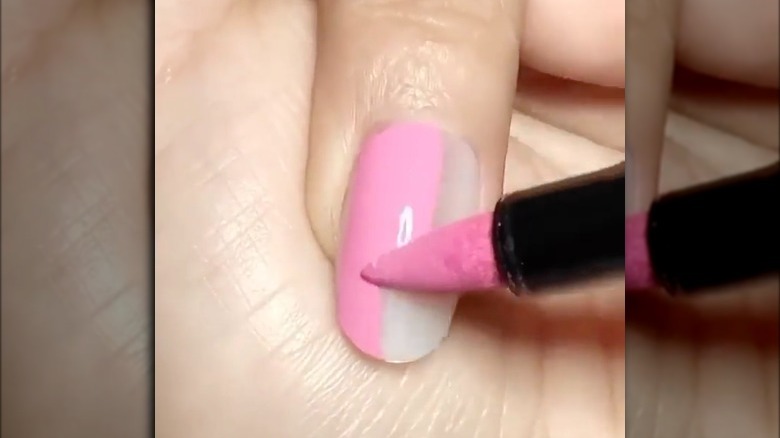 What is a well-rounded beauty look without nail polish? When your nails are done, it can elevate an outfit. Something about a perfect manicure just screams sophistication, but tackling the task at home can be a bit of a challenge. So, while you've been suffering at the hands of the unruly nail polish brush, we've been researching what oddly satisfying tool you need in your life to make a new habit. Look no further than a nail polish pen that will make your beauty life 10 times easier. 
A nail polish pen is pretty much exactly what it sounds like, as Allure noted in their review of Ciaté London's Mani Markers. Shaped like a chunky eyeliner pen that leaks out polish in a perfect swish, nail polish pens are the thing that you need in order to maintain that perfect manicure. Not only will your precision be 100% better, but it'll be so soothing to watch the polish go on the nail perfectly every time. BeBeautyMood posted their Real Nail Polish in Marker Pen product on Instagram, and we recommend that you click on the post just to get a sense of how soothing this habit truly could be.
This beauty habit is crucial in maintaining health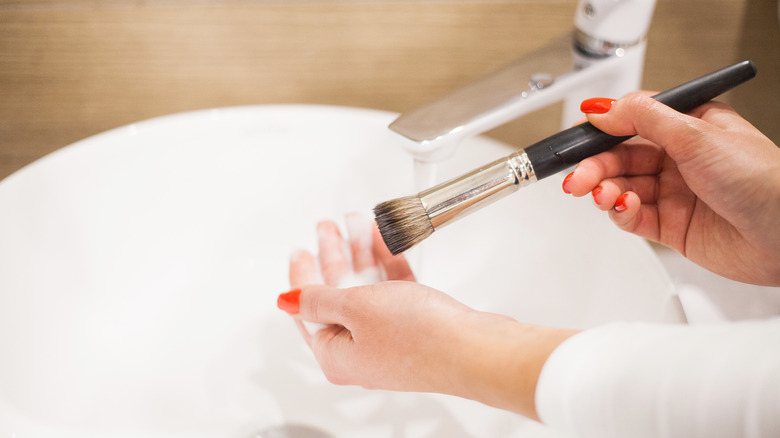 We have another super satisfying habit to add to the list: washing your makeup brushes. Yes, we absolutely think this counts as a beauty habit and, no, you're not washing your makeup brushes as often as you should (don't ask us how we know, we just do). According to Allure, dermatologists recommend that you should wash your makeup brushes at least once a week. The only exception, according to makeup artist Bobbi Brown, are the smaller brushes that are used around the eye area — even so, they should be washed at least twice a month. 
This task doesn't have to be a tedious one. Have you ever watched makeup product slowly pour out of dirty brushes? Have you ever used one of the specialized makeup brush cleaning pads to get all up in that brush? It's super satisfying, and kind of like vacuuming in a way; it's really gratifying to watch all that yuckiness wash down the drain. You can use water and just a regular gentle soap, or you can get a specialized brush cleaner. Either way, make this a part of your beauty routine.
You'll want to start exfoliating your lips with a lip scrub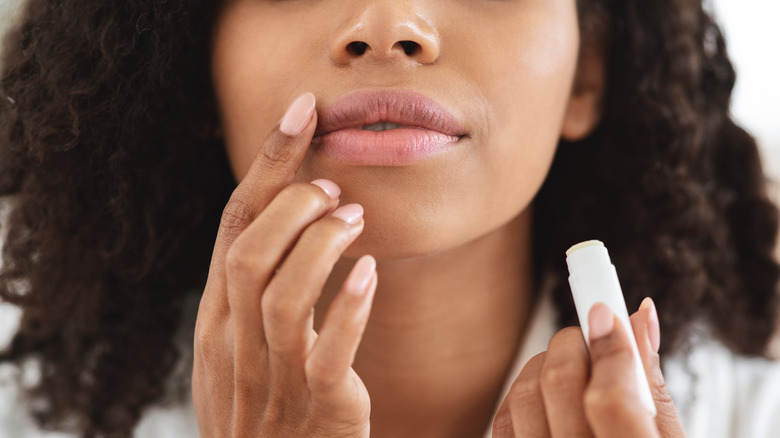 Exfoliating is a good way of maintaining the skin's suppleness, and it's super satisfying to watch all that dead skin roll off the surface of your body — it sounds kinda gross, we're not going to lie, but it is so gratifying. One of the areas of the body that you might be overlooking, however, is the lips. Lips are one of the most used areas. Think about it — every time you eat, drink, talk, or kiss someone, your lips are involved. As such, it's important to take care of them and that can start by incorporating a lip scrub into your beauty habits. 
As noted by Best Products, one of the best lip scrubs is the Agave Sugar Lip Scrub from Bite Beauty. With agave, pineapple, and brown sugar, the lip scrub targets cracked and chapped lips, and leaves them flake-free and moisturized. If you want something a little more convenient, the Lip Facial Lip Scrub from Tarte is in a pen form, so you can apply the scrub like you would a lipstick or gloss. It too removes dead skin cells, and it should be a crucial step in your beauty routine.
You should be exfoliating your skin on a consistent basis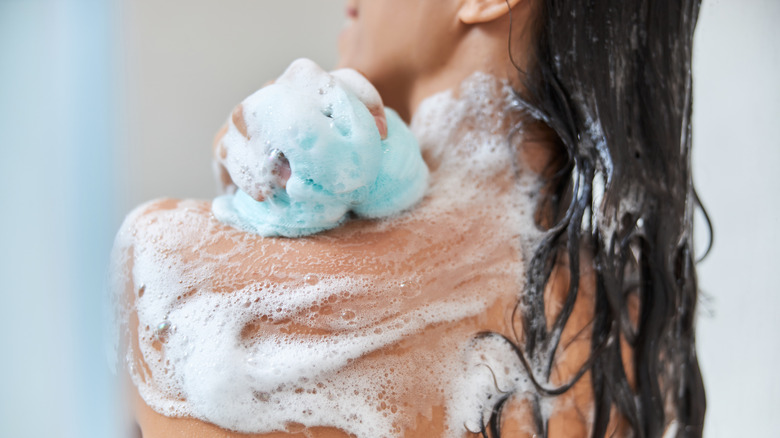 Speaking of rubbing away dead skin cells, have you stopped to consider that an oddly satisfying part of your beauty routine should just be exfoliating your whole body? According to HowStuffWorks, your body loses up to a million skin cells a day and, because of that, there can be some buildup. Exfoliating not only rids the body of dead skin cells, but it refreshes the surface of the body in a crucial way — not to mention that wiping off all that yucky buildup is somehow really satisfying. 
Dermatologist Kavita Mariwalla told Oprah Daily, "Exfoliation is about removing those older, compact skin cells to reveal the fresher skin underneath." All those skin cells have to go somewhere, so why not make it a part of your routine to habitually exfoliate and watch that dead skin go down the drain of your shower? Mariwalla shared that you shouldn't exfoliate more than once a week in order to preserve your skin's natural balance. But if you're not taking care of your skin and getting rid of that top dead layer, you're missing out on a satisfying habit with a lot of benefits.
Source: Read Full Article