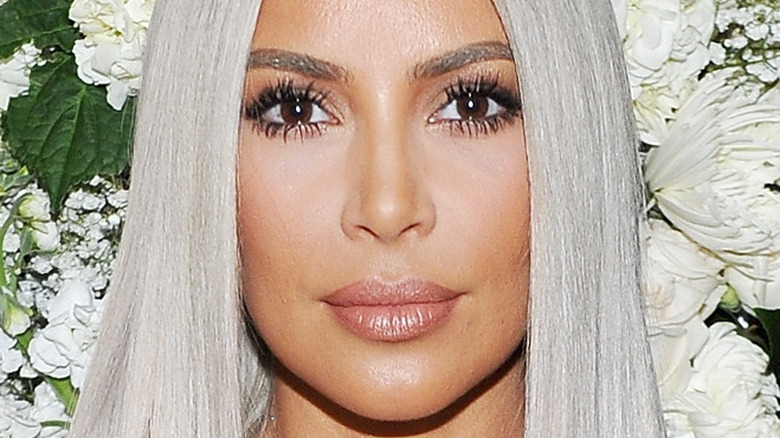 With the sleight of Kim Kardashian's stylist's hand, the reality star's locks are in a constant state of transformation, whether it's wet hair illusions, dreamy pastels or platinum blonde. Her go-to hair stylist Chris Appleton serves 50 different shades of Kim with the flair of an artist. It helps that the Skims founder and makeup guru doesn't just try out hair and beauty trends  — Kim's bloody vampire facial photo will always be etched in our memories — she immerses herself in them; she's even planned to expand into hair care in her rebrand for KKW Beauty (via Yahoo). But, as anyone who's found themselves in a coloring habit can tell you, the fabulous turnover of looks come with risks of damage and poor hair health.
However, as someone who takes prime spot in the discourse of beauty, Kim Kardashian's advice — well, her stylist's tips — on haircare are worth taking. She relies on a simple regimen that allows her to experiment, and it begins with an anti-frizz shampoo and conditioner set that you can get for less than $50.
Kim Kardashian loves this haircare brand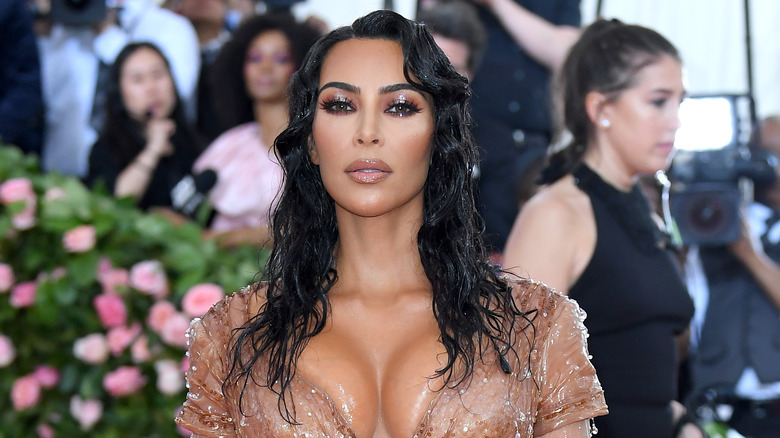 In an interview with Byrdie, Chris Appleton gives readers a step-by-step initiation into Kim Kardashian's haircare routine. Her first step, which is also Appleton's recommendation, is an anti-frizz shampoo and conditioner duo from Redken ($41 for the pair). "Heavy silicone can dull the hair, so sulfate-free products will stop any product buildup that can weigh the hair down and make it look less shiny," he explains. Appleton, who's worked behind the scenes on Dua Lipa, Ariana Grande and Jennifer Lopez, isn't alone in his endorsement. Celebrity stylist Larry King (who's styled Poppy Delevigne and Courtney Love) has also talked to Her about using RedKen's frizz range, "Redken Frizz Dismiss will weatherproof your hair, leaving you ready to face all four seasons in one single day."
After a quick cold rinse and Appleton's Color Wow Anti-Frizz hair treatment ($28) — which helps give hair a "glossy finish," according to Appleton — Redken makes a comeback in Kim's routine. Appleton uses Redken's Diamond Oil Glow Dry on Kim's hair for a hydrating finale, which retails for $32. 
A quick recap: celebrities may have access to renowned stylists, but all you need is a sulfate-free shampoo and an inexpensive treatment for hair like Kim Kardashian West.
Source: Read Full Article