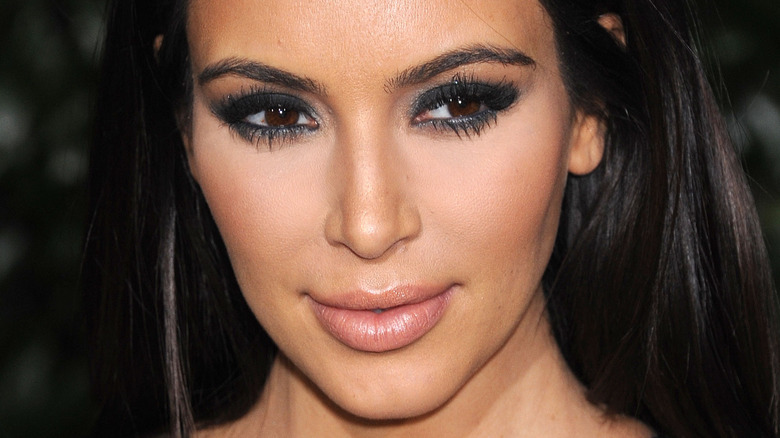 Kim Kardashian West knows a thing or two about beauty regimens: Per Shape, the star shared her routine on Instagram in March, which including an LED device and products from cult-fave brand Biologique Recherche. KKW loves the pricey-but-worth-it $90 Circcell Insight Collagen Eye Treatment Masks, and treats her psoriasis flare-ups with luxurious seaweed-based products, UVB treatments, and cortisone creams, according to People. As per Byrdie, Kim's beauty routine totals a whopping $4,500, including seriously-expensive holy-grails like Guerlain's Orchidee Imperiale Longevity Concentrate, which retails for $525, insider-must-have La Mer Moisturizing Cream ($350), and the "magical" La Mer The Serum Essence ($720). It's no secret the reality superstar has access to the best of the best in beauty and skincare — so consider us very surprised by her latest hair secret.
We get it: Kim is all about the luxe life, but she also shows appreciation for cost-effective drugstore products, too. Take her near-obsession with the $15 Bio-Oil, which prompted leagues of women dealing with stretch marks to purchase it immediately. According Marie Claire, the star wrote on her website that the miracle product was a "lifesaver" while pregnant, even writing, "it just makes my skin glow, and it has so many benefits." Plus, the Skims mastermind loves the $5.99 Neutrogena Makeup Removing Night Calming Cleansing Wipes, which she says are "soothing" and "wipe every last bit of your makeup off," per InStyle. 
Knowing the star loves cheapies too, we had to know about her low-cost secret for surefire hair growth. Keep scrolling to find out what that is. 
Kim Kardashian West's secret for hair growth is surprisingly simple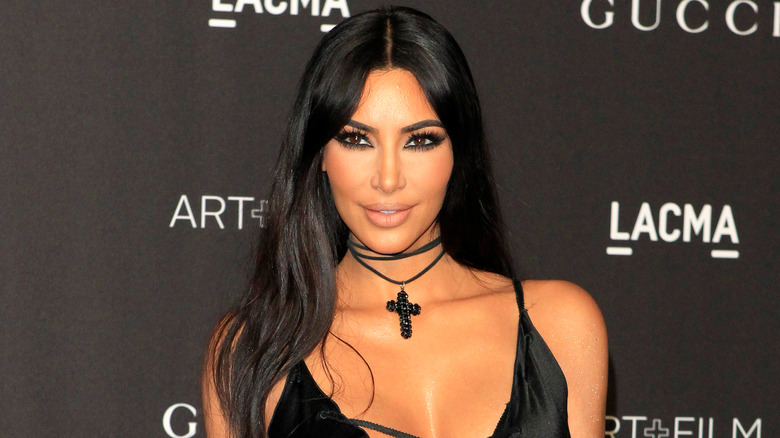 So what's Kim's must-have ingredient for near-miraculous hair growth? Well, it's probably sitting in your kitchen cupboard. Kim shared with sister Kourtney's website Poosh that she uses rice water on her scalp for "thick, shiny, and strong hair," an easy DIY that will get you hip-length strands in no time. As per the website, Kim gets her "luscious strands" by applying the treatment once or twice a week, leading to "a noticeable difference in growth and thickness." Now that Kourtney is on board too, it seems like rice water might be the quick-fix we've been waiting for, especially after too much time in chlorinated pools this summer.
Let's get down to the formula: this "all-natural" recipe will nourish your hair from the inside-out, building up its strength. As it injects your mane with moisture, your hair will feel tougher, letting it grow long with zero breakage. So how do you pull off this DIY at home? Kim instructs grabbing one cup of organic rice, a bowl, and water. Rinse uncooked rice and place it in the bowl. Then, add water and let it soak for an hour. Now's the fun part: strain the mixture and save the water, keeping it in any container you have on hand. In the shower after shampooing, apply the rice water on your scalp and strands, letting it sit for 20 minutes to one hour. Finally, rinse out and say, "Hello," to soothed, smooth locks.
There are tons of ways to use Kim Kardashian's DIY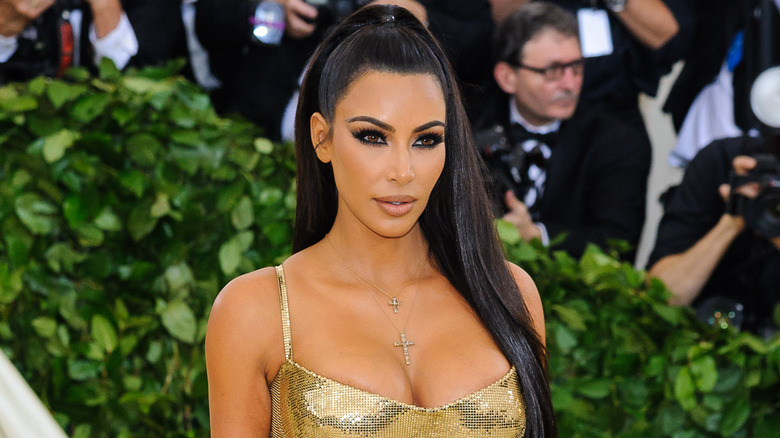 While Kim Kardashian West is game to try any skincare trend, like the slightly-scary Hanacure Mask ($29), per Shape, she's loyal to the products and treatments that really work. Apart from her obsession with La Mer, she's deeply-loyal to her makeup line KKW Beauty, showing in a recent video how she uses the entire line. Of course, she'll never let go of her rice water hair treatment, and it's easy to see why: Per Vogue India, there are countless ways to use this wallet-friendly DIY, making it a versatile beauty power-player.
As outlined by Vogue India, you can use rice water in more ways than one, like as a hair mask or toner. It's no wonder rice water has been used for centuries by women in China, Japan, and Southeast Asia on their hair, counting on the solution's amino acids, vitamins B and E, minerals, and antioxidants for satisfactory results, per Medical News Today. More than just a quick rinse-out, rice water can be used as an all-around addition to your daily routine.
If you have colored hair, you can mix your rice water with avocado to make a seriously-hydrating hair mask. The mix is rich in vitamins B, E, and K and healthy fats, according to Healthline, so it will moisturize while diminishing "oxidative stress" on the scalp from day-to-day life. Not a bad deal!
What else can you use rice powder for?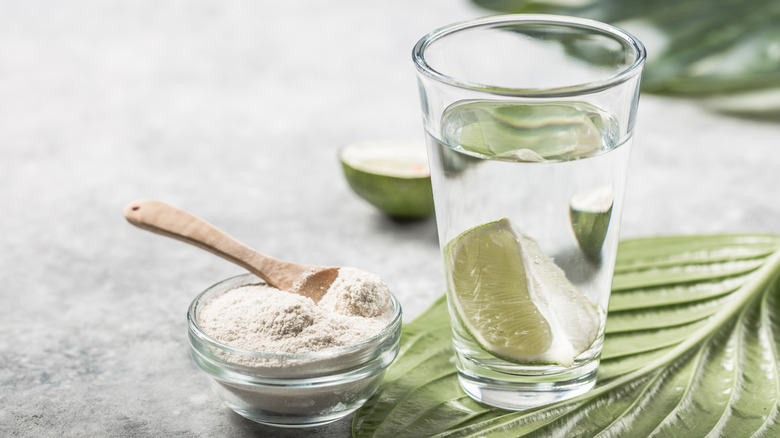 Are we stopping there? Not at all. If you suffer from dandruff, you can mix in crushed neem leaves into rice water to create a scalp scrub, as suggested by Vogue India. Neem is a natural anti-fungal and anti-inflammatory solution, known to improve hair and skin health, per Healthline. Meanwhile, rice water contains selenium, which reduces flakes. Mixing your rice water with neem will reduce dandruff and promote hair growth as well. Definitely count us in — especially when winter rolls around. 
You can also combine rice water with apple cider vinegar, a wellness do-it-all that has been touted for helping clear acne and soothe the scalp, per Verywell Health. Plus, many people swear by rinsing out their hair with apple cider vinegar after showering to reduce frizz and build major shine, per Ipsy. Vogue India recommends mixing "a few drops" of apple cider vinegar into your rice water, which will "close the cuticle," balance scalp pH, increase your mane's glossiness, and cleanse away buildup. 
Just like apple cider vinegar, rice water can be used on the skin, too. Grab your DIY rice water container and use it as a toner for serious "glow." As per Vogue India, you can mix it with aloe vera gel, which is known for its hefty antioxidants, enzymes, anti-inflammatory properties, and doses of vitamins A and C, as noted by the Baylor College of Medicine. Together, these ingredients will "help balance and brighten the skin," which is perfect for natural hydration.
Source: Read Full Article