Watching Keeping Up With the Kardashians without Kourtney Kardashian would be like eating a pizza without cheese. Just…what is the point? But it looks like Kourtney is officially stepping back from the show after months of speculation and messy feuding with her sisters.
KUWTK recently wrapped its 17th season and Kourtney is still a "main character"—but whatever poor soul is in charge of editing this show is doing the most to emphasize the tension between Kourtney, Kim, and Khloé—and it looks like season 18 is going to be very different. Confused? Feeling like this is a case for the FBI? Sending frantic emails to [email protected]? (That's definitely not a real email, btw.) Here's what's up.
Kourt Said She Wanted KUWTK to End in a Trailer for Season 17
Whoever runs KUWTK's YouTube account (praying for you, friend) released an insanely messy look at the rest of the season back in October—including footage of Kourtney implying she's quitting the show. TL;DR, we see Khloé ask her sister, "You would be happy if the show ended?" to which Kourt muses, "Yeah! Who cares!"
Kourtney later muses, "Kim can be the biggest f*cking evil person on the planet," and we see Kim say, "We're firing Kourtney. She's out."
Soooooo, is KUWTK setting the stage for her departure? I DON'T KNOW, YOU TELL ME.
Er, Kourtney Apparently Wants to Leave the USA
During a May '19 interview with Paper Magazine—the purpose of which was to promote her lifestyle website POOSH, which is like GOOP, only POOSHier—Kourtney opened up about her desire to quit KUWTK. Direct quote: "I always say I want to move away someday and just be away from it all. Sail away. No one will ever see me again. I keep throwing up different places, but then I'll go there to visit and I'll be like, 'Nope, this isn't it, but glad I came.' We've just been to Finland. And I was like, 'Check, it's great for me to visit, but I'm not going to move there.' Maybe Norway. Switzerland? I've got a lot of ideas."
Genuinely would watch Kourtney and Penelope Take Norway, just saying.
FYI, Ryan Seacrest Is Fully Shook
Apparently, KUWTK producer Ryan Seacrest didn't read Kourtney's Paper interview, because he seemed genuinely shocked and surprised when asked about the rumors that she'd like to quit. Poor dude was all, "She would?" and then added, "Well, if the cameras go away, as long as they can come back, Kourtney. You know, they can go away for a little bit, but bring 'em back so we can do another season or two. Honestly, I don't know how they do it. They lived for over a decade with cameras following. I could not do it, no matter what they were paying them. I could not do it, so I give them a lot of credit for having those cameras in their lives all the time. And I love you, Kourtney. Love her."
FYI, Kourtney Denied the Rumors in September 2019
After months of speculation, Kourtney went on The Real to placate everyone and confirm she's staying on the show, explaining that "every day is different […] But at the current moment I'm happy and very into my blessings and feeling very good."
But, uh, she also said this: "I definitely have my moments where [I want to]. Because I mean, life is short, and you want to be happy."
Flash-Forward One Month and Kourtney Low-Key Quit
In mid-October—just a month after claiming she wasn't quitting—Kourtney confirmed that she is, in fact, taking a step back from the show. "I just decided to spend more time as a mom and put more of my energy there," she said, while Kim and Khloé were busy looking deeply awkward. "But I'm not saying goodbye. But I think you'll have to see more of it on the new season, season 18. It isn't airing yet, but it's being filmed. Currently, in this room."
Kim and Khloé also confirmed Kourt's soft departure from the show, with Khloé musing, "We definitely love Kourtney and we will miss Kourtney and whatever she decides to do, but people come, people go all the time in this family. We feel like it's a revolving door, so Kourtney might leave this week, she'll be back. They all come back."
So, in conclusion, Kourtney is low-key leaving the show for season 18, but we're also going to see that decision play out on the actual season. HOWEVER! Kendall Jenner gave a recent interview to Ellen implying that Kourt might not go through with her plans to leave, so honestly who knows WTF is happening.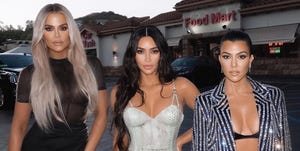 Source: Read Full Article