The 'Love and Hip Hop: Atlanta' alum is accused of being gay in the 'In Da Club' rapper's insensitive social media post which also urges him and Young Buck to 'embrace' their sexualities.
AceShowbiz –Benzino is standing up for himself. The father of Coi Leray has blasted 50 Cent after he was clowned for "f**king" with LGBTQ community in the "In Da Club" rapper's homophobic social media post.
Taking to Instagram Story on Wednesday, April 13, the former star of "Love & Hip Hop: Atlanta" called out 50 Cent in a post that read, "Keep pushing my buttons boy @50cent." He added, "You not getting anymore Crab Trap hook ups," with a series of laughing emojis.
In a following Story, Benzino reposted 50 Cent's homophobic post. Along with it, the 56-year-old TV personality ranted, "Hey f**k you @50cent." In the next post, he continued, "So @50cent wanna clown me for f**king with the trans community? Someone ask him why Power got gay as hell this season." He added, "Yo @50cent I heard you watch all those Drew and Everett scenes back each week."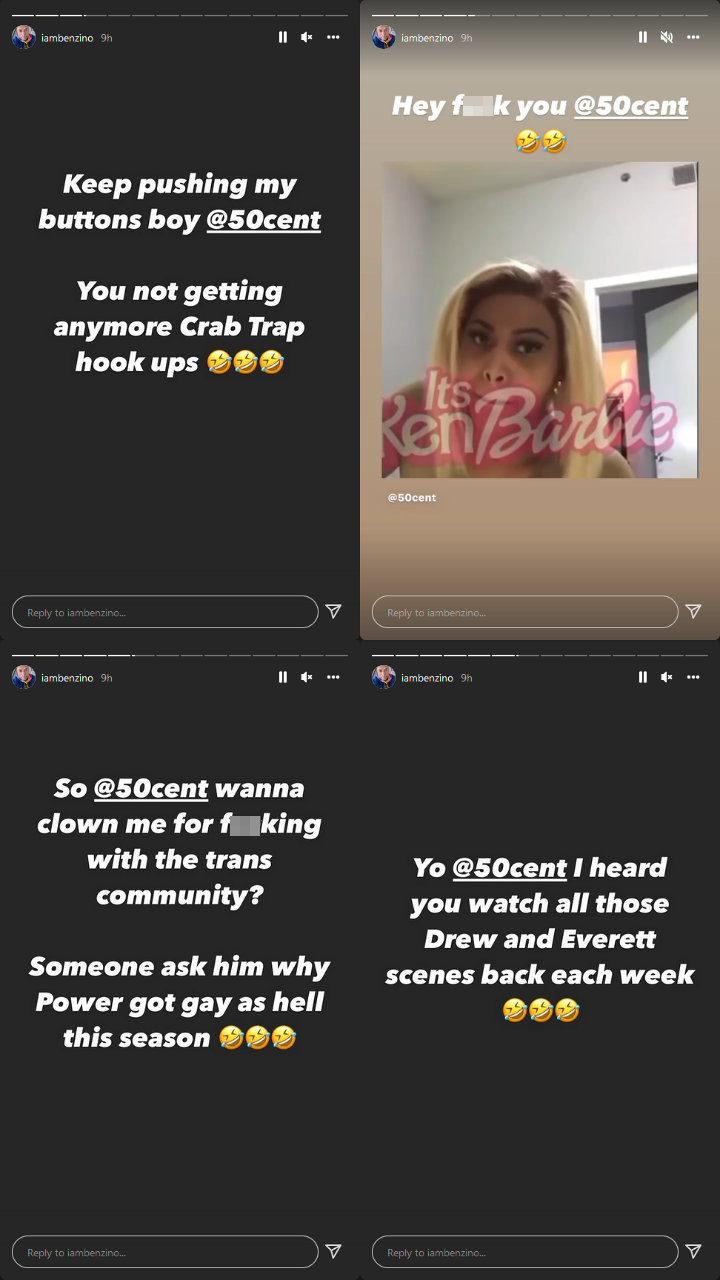 Benzino blasted 50 Cent over his homophobic Instagram post.
Benzino's social media rants came after 50 Cent called him and Young Buck out in a homophobic Instagram post. Earlier that day, the 46-year-old rapper wrote alongside a clip in which Benzino talked about his sexual preferences, "Young Buck, Benzino just embrace who you are but don't pat nobody butt when they score a basket. fool. Hahaha, Nah. FOR REAL! PUNK."
In the said video, Benzino could be heard admitting that he "[loves] porn." The "Rock the Party" rapper went on to say, "I don't watch trans porn. I don't watch trans porn, but that's just me. You know what I'm sayin'?"
In a separate post, 50 Cent added a clip which seemed to be a leaked phone conversation between Benzino and a trans actress Shauna Brooks, who recently claimed that Benzino had a brief relationship with her. In it, Benzino explained why it could "look bad" for him to be seen with a trans woman.
"You don't f**king look bad, I do," he said. "You can never look bad. In this world you ain't doing nothing wrong. It would be wrong if I did. Can't you get that through your head? You're not looking bad Shauna. You're looking like a f**king chick. … I'm looking wrong 'cause what the f**k are you trying to do f**king with a transgender?" Underneath the footage, 50 Cent penned, "LOL OH MY GOD, THIS GUY IS CRAZY."
In a recent interview with VladTV, Benzino believed that someone cannot become a gay without growing up around the community. "When I grew up in Boston… I didn't grow up around people who were gay," he shared, "I rarely seen it." He later questioned what led someone to become gay, "I think the biggest thing is, how does somebody become gay?"
As for his feud with Young Buck, 50 Cent has long been convinced that the "Shorty Wanna Ride" spitter is gay. However, during the April 13 episode of "It's Tricky With Raquel Harper" podcast, Young Buck set the record straight that he is a heterosexual man who "[loves] women and [loves] p***y."
Source: Read Full Article