Camila Cabello addresses her fans after splitting from boyfriend of over a year, Matthew Hussey.
On Wednesday on Instagram Story, the Havana singer wrote a lengthy, cryptic message urging her followers to stop sending "hateful things" to her loved ones.
The former Fifth Harmony band member penned:
"To my fans, if you really love me, please do not send people I love and care about hateful things. You doing that really hurts me, and it's so unnecessary and heavy and damaging to add more pain to pain. There's a real person behind your tweets. You spamming them with hateful, insensitive things is really not funny, is causing all of us pain, and doesn't all reflect the values I talk about. Please be kind and compassionate and sensitive and respectful. I know you love me, but anyone that's doing that is really not even respecting the sacred things in my life. The people I love and care about is one of them. I would really appreciate it if you would delete any mean comments you've sent, and please be kind by leaving it alone."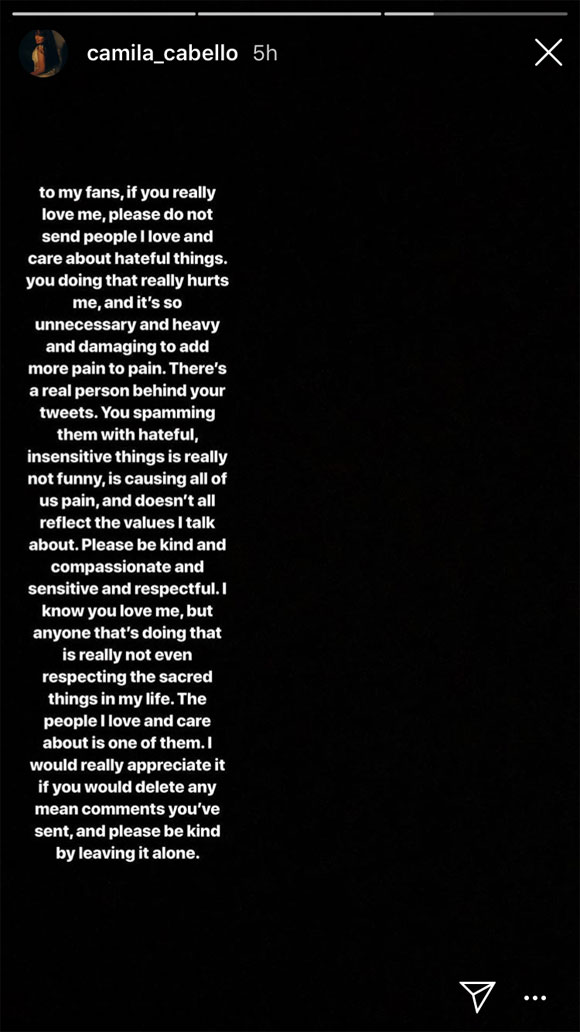 Though the musician did not elaborate on who she is referring to, many believe she is talking about ex Hussey.
News of their split dropped shortly after she debuted her sexy song/music video with Shawn Mendes called Señorita.
On Matthew's recent IG posts, social media users have been commenting with lyrics from the duet.
Despite the suspicious timing, U.K. tabloid The Sun insisted Shawn and Camila's steamy new tune had nothing to do with the breakup.
A source supposedly close to Camila claimed:
"Camila's relationship with Matthew had run its course and they decided to break up about a fortnight ago."
In regards to the impetus behind the split:
"It was a mutual decision to end things."
However, despite their parting, the two reportedly still want to stay friendly.
"But they have spent a lot of time together over the last year and a half and want to stay friends despite going their own way."
In the December 2018 issue of Marie Claire, Camila said Hussey "makes the happiest ever been in life."
She gushed:
"It's annoying, because we've been together for kind of like a long time now, but every time, I'm like, 'Oh my God, I have to talk now.' He's so similar to me … In person, we're just weird and silly and stupid together. He makes me the happiest I've ever been in my life."
Whenever the British dating coach saw her perform, she got "super nervous," explaining:
"I stutter or my hands are shaky."
On to the next one, Camila!
Source: Read Full Article