In case you hadn't heard, Chris Pratt and Katherine Schwarzenegger got married over the weekend!
After about a year of dating, the couple made it official during a Saturday ceremony at the San Ysidro Ranch in Montecito, California.
The location was especially meaningful to Katherine, whose great uncle President John F. Kennedy took Jackie O there for their honeymoon!
Ooh, romantic AND historic!
So how did Chris spend his final hours as a bachelor? Strippers? Tequila? Vegas, baby?
Nah, not Chris Pratt. He and Parks and Recreation pal Rob Lowe kept it chill with some golf in Santa Barbara, something they've enjoyed together quite a bit lately.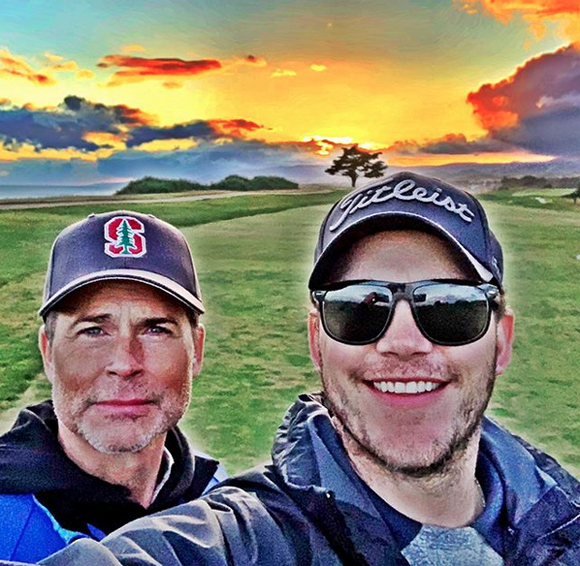 Later Rob, along with his wife and sons, joined the rest of the guests, which included Katherine's fam — parents Arnold Schwarzenegger and Maria Shriver, and siblings Patrick, Christopher, and Christina — and Chris and Anna Faris' adorable son Jack.
A source told E! News:
"Guests began arriving around 5 p.m. and were escorted to the lawn where a jazz band performed. Around 5:45 p.m., they moved to the ceremony tent which was adjacent to the lawn. There were lots of white flowers including hydrangeas and roses and lots of greenery."
Apparently after the early rain cleared up, the sun shone bright as ever!
According to a source speaking to People, the excitement was infectious from the start:
"The whole family took wedding photos, including her parents Maria and Arnold. Everyone just looked so happy"
The atmosphere definitely helped. E!'s insider painted the picture:
"It was classic and romantic, everything was beautiful and elegant. Guests were seated on long wooden pews which lined the rows."
If anyone was even thinking of getting somber and serious, Katherine put the kibosh on that when she emerged to walk down the aisle.
She was all smiles and giggles as she tried to handle her gorgeous Georgio Armani gown. The eyewitness continued:
"The train was so big she was laughing about it because she needed help as she walked. She looked so excited to see Chris and had a huge smile on her face. Chris was in a dark suit, along with his son Jack who stayed close by his side."
We of course got to see the gown when the couple posted a single wedding pic for the public.
The source also revealed the couple's wedding song! (Well, one of them, anyway.)
"During the ceremony, a string quartet played John Legend's All of Me."
We love that song! Kind of perfect for a wedding, too. Heck, it even has a wedding in the video!
After the couple said their "I do"s, the happiness was reflected with a classic song of celebration:
"At the conclusion they played What a Wonderful World."
Awww! Don't YOU want to feel that way at your wedding? Good choices, guys!
And of course, the event had what all wedding guests really wish for — an open bar!
"After the ceremony, guests retreated back to the lawn for more cocktails while Chris and Katherine went to a private cottage for more photos and time together."
Sounds like a pretty idyllic wedding ceremony. Appropriate considering how perfect the couple have been through all of this.
Congrats, you two!
Source: Read Full Article