Shortly after announcing that she tests positive for the coronavirus ahead of New Year Eve, the former star of 'Will and Grace' shares a message that implies vaccinated people will handle the virus better.
AceShowbiz –Debra Messing is the latest celebrity who tested positive for COVID-19 in 2021. The former star of "Will & Grace" announced her diagnosis in a new social media post ahead of the "perfect end" of this year.
The 53-year-old star took to her Instagram account on Thursday, December 30 to share a selfie of herself wearing black sheet mask on her face and a pink bonnet to secure her hair. In the caption, she wrote, "I'm COVID POSITIVE. Yup."
"Happy New Year! Actually, it is the perfect end to 2021. The juicy cherry on the proverbial cake," Debra continued. "The Wedding Date" actress went on to share that during her quarantine, she will focus on recovering though she has "a lot of work to do."
Debra penned, "So for the next 10 days – while in quarantine- I will beautify…..Or maybe I'll sleep… I actually have a lot of work to do, but for the inevitable breaks, what should I watch?" She concluded her post by adding hashtags, "#COVID #quarantine #streamingTV #faceandhairmasks."
In the comment section, Chelsea Handler wrote, "How annoying," referring to Debra's COVID diagnosis ahead of the New Year's Eve. Her fans were also quick to send her wishes for her speedy recovery. "So sorry. Quick recovery!" one commented, while another said, "Beautiful Strength. Everything will be fine [blue love emoji]." Others, meanwhile, gave her some movie and TV series recommendations for her to pass the time during her quarantine.
A few hours later, Debra, who is fully vaccinated against the virus, posted a screenshot of a Twitter post that read, "Just a saw a tweet saying, 'Both the vaccinated and the unvaccinated can catch Covid.' " The tweet continued, "A doctor responded: 'Both Serena Williams and I can play tennis.' "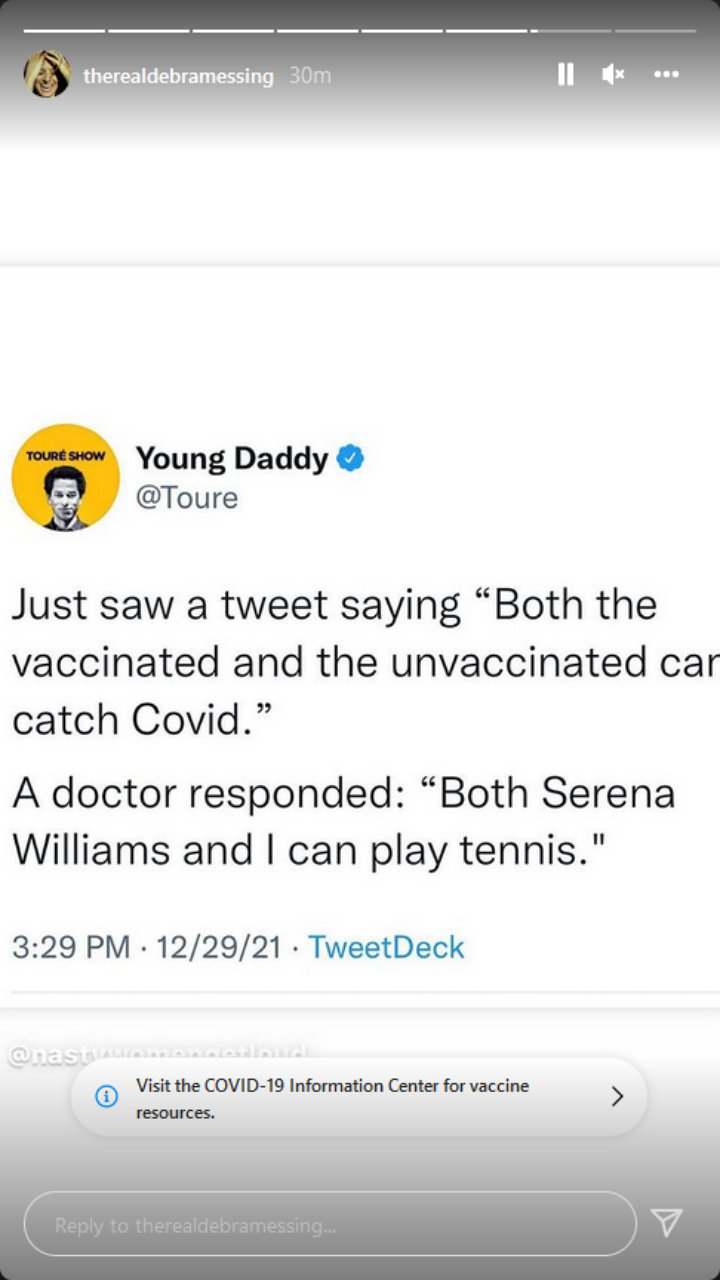 After announcing her diagnosis, Debra Messing shared a Twitter post that said vaccinated people may still catch COVID-19.
Debra shared in April that she got her second dose of the vaccine. Along with a video that saw her happily taking her jab with a medical officer, she wrote, "I DID IT!!!! I am FULLY VACCINATED!!!!"
"THANK YOU to EVERY researcher, doctor, nurse, first responder, governor, member of the Biden Administration for making this happen so quickly!" Debra added. She then urged people to get vaccinated, "Grab your friend, your family members, and go get your vaccination a soon as you can! The quicker we get it, the quicker we can return to work, school, weddings, ball games, plays, concerts, family reunions~-all the things that bring us joy, and make us feel part of a larger community."
Source: Read Full Article