With starring roles in on-screen hits like "Lou Grant," "The Mary Tyler Moore Show," "Up," and "Elf," it's hard to find a multi-talented actor in Hollywood as beloved as Ed Asner. After more than six incredible decades in showbiz, Asner died at age 91 on August 29. The late legend's children — Matthew Asner, Liza Asner, Kate Asner, and Charles Vogelman — confirmed his death on his official Twitter page. Releasing a brief statement, they tweeted, "We are sorry to say that our beloved patriarch passed away this morning peacefully. Words cannot express the sadness we feel. With a kiss on your head – Goodnight dad. We love you."
Upon the gut-wrenching announcement, fellow Hollywood stars and fans alike took to social media to remember the actor and voice artist. "Ed Asner was a difficult dude, a grump, a s**ttalker, and one of the primary reasons actors have health benefits. Miss you already, Ed. Rest In Power," writer Andy Cobb penned on Twitter. Stand-up comedian Mike Drucker also praised Asner for being a pioneer in the entertainment industry, writing, "Ed Asner won seven Emmys, helped organize a labor strike, played Santa Claus, voiced a Jedi, and that's maybe like two percent of the things he did. Absolute legend."
There's no denying Asner made quite an impact on Hollywood, and he made a pretty penny while doing it. Keep scrolling to find out Asner's net worth at the time of his death. 
Ed Asner went from the assembly line to the screen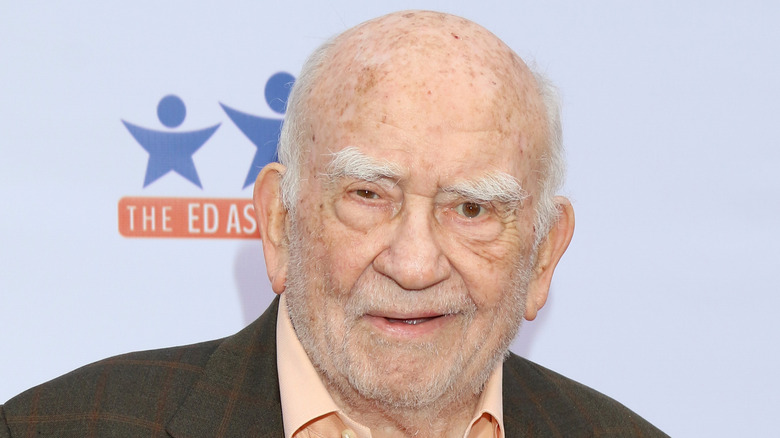 Ed Asner had more than 400 acting credits, per IMDb, with his most famous role being Lou Grant in "The Mary Tyler Moore Show," which later got a self-titled spin-off. Having started paving his career as a performer in the 1950s, it's no surprise Asner made a lot of money. According to Celebrity Net Worth, his fortune was estimated to be about $10 million. Asner's big bank account was acquired through his work as an actor, but the late icon also tested his talents as a producer on several occasions. Asner is remembered for being the most Emmy-honored male actor, with seven total wins out of 17 nominations.
Before show business, he worked at General Motors and Ford on the assembly line, according to the "What's Your Story" podcast. He also spent time in the army. Asner kicked off his acting career on "Studio One" in 1957. He quickly climbed the ladder, snagging parts in "The Untouchables," "The Defenders," "Mr. Novak," "Voyage to the Bottom of the Sea," and more, before his casting alongside Mary Tyler Moore in the late star's eponymous series in 1970. Following his tenure on "Lou Grant," he appeared in countless other fan-favorites like "Roseanne," "Freakazoid!," and "The Closer."
On the "What's Your Story" podcast, Asner was asked which role was his favorite. He replied, "I love them all, and I feel very gratified when I do them … It's work. It's mostly satisfying. And of course, it's financially satisfying." As his net worth shows, that's certainly true.
Source: Read Full Article