Khloé Kardashian is clearing the air about her relationship with Tristan Thompson amid reports the reality TV starlet caused his other baby momma "serious pregnancy complications."
Addressing the allegations that she cheated with the Cleveland Cavaliers player, the 34-year-old went on her Instagram Story Tuesday night about her "truth" involving Jordan Craig.
Telling her followers how she and Tristan even met, KoKo went on to address his "ex."
"After going on some dates, Tristan told me that he had an ex that was pregnant. Obviously, I was reluctant about us continuing to date or start a relationship.
He pleaded with me that the relationship was over before we met."
True Thompson's momma included how she even spoke with his inner circle, including his mom and even his lawyers, to be sure Thompson and Craig were broken up.
Unfortunately, it now sounds like Kris Jenner's daughter is realizing what she believed to be the truth, may have all been a lie:
"The truth that I believed and trusted. If for any reason this is NOT in fact the truth, I am so completely and utterly sorry that TRISTAN and his inner circle would lie on something like this!"
You can see screenshots of her candid IG Story (below):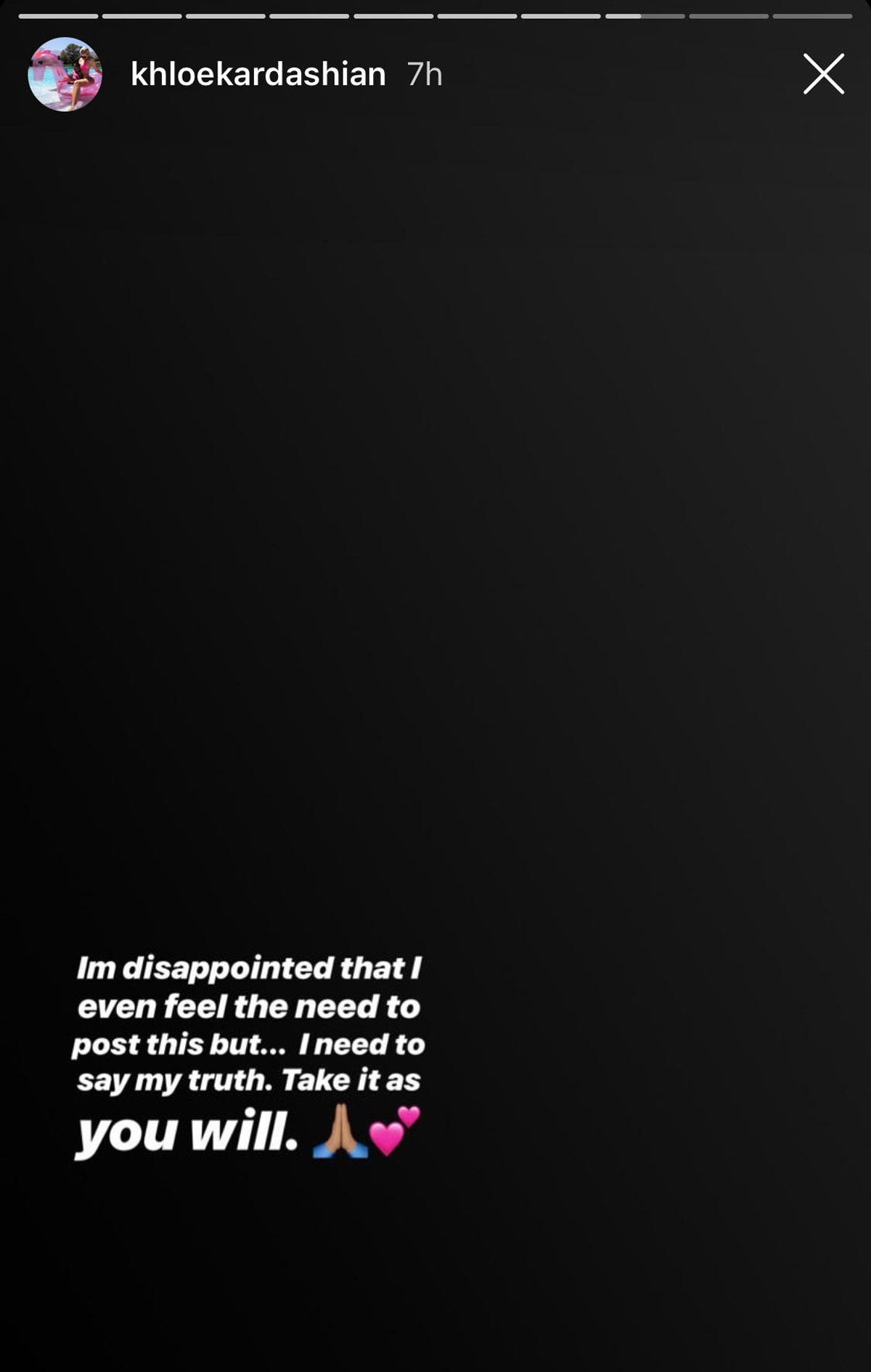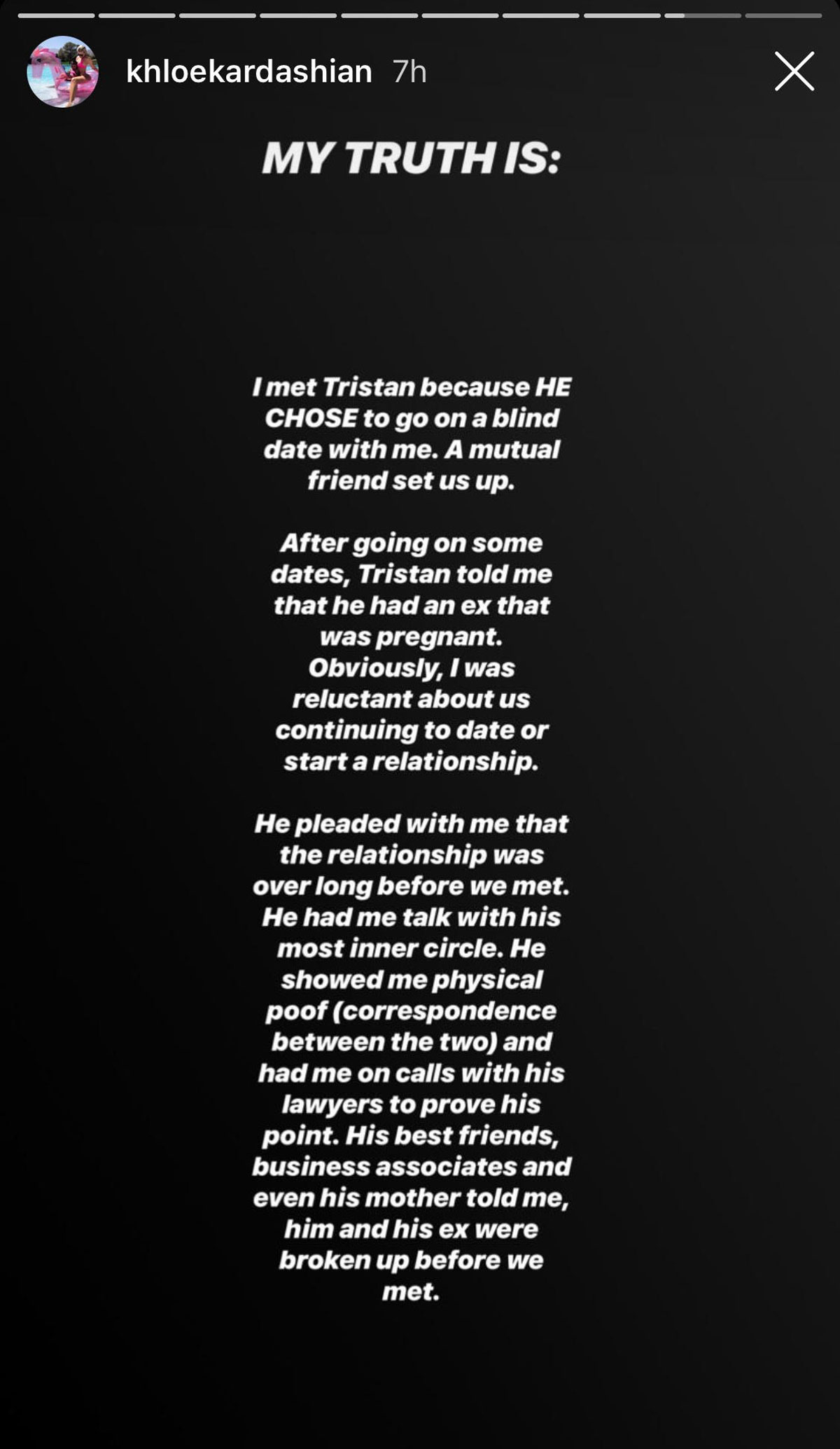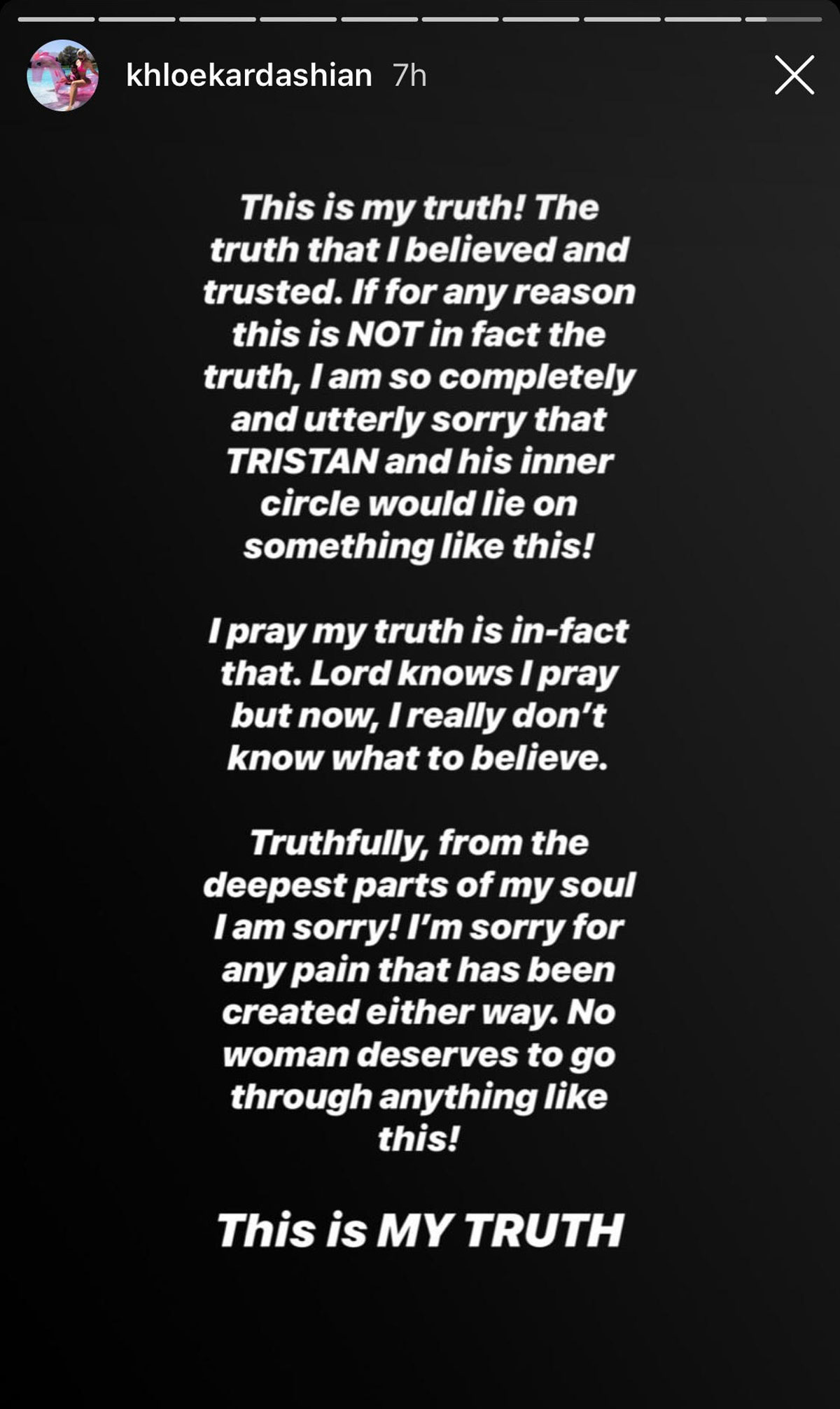 Kim Kardashian West's younger sister also seemingly issued a public apology to Tristan's ex in her statement, saying:
"Truthfully, from the deepest parts of my soul I am sorry! I'm sorry for any pain that has been created either way. No woman deserves to go through anything like this!"
As we reported late last week, Jordan claimed that a month after discovering she was pregnant with the NBA star's child, she realized he was cheating on her. This is all according to newly uncovered child support court documents from 2018 obtained by Radar Online.
While she later took him back, she alleges it wasn't much later that Craig saw paparazzi photos of Thompson with Kardashian, "one of the women I previously confronted him about, and whom Tristan had denied even knowing."
She remembered:
"Their relationship went viral and everything took a turn for the worst. Every day several articles were published worldwide mocking my new unfortunate reality and my pregnancy would now become one of the most popular gossip headlines due to the woman Tristan was now publicly dating during my pregnancy."
Fans know that Khloé went through something similar just days before giving birth to their daughter, so when the KUWTK star went on her Instagram to share her side about not knowing she was the other woman, you know she's speaking from experience.
The momma of one was slammed for taking the pro athlete back following the betrayal, but she eventually left him for good after reports came out that he hooked up with family friend Jordyn Woods back in February.
While she has maintained an amicable relationship with her ex for the sake of their one-year-old, who knows if drama will unfurl now that she's spoken up.
One thing's for sure, Tristan is a cheater!!
Thoughts, Perezcious readers?? Do U think Khloé's seemingly public apology to Craig will fall flat? Too little too late? Or do U think she did the right thing by coming clean with the whole story?
Let us know in the comments (below)!
Source: Read Full Article