During a question and answer session with fans, the 'Keeping Up with the Kardashians' star addresses accusations made by seven of her former employees about how she treated them.
AceShowbiz –Kim Kardashian has addressed serious accusations made against her by a number of her former gardening and maintenance staff. Having been slapped with a lawsuit over unpaid wages and other work-related issues, the "Keeping Up with the Kardashians" star insisted that she "respect" people's hard work.
On Thursday, May 27, the reality TV star took to her Instagram Story to shut down the claims that she did not pay her workers. "Absolutely, I respect people for their time and their hard work," she stressed in response to a follower's question "Do you pay ur [employees] lolz" when she held an online Q&A session while getting her nails down.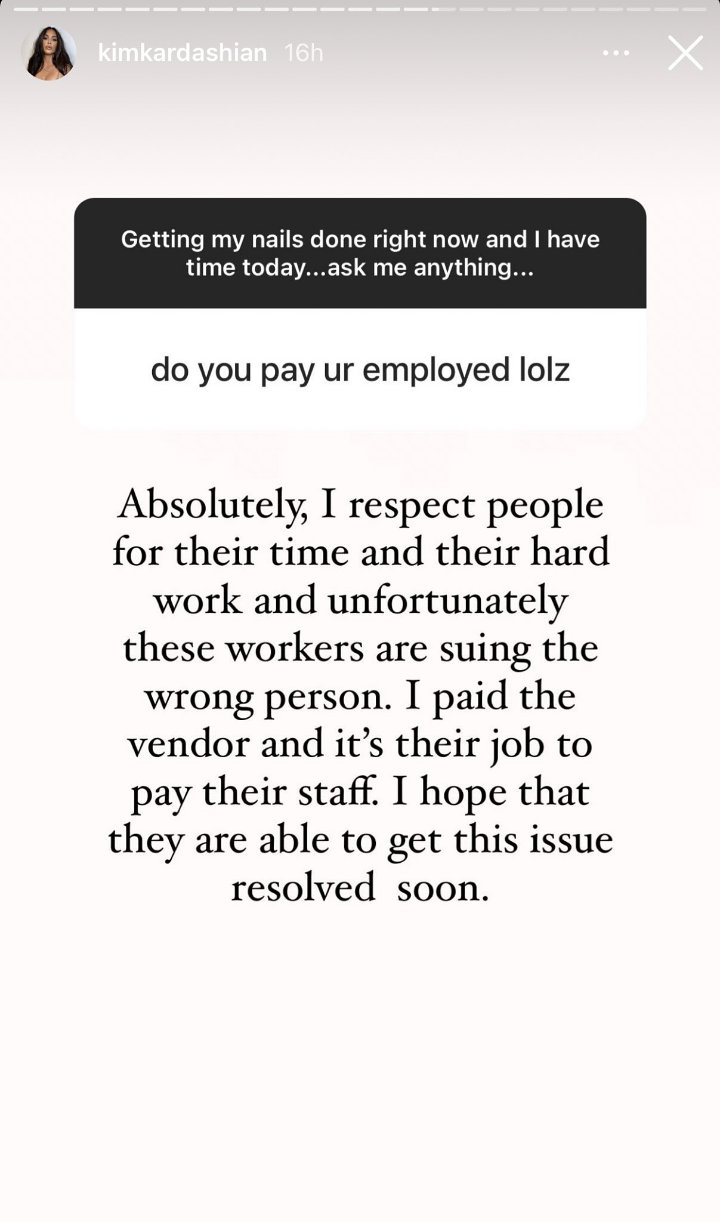 Kim Kardashian adressed serious accusations made against her by her former workers.
"Unfortunately these workers are suing the wrong person," the SKIMS founder further explained. "I paid the vendor. And it's their job to pay their staff." Near the end of her note, she expressed her wish that the case could be closed soon by stating, "I hope that they are able to get this issue resolved soon."
The 40-year-old is being sued by her former employees over their alleged working conditions. Her ex-workers claimed that she failed to properly pay wages, refused to pay for overtime, and would not allow them to take meal breaks. They also said that when they worked at her Hidden Hills home, she had 10 percent of their wages docked for tax, which she didn't report to the authorities.
A representative for the estranged wife of Kanye West blamed the problems on a third-party vendor in a statement issued on Monday, May 25. "These workers were hired and paid through a third-party vendor hired by Kim to provide ongoing services," her representative declared.
"Kim is not party to the agreement made between the vendor and their workers, therefore she is not responsible for how the vendor manages their business and the agreements they have made directly with their staff," the statement continued. "Kim has never not paid a vendor for their services and hopes that the issue between these workers and the vendor who hired them can be amicably resolved soon."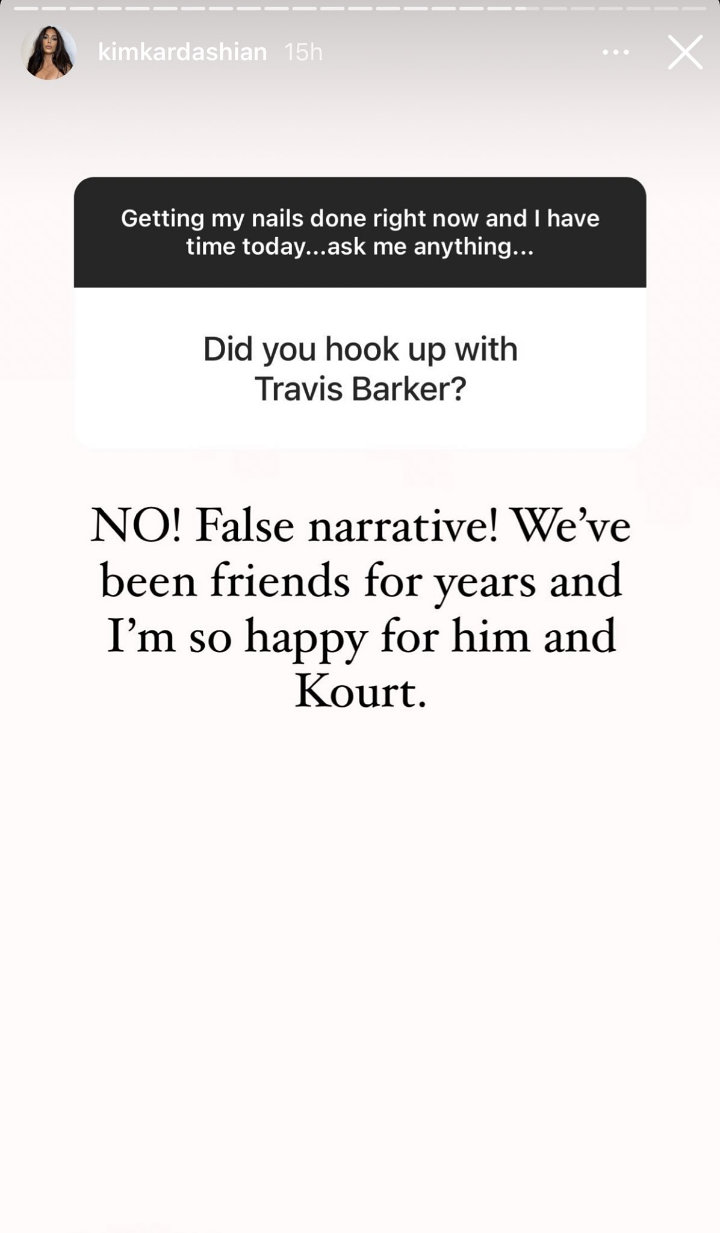 Kim Kardashian shut down rumors claiming she once hooked up with Travis Barker.
Elsewhere in the Thursday Story, Kim debunked rumors suggesting she once hooked up with Kourtney Kardashian's boyfriend, Travis Barker. In response to an inquiry if she hooked up with Travis, the mother of four exclaimed, "NO! False narrative!" She went on to add, "We've been friends for years and I'm so happy for him and Kourt."
Source: Read Full Article