The 'Keeping Up with the Kardashians' alum is dubbed 'disrespectful' after she thanked the NBA player for giving her a sweet bouquet of flowers months after his paternity scandal.
AceShowbiz –Kris Jenner has landed in hot water. The former star of "Keeping Up with the Kardashians" has been slammed online after she praised Tristan Thompson for sending her flowers on Mother's Day.
On Sunday, May 8, the 66-year-old reality star took to Instagram Story to give a shout-out to the NBA player for his sweet gesture. Over a photo of white-and-pink roses, she wrote, "Thank you @realtristan13 !!! Love you [pink heart emoji]."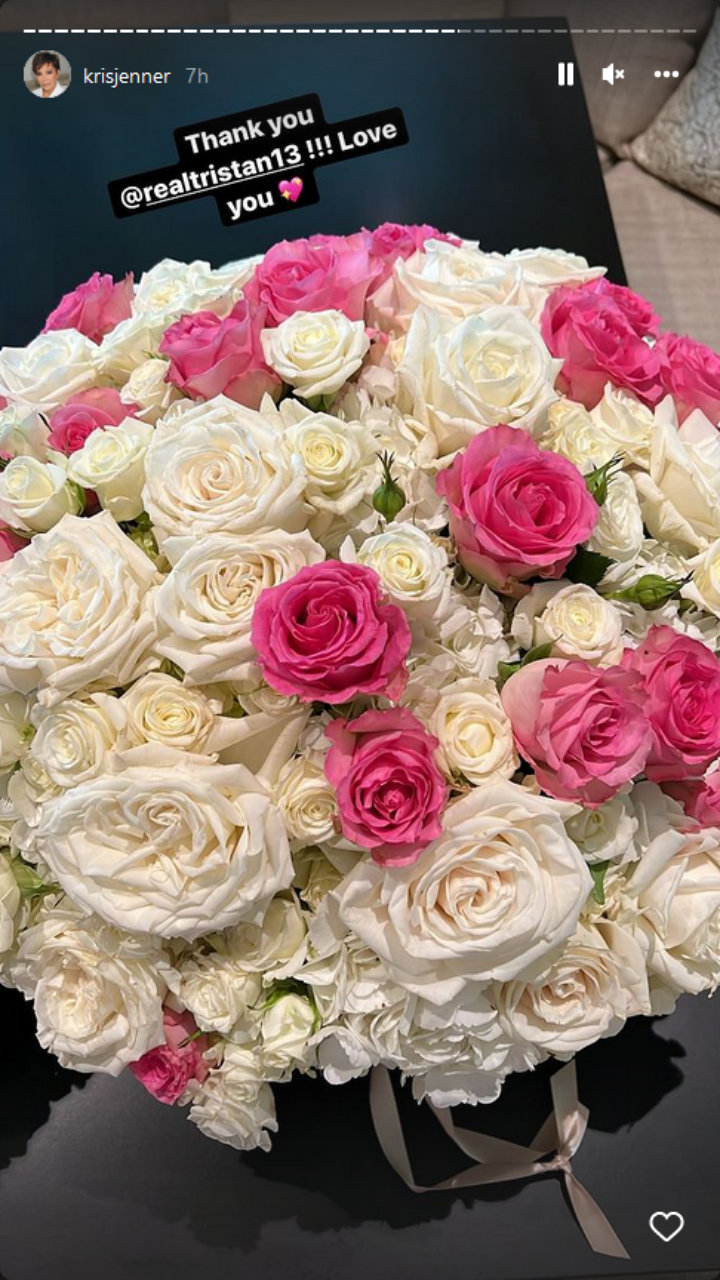 Kris Jenner thanked Tristan Thompson for the beautiful bouquet.
Upon learning of Kris' social media post, Kardashian fans on Reddit were surprised to see the momager speaking so positively about her daughter's ex, who confessed that he cheated on her daughter Khloe Kardashian and fathered a child with a woman named Maralee Nichols.
One wrote, "I feel like this would be so disrespectful." A separate person chimed in, "If I had a daughter in Khloe's position, I'd keep it civil for the sake of their child, but never openly accept gifts/affection."
"How, as a mother, can you associate with someone who embarrassed your daughter and treated her like trash. Like, how?" another person agreed. Someone else accused Tristan of playing a "game." A separate user asked, "Does loyalty exist in their world?"
Tristan, however, was not the only ex-boyfriend of the Kardashian-Jenner sisters to give Kris a special treat on Mother's Day. Kourtney Kardashian's ex-fiance Scott Disick also sent Kris a huge yellow-and-pink roses bouquet. Kris later showed off Scott's gift with a caption that read, "Thank you – love you!"
While Tristan gave Kris a sweet gift, his baby mama Maralee spent Mother's Day on her own. Making use of her Instagram page, Maralee shared a photo of her holding her son Theo, whom Tristan has never met.
"Thank you for choosing me to be your mommy, being your mommy is my greatest blessing. Words cannot express how much I love you," Maralee captioned her post. "You are my world [white heart emoji]," she added, before concluding, "Happy Mother's Day to all of the amazing mothers out there!"
Tristan and Khloe broke up in 2019 after three years of dating when multiple cheating rumors arose. They got back together in 2020 during the COVID-19 pandemic before calling it quits again in June 2021.
Then in January, Tristan confessed that he'd fathered a child with Maralee. In an apology note posted on Instagram, the 31-year-old athlete penned, "Khloe, you don't deserve this. You don't deserve the heartache and humiliation I have caused you. You don't deserve the way I have treated you over the years."
Source: Read Full Article