Prince Harry and Meghan Markle made the decision to sit down with Oprah Winfrey for a tell-all interview that allowed them to share their side of the story — and to explain their reasons for stepping down as senior members of the royal family and leave the UK. The interview, which aired back in March, was watched by more than 49 million people, according to Reuters, and it has even been nominated for an Emmy, according to Harper's Bazaar.
Following the interview, Queen Elizabeth released a statement. "The whole family is saddened to learn the full extent of how challenging the last few years have been for Harry and Meghan. The issues raised, particularly that of race, are concerning. While some recollections may vary, they are taken very seriously and will be addressed by the family privately," the statement read, in part, according to USA Today. There have also been numerous reports that the interview caused some extreme tension between Harry and his father, Prince Charles, and his brother, Prince William.
However, there's one thing that didn't happen that Meghan might have been hoping for; she never received an apology from the royal family. Keep reading to find out what a royal expert had to say about this.
Did Meghan Markle burn a bridge & will she regret it?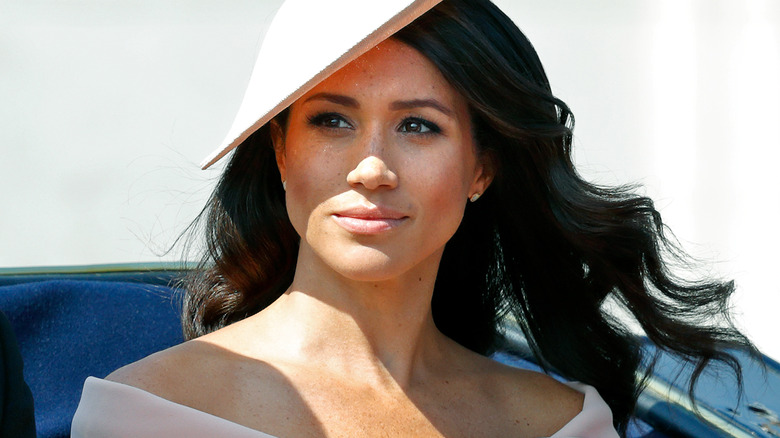 The royal family has been rather quiet when it comes to their thoughts and opinions on Prince Harry and Meghan Markle's interview, which isn't all that surprising. The royals are notorious for dealing with personal matters privately, after all. And while it seems that Meghan and Harry's interview with Oprah Winfrey certainly shook some things up, it's possible that it didn't actually accomplish what Meghan was hoping it would, according to a royal expert. During the documentary "Meghan at 40: The Climb to Power" that aired in the UK, Tom Quinn revealed his thoughts on why Meghan ultimately decided to sit down with Oprah — and how the Duchess of Sussex might have felt after it was over.
"I think she was hoping for an apology, I think she was hoping they would phone and say, 'We are really sorry, we now see that we pushed you too far. We should have behaved differently, we should have sat down as a family and discussed your mental health issues.' I think she was horrified afterwards that the reaction was so negative from the family and they didn't respond in the way that she wanted," Quinn said on the program, according to Express. He added that perhaps Meghan did the interview to get "revenge" for things not going her way while she was living under the monarchy's rule, but he suggested that she will probably come to regret "[burning those] bridges to that extent."
Source: Read Full Article