When revealing that he is still battling long COVID, the former 'Good Morning Britain' presenter says that his new medications 'seem to be cracking' the illness.
AceShowbiz –Piers Morgan has opened up about his condition. The former "Good Morning Britain" presenter unveiled that he is still on medication five months after he tested positive for COVID-19.
On Thursday, December 16, the 56-year-old shared that he's still overcoming the effects of the coronavirus in a Twitter exchange with Rowland Manthorpe, who is a Sky News Technology correspondent. Rowland initially tweeted, detailing his long COVID battle, "Don't like putting personal things on Twitter, but I've just logged on after a while and found a load of DMs asking why I've disappeared."
"Which is… a good question If you haven't seen me recently it's because I've got a nasty case of long Covid. Eight months and counting :(," Rowland added. In response, Piers wrote, "DM me… I had same for five months but new meds seem to be cracking it."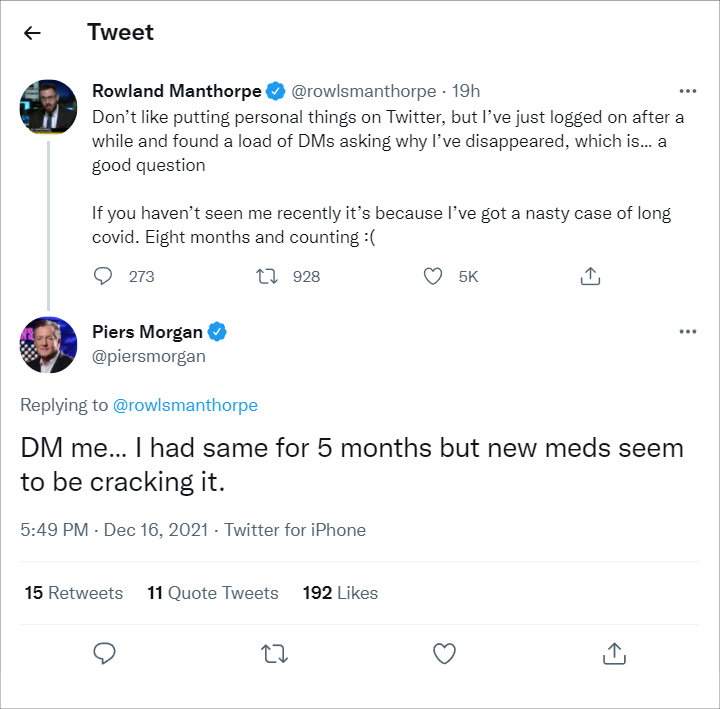 Piers Morgan shared that he is still battling long COVID.
Piers caught COVID in July after attending England's Euro 2020 final game at Wembley Stadium. At the time, the double-jabbed TV presenter described his COVID battle as the "roughest I've felt from any illness in my adult life." He also said that he owed "a heartfelt debt of thanks" to the creators of the AstraZeneca vaccine in Oxford.
Piers also shared that he suffered through a "horrible night of high fever, cold sweats, ferocious coughing and sneezing and strange aches" all over his body. He once said that he was "hit by a sudden, brutal blast of debilitating fatigue that left [him] flat-lined in bed all day and feeling as if [he]'d been run over."
Nearly one month after contracting the virus, Piers shared an update on the effects of his long COVID and revealed he'd developed a new symptom that had him seeing "ghosts." He tweeted on August 9, "A new treat – aside from ongoing tedious fatigue and inability to taste wine, all the coughing's caused a 'posterior vitreous detachment' in my left eye."
"So, I'm now seeing weird ghostly cobwebs swimming around. It really is the virus that keeps on giving," Piers continued. A posterior vitreous detachment (PVD) is a condition where your vitreous comes away from the retina at the back of your eye. PVD can cause sufferers to see floaters or small dark spots or shapes and flashing lights.
Source: Read Full Article