Hollywood is full of fake relationships (I WON'T BE NAMING NAMES) and PR stunts, but you know two people who are definitely, genuinely in love? That'd be The Bachelorette's Wells Adams and Modern Family's Sarah Hyland, who announced their engagement after two years of dating. Which is basically a lifetime, considering we live in a world where most celebs wait approximately three weeks before getting engaged and married (ahem, Mr. Bieber and Ms. Baldwin).
Our May cover star told us that it took DMs, text messages, voice memos (dayum), calls, and FaceTime calls before she and Wells actually met in person and went on an actual date. "It's the most millennial thing in the entire world," Sarah says about the early days of their relationship, "I kind of want to gag at it."
They, too, have had their own struggles in their relationship—she admits that she has a temper, but is on a medication that causes mood swings. "This is the first time I've been in a relationship where I'm like, How am I the child in the relationship? I've always been the adult," she says. "So it's mostly me having to work on my shit."
As Bachelor Nation prepares for Wells and Sarah's wedding, let's take a look back at their infectiously sweet relationship, starting from the very beginning: when Wells was one of 26 contestants vying for JoJo Fletcher's heart.
July 21, 2012
Bachelor stan Sarah makes it clear that just because she talks about how guys on the show are hot doesn't mean she's crushing. (Yeah, that turned out to be a lie!)
Those who think I have a thing for any of the guys on the bachelorette? Think again and stop reading into things i say! I'm simply a fan.
July 27, 2016
Sarah watches Wells on the Men Tell All Special and tweets about how great he is. Which, by the way, he screenshots and retweets two years later:
2 years ago on #MenTellAll this happened. @Sarah_Hyland pic.twitter.com/YsIJgYnXva
August 15, 2017
Sarah and Wells flirt on Twitter while he's on Bachelor in Paradise. Reading these tweets while knowing what's coming is better than any romance novel, FACT.
Taking applications for #BIP5 bar backs now. Please send references..Preferably from Phil Dunphy. I'm kidding the job is yours @Sarah_Hyland https://t.co/BtmH3fTbrL
I'll start working on my garnishing skills. Oh and I require 35% of your tips…. or free dogs. https://t.co/0Zt4Tp94oS
August 18, 2017
E! News reports that Sarah has broken up with her boyfriend Dominic Sherwood after dating for two years. A source says, "It's genuinely mutual and amicable, and they truly remain friends."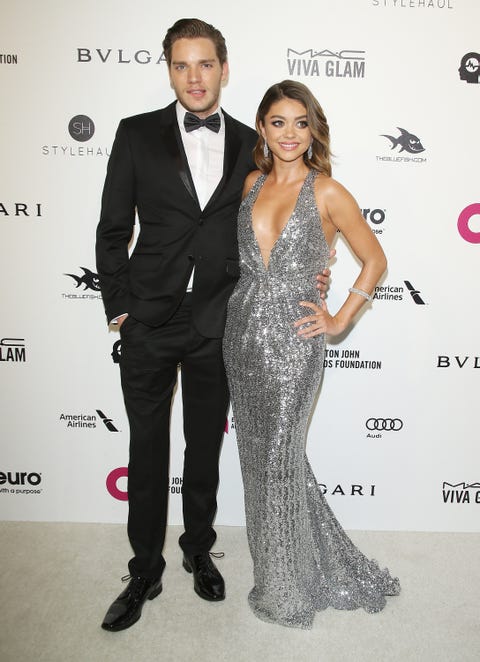 September 2017
Sarah confirmed with SELF that she underwent her second kidney transplant (where her younger brother donated his organ, FYI) during this time. And as our May 2020 cover star, she tells in her cover story that she and Wells had only gone on two dates just before her major medical procedure. He even flew from Nashville to LA on the weekends just to be with her during her recovery KNOWING her family was going to be there too.
Meeting the fam before anything's official. CRINGE. But, if this ain't true love???
Late October 2017
Wells and Sarah are clearly hanging out at the same place, at least according to Instagram Stories.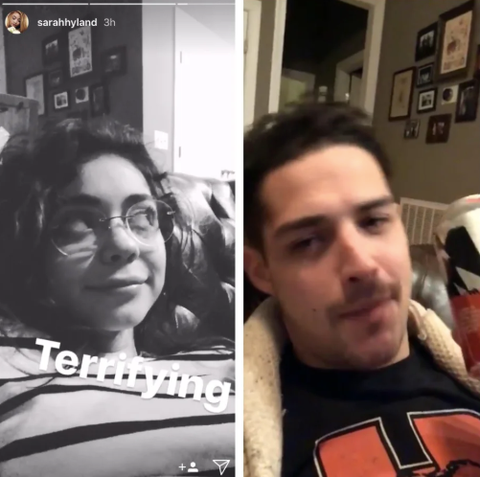 And she even spilled to us that they were already telling each other that they were falling in love and talking about what kind of weddings they wanted. Yeah, I'm wondering how in TF this is real life too. Why can it be this easy for all of us?!?!
October 29, 2017
They wear a couples costume for Halloween, which causes the entire internet to spiral with rUmORS and SpeCULatiOn.
November 5, 2017
Wells and Sarah make it more than clear that they're officially a couple, or at the very least…making out with each other in dim lighting:
November 6, 2017
E! News reports that they are dating, with a source musing, "It's true. They are a couple. She has been spending time with him in Nashville and he is showing her around and doing fun activities with her. Wells is proudly introducing her to all his friends and is really happy that they connected. They are taking it slow but are not seeing other people."
November 23, 2017
Things move fast, because Wells and Sarah end up spending Thanksgiving together. But we don't see pics until a full year later.
November 24, 2017
Wells puts all other boyfriends/humans to shame by posting the most romantic birthday post that has ever been written.
Excuse me while I go get mad at my significant other for not writing me this exact post on my b-day.
December 30, 2017
Wells and Sarah spend Christmas together with Wells' family in Nashville—a pretty big step considering they'd only been dating a few months!
January 1, 2018
Naturally, they share a New Year's Eve kiss. As if they'd pass up on posting content that cute on social.
January 20, 2018
Wells and Sarah hit up their first major event together (Entertainment Weekly's SAG Awards nominees party) and naturally PDA all over the place.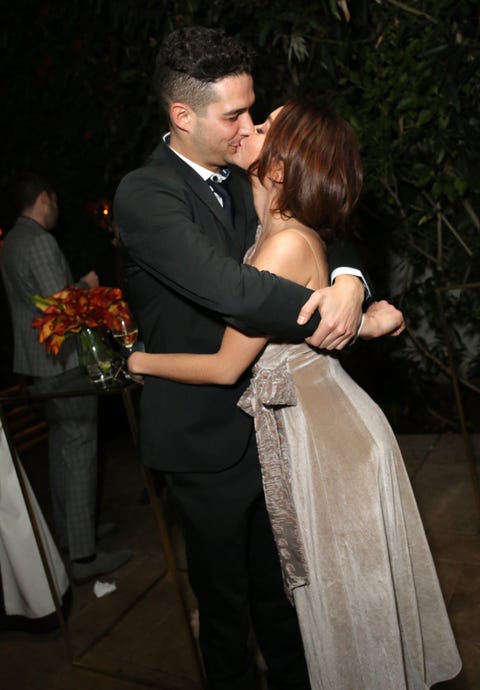 May 16, 2018

Sarah rivals Wells' "happy birthday" posting skills with this cuteness. And FYI, the picture was taken shortly after they said "I love you" for the first time:
August 3, 2018
People reports that Wells has moved into Sarah's Los Angeles home. EEEEEK, it's all happening.
September 16, 2018
Wells and Sarah celebrate the anniversary of their first kiss while I lie in bed celebrating the anniversary of something equally important, like…IDK, the first time I ate pie or something.
October 15, 2018
Wells and Sarah celebrate their one-year anniversary with more cuteness that legit gives me FOMO even though I'm in a relationship.
October 29, 2018
Another year, another Halloween costume.
Taco Bell, get it?
November 24, 2019
Oh, and another year, another insanely cute birthday post from Wells. Damn, he's good at this.
December 22, 2018
Wells and Sarah get caught on a kiss cam and handle it in the most Wells and Sarah way possible.
January 1, 2019
More New Year's Eve Kiss Kontent!!!
February 14, 2019
The pair gives us a glimpse at what their Valentine's Day is like. Answer: predictably adorable.
February 25, 2019
Sarah and Wells hit up the Vanity Fair Oscars Party and take a series of truly incredible red-carpet photos.
May 30, 2019
Wells says his and Sarah's parents have never met because of their differing politics. "They both fall on opposite sides of the political spectrum and I'm just sure someone's going to get into a fight about something," he said. "It will be liberal actors and my dad and my family, who are a bunch of conservatives. My dad's a doctor; my brother-in-law is from oil money in Texas. It's going to be so weird."
July 4, 2019

Patriotism, but make it romantic.
July 16, 2019
It's the moment you've been waiting for! (If you are still reading this timeline, bless you.) Sarah and Wells get engaged on a beach and it's freakin' cute as hell:
That's it for now, but don't worry, we'll be updating this timeline with new supersweet details as they emerge.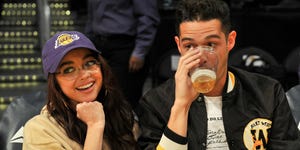 Source: Read Full Article