You know him as the former vice president of the United States and one-time possible victim of mob justice, but like all people, Mike Pence has layers. And since there are quite a few things you might not know about ex-President Donald Trump's erstwhile number two, we took a deep dive into Pence's personal history and uncovered a whole treasure trove of fun facts about his family, his politics, and his ever-changing reputation among the bigwigs in his political party.
These days, Pence has joined the conservative think tank, The Heritage Foundation, as a distinguished visiting fellow, according to Politico. In addition to his public policy advisory role, he's been keeping busy writing for the organization's newsletter. He's also struck a lucrative two-book deal with Simon & Schuster, and reportedly even has a podcast in the works with the conservative youth organization, Young America's Foundation. This may not be where Pence initially expected his post-White House political career to take him, but it looks like this is where he is, at least at the time of this writing.
So, how did Mike Pence wind up living in the Indiana suburbs as an ex-VP and budding podcaster? Let us take you on a journey.
Mike Pence started out as an Irish Catholic Democrat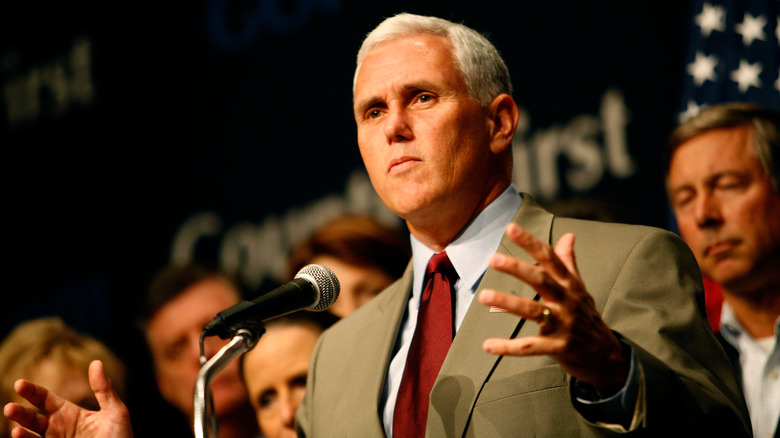 The next time anyone tells you that people don't change, you should point them to Mike Pence. Did you know that the former VP was not always an evangelical Christian? What's more — did you know that Pence wasn't even always a Republican? As a matter of fact, he was raised in a large, working class Irish Catholic family of staunch Democrats. Meaning that this politician's personal background resembles President Joe Biden's more than anything else, really.
As reported in The New York Times, Pence had a particularly close bond with his grandfather, who immigrated from Ireland to the United States in the early 1920s. And the Pence family wasn't just Catholic in name — Mike Pence and his brothers attended Catholic school, served as altar boys, and the future vice president even toyed with the idea of becoming a priest. It's no wonder the whole family adored the first Irish Catholic ever elected president, John F. Kennedy, and were dedicated to the Democratic party. Pence himself was a ​​Bartholomew County Democrats youth coordinator as a teen.
However, his political views transformed after he enrolled in Hanover College, according to The Republic, and he took his family by surprise when he decided to run for office after graduation. And thus was born: New Pence.
He was previously a low-key version of Rush Limbaugh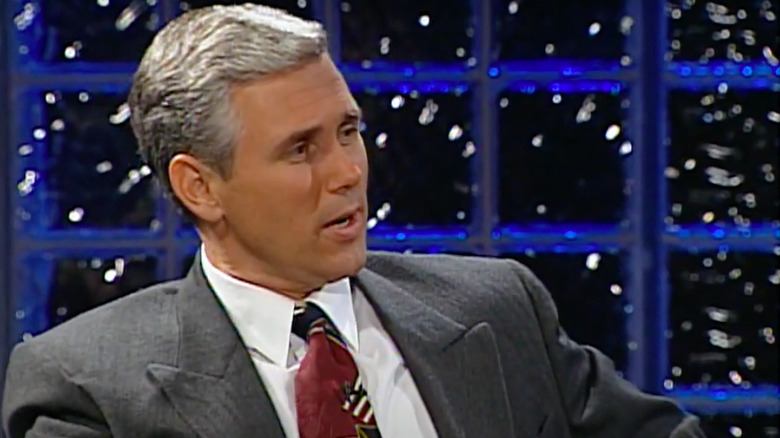 Holding public office was never Mike Pence's only ambition. Indiana's The Republic reported that he was also "considering a career in broadcast journalism" at one point. While he eventually dedicated his career fully to politics (obviously), that broadcast journalism career actually sort of happened when he launched his conservative radio show.
In the 1990s, Pence hosted "The Mike Pence Show," an aptly-titled political talk show that he billed as a quieter version of Rush Limbaugh's, according to Politico. On the show, Pence took callers, invited conservative politicians on as guests, and gave his own commentary on the political news of the day — which apparently included a lot of anti-Bill Clinton material. He also made no bones about his Christian faith, and issues particularly relevant to him. For example, he once said, "I mean, is adultery no longer a big deal in Indiana and in America? I'd just love to know your thoughts because I for one believe that the seventh commandment contained in the Ten Commandments is still a big deal."
Eventually, Pence's brand got big enough, and he made enough of the right friends in conservative politics, that the next time he ran for office at the end of the decade, he won.
Mike Pence once had an email scandal of his own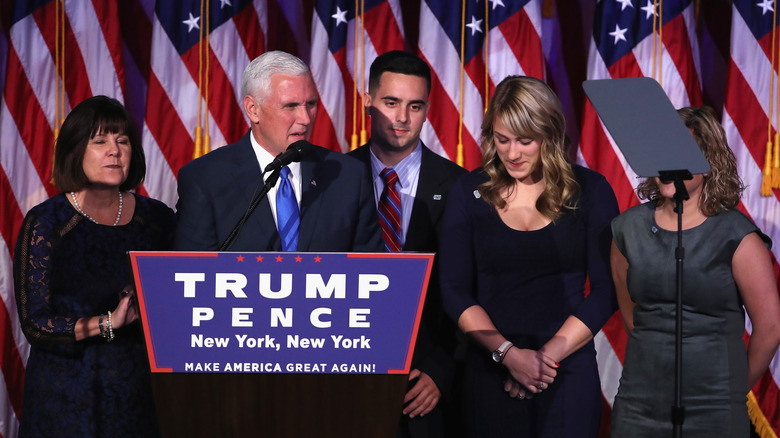 If you were alive in the United States during the 2016 presidential election, you probably remember a whole lot of talk about Hillary Clinton's emails. The scandal centered around the fact that the former secretary of state sometimes used her personal email server for official government business, which is a no-no. What you may not remember is that Mike Pence also came under fire in 2017 for using a personal email server for official government business. 
The difference is that Pence's emails actually were hacked, according to IndyStar. The local newspaper reported that then-Governor Pence used his personal AOL account, generally considered less secure than government accounts, to discuss sensitive topics like homeland security and terrorist threats, including details about an FBI arrest. 
"He did everything to the letter of the law, he turned all his emails over, unlike Hillary Clinton, who lost at least 30,000, who knows how many more, on her private server," claimed Sarah Huckabee Sanders, who was White House spokesperson at the time, according to CNN. However, the outlet also reported that it looked like some of Pence's emails actually had been withheld.
He caught major heat for how he handled an HIV outbreak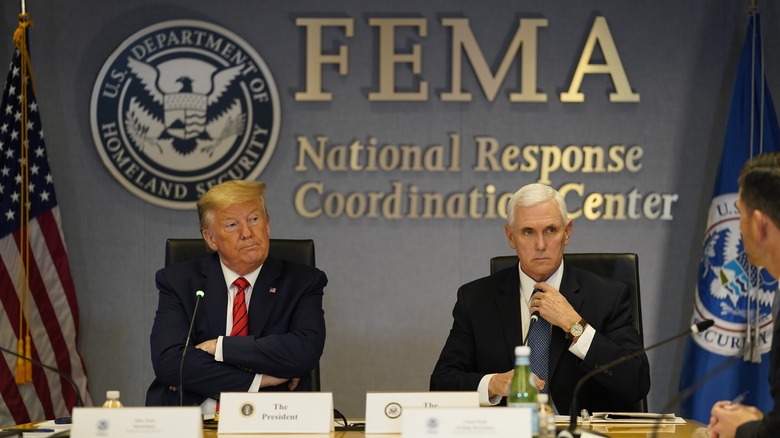 During the Trump administration, the former president took up most of the public's attention because, well, you know. But then-Vice President Mike Pence did have a moment in the sun during the COVID-19 pandemic, when Trump appointed him in charge of the coronavirus response. But that public attention wasn't all good — as it reminded some people of the other time Pence was in charge of controlling a dangerous virus and infamously didn't do so great.
When Pence was serving as Indiana's governor, the state was hit with a massive outbreak of HIV in 2015, according to NPR, which the CDC traced back to opioid users sharing needles. They called for a needle exchange, which would provide people with clean needles, but Pence delayed, saying, "I don't believe that effective anti-drug policy involves handing out paraphernalia to drug users by government officials." 
He did eventually relent on this position, but as Politico points out, signed a new law "on the same day … that toughened the punishment for people found with needles," which can actually lead to more needle-sharing — potentially undoing whatever good the needle-exchange program did to slow the HIV spread.
LGBTQ+ rights groups have major critiques for Mike Pence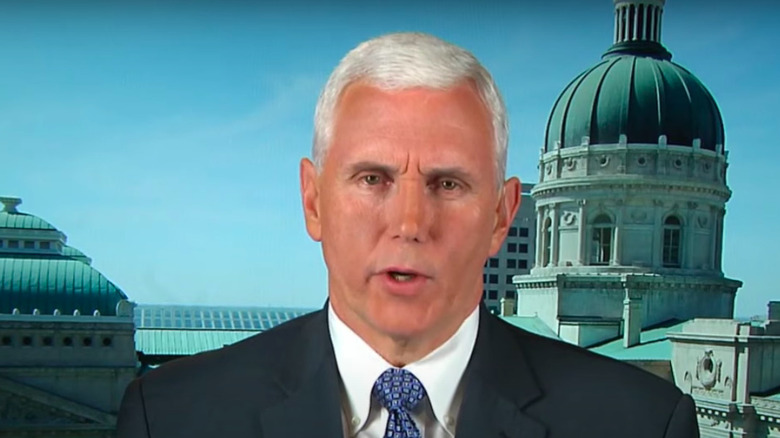 The former vice president is well-known as a devout evangelical Christian, but some of his positions have drawn particular criticism from the LGBTQ+ community. 
The Human Rights Campaign, an organization dedicated to equal rights for all sexual orientations and gender identities, has called Pence "the Worst Vice President for LGBTQ People In Modern History." Meanwhile, the Indiana Democratic Party released a "Timeline of Mike Pence's Discrimination Against the LGBT Community," documenting the various times he voted for bills that would ban same-sex marriage, his opposition to repealing Don't Ask, Don't Tell, his votes against anti-discrimination bills meant to protect LGBTQ+ people, and his reluctance to say whether he would support a same-sex couple raising a child.
In a 2015 interview on ABC News' "The Week with George Stephanopoulos," Pence claimed that his state's Religious Freedom Law would not give business owners the right to refuse to serve same-sex couples (i.e. The Gay Wedding Cake Debate) on religious grounds — except that is exactly what it does, per NPR. He further alleged to the newscaster, "Hoosiers don't believe in discrimination."
This former VP is even more anti-abortion than you think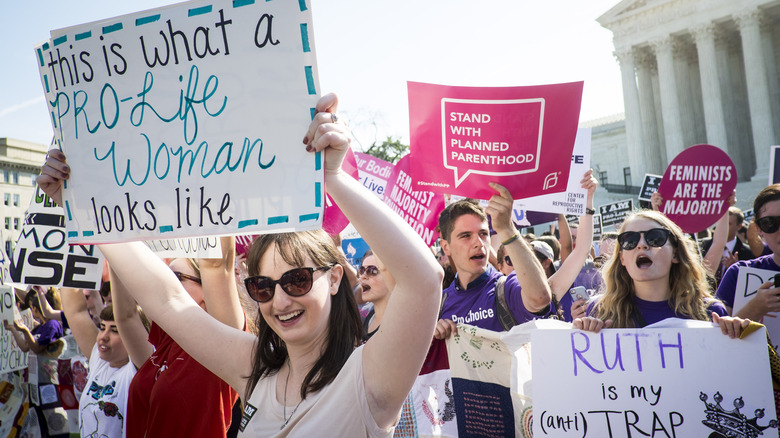 LGBTQ+ rights activists are not the only group who has problems with Mike Pence. Reproductive rights organizations have long opposed the former Indiana governor's anti-abortion stance, which has been termed "extreme," to say the least. 
Some of Pence's efforts to end abortion in the United States include (via Vox), helping launch a right-wing war against Planned Parenthood in an effort to defund the healthcare organization, sponsoring a bill narrowing the definition of rape to "forcible rape" to keep more people from qualifying for rape exceptions in the Hyde Amendment, sponsoring a bill that would legally redefine "a fertilized egg as a person," signing a bill requiring all aborted "fetal tissue to be cremated or buried," and, well… you get it.
Though Pence did not say he wanted to overturn Roe v. Wade — the Supreme Court case that made abortion access a constitutional right — on the campaign trail during the 2020 election, he has said this was a goal in the past. And some speculated that one particularly strict anti-abortion law that he signed as governor of Indiana had the power to basically override Roe altogether, per Politico.
Mike Pence keeps a direct line to his wife on his desk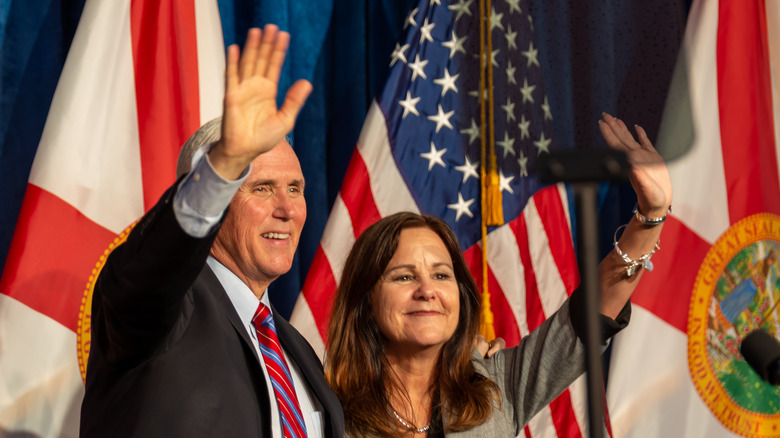 Mike Pence first met his wife, Karen Pence, whom he famously addresses as "Mother," when they were in college — and there are those that suspect that she was one major reason he converted from Catholicism. But we're not here to talk about religion. We're here to talk about the hotline phone Mike apparently kept in his office that had a direct line to Karen and only Karen.
Per a profile on the couple in The Washington Post, Karen once gave Mike an antique red phone that only she had the number to as a Christmas gift — a constant, direct line from her to him. Mike kept the "Batphone," as it was jokingly referred to in Vanity Fair, on his desk when he served in Congress as a House member and again had it installed in his office in the statehouse. Who needs cell phones, anyway?
He isn't the only political Pence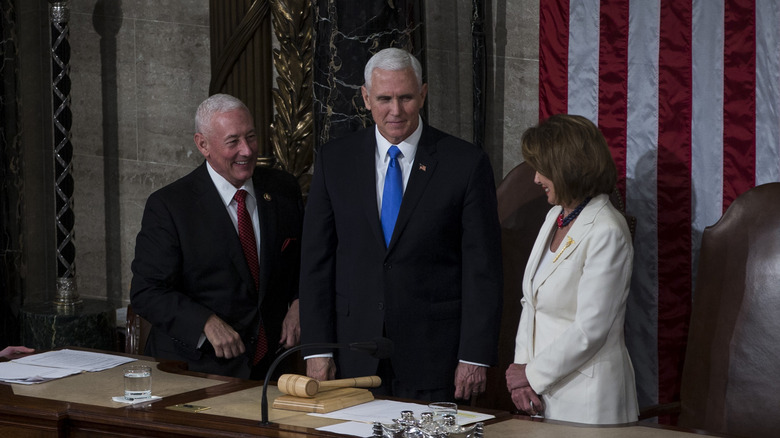 Speaking of Mike Pence's family, you may not be aware that he is not the only one to have gone into politics. Apparently following his brother's lead in breaking with the family's traditional Democratic party stance, Mike's older brother, Greg, is also a Republican politician in Indiana.
Per Ballotopedia, Greg Pence assumed office in the U.S. House of Representatives in 2019, representing Indiana's 6th Congressional District, and his first term is set to end in 2023. Some of Greg's notable votes as a member of Congress include a objecting to certifying Pennsylvania's electoral college votes in the 2020 presidential election, per The Republic, and voting against the bipartisan commission into the events of the January 6, 2021 insurrection at the Capitol. (Some have found the latter more than a bit surprising, considering those "Hang Mike Pence" chants.) 
"The whole thing is out of order," Greg said about the commission, per IndyStar. "And I think it's a cover up about the failed Biden administration."
Mike Pence started speechifying as a kid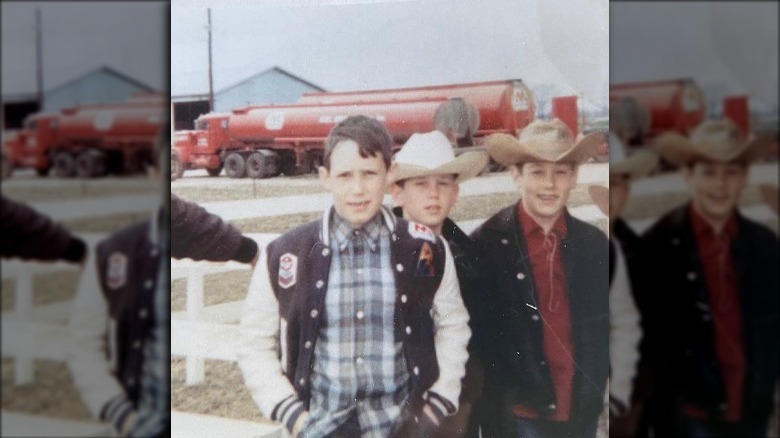 Between former President Donald Trump and former Vice President Mike Pence, the latter was clearly the quieter and more reserved of the two. So it may interest you to know that it was Pence's gift for gab that helped start his political career. According to family members and his former teacher, the former Indiana governor was always a gifted public speaker and loved to orate in front of crowds.
"I introduced him to The Optimists' speech contest," Pence's seventh and eighth grade teacher, Sister Sharon Bierman, told a local NPR station. "He said that has been the most helpful thing for him as he pursued a political career. He wrote about historical things and many times he won first place [in the contests]." 
His mother agreed, telling local newspaper The Republic that she was surprised by how well he spoke in front of crowds. "I believe it was sponsored by the Optimist Club, and Mike was competing against kids in the sixth, seventh and eighth grades," she said. "When it came his turn, his voice just boomed out over the audience. He just blew everybody away. I had a hard time associating the boy up there speaking with our son."
He volunteered with disabled kids as a teen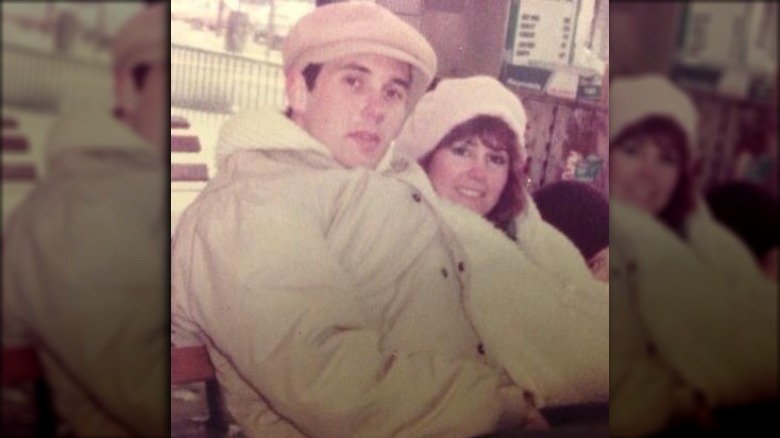 When talking about Mike Pence's biography, those who knew him as a boy and admire him as an adult often bring up how he helped others when he was young. One story in particular seems to stand out, and that is when Pence and his brothers volunteered helping two brothers with muscular dystrophy.
According to The Republic, the future vice president was one of a few high school students at the time "who volunteered their time on a rotating basis" to go to the boys' home every day and help them get ready for school. The outlet also noted that Pence and the family "remained close" even after the brothers' untimely deaths, acting as pallbearer at each of their funerals and giving the eulogy on behalf of their mother.
It's hard to find other examples of similar childhood volunteer-work, but we will say that all his old schoolteachers seem to agree that he was a particularly well-behaved kid. We'll go ahead and give Pence a point for this one.
You may be surprised by Mike Pence's net worth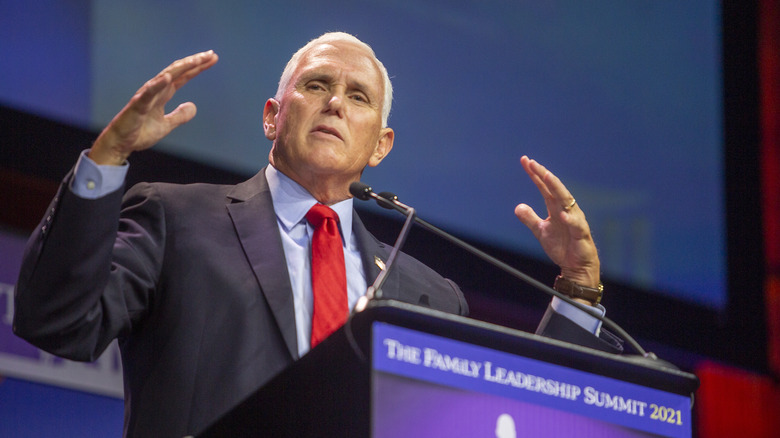 Mike Pence may be the very picture of a modest midwestern lifestyle, but at least one breakdown in Forbes reveals that the ex-veep is actually in possession of a pretty impressive net worth. No, he's not a Trump-level billionaire or anything, but he's made more money than you might think. According to the outlet's estimate back in 2019, Pence's net worth is somewhere around $1 million.
The article noted that Pence didn't have any real income from doing business in the private sector, meaning most of his income has come from taxpayer-funded pensions. Currently, Pence is entitled to $50,000 a year in federal pensions for the rest of his life, along with $35,000 a year in Indiana state pensions from when he was governor, adding up to a total worth of $700,000 and $500,000, respectively. And that's not including his government-run savings accounts.
That said, now that Pence is once again a private citizen, he can start doing what so many other retired politicians do: Rake in speaking engagement fees. Pence has already joined the World Wide Speakers Group, and begun making the rounds delivering keynote addresses at various conferences. We think he'll be pretty comfortable.
Mike Pence's youngest daughter might be a closet Democrat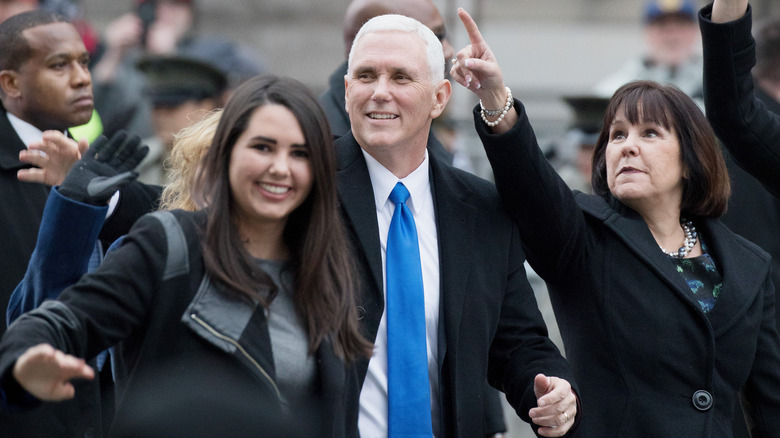 We know that Mike Pence is a family man with children, of course, but did you know that one of his daughters is maybe, possibly, kind of liberal? Pence's youngest daughter, Audrey, once told a local news station that she is "politically independent" but "socially liberal," per Guest of a Guest. The outlet also dug up some interesting facts about her academic background. While getting her undergrad degree at Northeastern University, Audrey "wrote articles about the Armenian Genocide" and "worked with the Fuller Project for International Reporting," focusing on women in the Middle East.
While it is probably safe to assumed that her dad, with his pro-life, anti-gay-marriage stances, wasn't a fan of the late Supreme Court Justice Ruth Bader Ginsberg, Audrey wrote a touching tribute to the feminist icon on her Instagram in September 2020. "Justice Ginsburg was a personal hero of mine, as she was to so many, and I'm grateful as a woman and as a young lawyer for the impact she made," she wrote in part.
And, in one last seemingly ironic bit, while her July 2021 wedding was held in Hawaii (this second ceremony followed the couple's initial outdoor Washington, D.C. nuptials the previous November), Audrey Pence got engaged in Provincetown, Massachusetts, which is best known as an LGBTQ+ nightlife hotspot. We have to wonder how their father-daughter political conversations might go down.
The Pences moved into some fancy new digs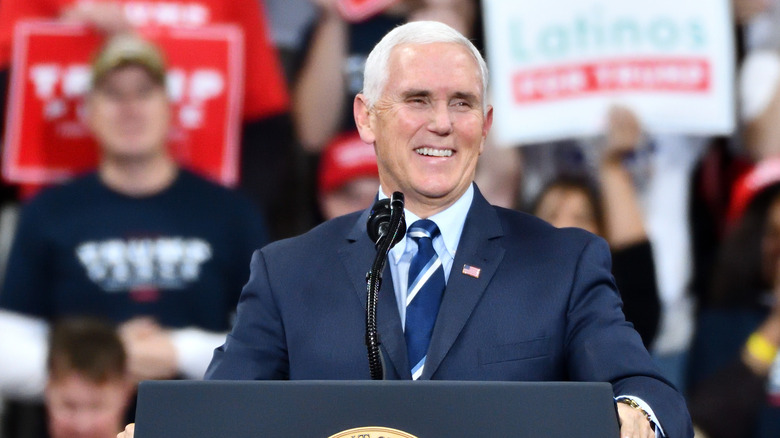 Mike Pence may not be the richest former vice president ever to leave office, but as previously mentioned, he must be doing pretty okay for himself — especially if his latest real estate purchase, as of this writing, is any indication. According to Barron's Penta, Pence purchased a $1.93 million mansion in a suburb of Carmel, Indiana in May 2021.
There had been some concerns about where Pence and his family were supposed to live after the 2020 election. The Pences sold their house and moved entirely into the Indiana governor's mansion after he was elected governor, and have been living in government-issued housing ever since. Per People, the family had been staying with family and friends in Indiana after leaving Washington, D.C. behind, though an insider stressed to the outlet that they were not "couch surfing." Guest-room surfing, then, we guess.
The new house, when the family does move in, looks like it will provide plenty of room. Barron's Penta reports that the home features seven bedrooms and seven-and-a-half bathrooms, with five acres of property and a dock overlooking the pond. Not too shabby, Mike Pence.
Source: Read Full Article