It's become clear that the pandemic has caused some apprehension amongst the American people — particularly those who question top infectious disease expert Dr. Anthony Fauci's involvement and whether he's "covering up" certain truths after private emails were leaked. (Some emails included some pondering about the "lab leak theory," which claims the coronavirus was created in a lab in China, per the Wall Street Journal.) This led many, including Fox News' Tucker Carlson, to allege the government had "used American tax dollars to fund reckless experiments in China that in the end likely created COVID-19." (According to Page Six, Fauci later denied that scientists "deliberately suppressed" the theory, and instead were keeping an open mind. He later refuted claims that the virus was created in a lab.)
Even though several Republican members of Congress called on Fauci to resign or be fired, he wasn't, and the White House has continuously defended him. "Let me just say on Dr. Fauci and his emails — he's also spoken to this many, many times … and we'll let him speak for himself," White House Press Secretary Jen Psaki said at the time (per the Daily Mail). She called him an "undeniable asset in our country's pandemic response," adding, "It's obviously not that advantageous for me to re-litigate the substance of emails from 17 months ago. The president and the administration feel that Dr. Fauci has played an incredible role in getting the pandemic under control."
These were Psaki's comments in June, but will there ever come a time where President Joe Biden will have no choice but to fire Fauci?
The White House believes Dr. Fauci's testimony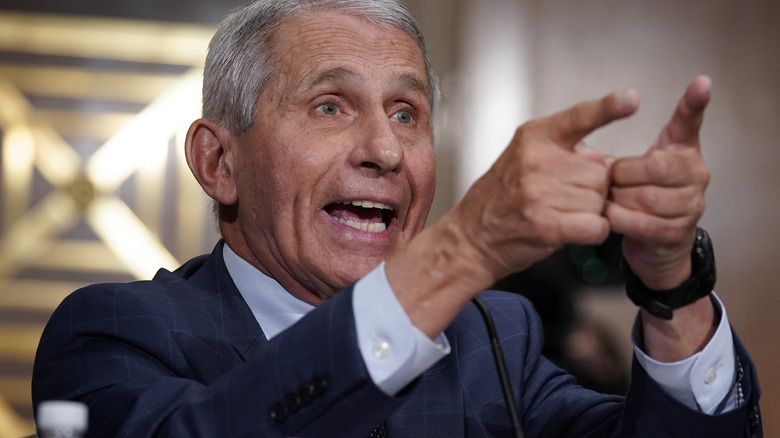 During a press briefing on September 8, Press Secretary Jen Psaki was asked whether Dr. Anthony Fauci's job was safe amid the allegation that he lied to Congress about the origins of COVID-19. Fox News White House correspondent Peter Doocy said, "You said from that podium that under no circumstance would President Biden ever fire Dr. Fauci. Is that still the case since Fauci told Congress the NIH [National Institutes of Health] he never funded gain-of-function research for coronaviruses in Wuhan but documents published by The Intercept suggest that it's not true, which would mean he misled Congress?"
"Well, first, I would say that NIH has refuted that reporting and I would point you to that," Psaki responded, before noting that nation's medical research agency "has never approved any research that would make a coronavirus more dangerous to humans." She continued, "A reminder that there are previous and different coronaviruses than the existing one we're battling. And the body of science produced by this research demonstrates that the bat coronavirus sequences published from that work NIH supported were not the COVID-2 strain, so what he said was correct."
Though Psaki did not directly answer the question about whether his job is at stake, she did, once again, defend Fauci and his testimony.
Source: Read Full Article