Just about everyone has had their say on Doctor Foster, which stars Suranne Jones and Bertie Carvel as a separated couple fighting over their son.
The second series concluded on BBC One on Tuesday night and was watched by an average of 7.2 million viewers, according to overnight figures.
So with rumours of a third season and even the possibility of an opera based on the Mike Bartlett drama, how did series two go down?
Well, it's safe to say opinion is split.
Spoiler alert! Stop reading now if you don't want any plot details revealed.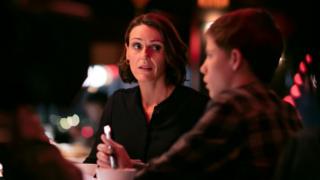 Too much melodrama?
Writing in the Telegraph, Allison Pearson concluded that "they couldn't work out" how to end the series.
Giving the final episode just two stars, she accused the writers of turning Bertie Carvel's character Simon "into an irredeemable pantomime villain".
"The only tears I cried were over the fact that we are living in a golden age for American TV drama and this is the pot-boiling tosh the BBC serves up to its British audience," she concluded. Ouch!
Screenwriter Lisa Holdsworth was also unimpressed.
She told Radio 4's Today programme: "I must admit I've struggled with this series.
"I think it's been very entertaining but it's also been faintly ludicrous… I was watching it thinking, 'No real human being reacts to life like this'. It's very heightened… and extraordinarily well-written but I felt like it lost any footing in reality."
She wasn't the only one.
This viewer tweeted her frustration after the programme ended.
"It's been fabulous, and outrageous, and addictive. Enough though." wrote Sam Wollaston in The Guardian, saying a third series might be too much.
"The second series grew, in size and pace and almost physical tension, and utter preposterousness."
But some are clamouring for a third series…
"The prognosis for the Fosters is almost certainly terminal but the life support this exhilarating series has been on for the past five weeks should not be turned off. Not just yet," wrote Giles Sheldrick in The Express.
Anti-climax?
Many felt the ending was unsatisfactory.
Metro's Francesca Specter gave the series three stars.
"Ultimately, the show underlines one of its most pertinent morals – that Gemma Foster and her husband's battle was most acutely felt by their son – but without giving us a dramatic enough conclusion to know what to think.
"The characters are left in a state of purgatory, with the final judgement never made."
Some viewers were also unimpressed with the ending.
But others didn't mind…
Times critic James Jackson gave the series five stars, and said the "savage operatic saga is a dead cert for Baftas".
"Despite the cliffhanger that never was, Doctor Foster came to a close with a suitably operatic and appalling entertaining finale," he added.
Some Twitter users agreed.
Another was enthralled by the pace of the final episode, tweeting: "I think I've stopped breathing due to high tension levels."
Follow us on Facebook, on Twitter @BBCNewsEnts, or on Instagram at bbcnewsents. If you have a story suggestion email [email protected].
Source: Read Full Article