My name is Ashley Monzon, and I am 37 years old. I live in San Diego, California, and I am a mom and an independent coach for OPTAVIA, a holistic health program that focuses on creating healthy habits. Before starting the program, I was a personal trainer struggling to prioritize my wellness routine. I was gaining weight and feeling overwhelmed. Eventually, with the help ofOPTAVIA, I found the structure I needed to make small steps each day to keep up with a healthy lifestyle.
On and off for 10 years, I danced full-time for a professional football team. Since training, practicing, and staying in shape was part of my job, I didn't generally struggle with feeling confident. But after 10 years, I hung up the pompoms and started working as a certified personal trainer.
In spite of everything I knew professionally, I had an all-or-nothing mentality that made it hard to stick with any kind of routine. I was demonstrating exercises in client sessions but not putting time aside to do my own workouts. And when I did actually make time for fitness, I'd push myself beyond the point of exhaustion. I also lost focus with my diet. When I meal prepped or counted macros, I dropped a few pounds but I'd eventually hit a plateau and feel stuck.
My health began to deteriorate and I started getting heavier. I'm only 5'2", so any amount of weight I gained made me feel self-conscious. But even worse, as a personal trainer who is supposed to know exactly how to stay in shape, I lost sight of my health and started to feel like a fraud.
I knew something needed to change.
During this time, my brother had started OPTAVIA, a holistic health and wellness program that focuses on creating healthy habits. It involves prioritizing not only achieving a healthy weight but also things like sleep, stress management, and daily movement. Eating right is part of it, too, and on OPTAVIA you have six portion-controlled daily meals.Five of your six daily meals are OPTAVIA products, called Fuelings, which contain high-quality, complete protein. (Think: bars, protein shakes, pasta dishes, pancakes, and cereals.) For your sixth meal, you cook what's called a Lean & Green meal with ingredients you buy at the supermarket. These recipes are comprised of lean protein, non-starchy vegetables, and healthy fats.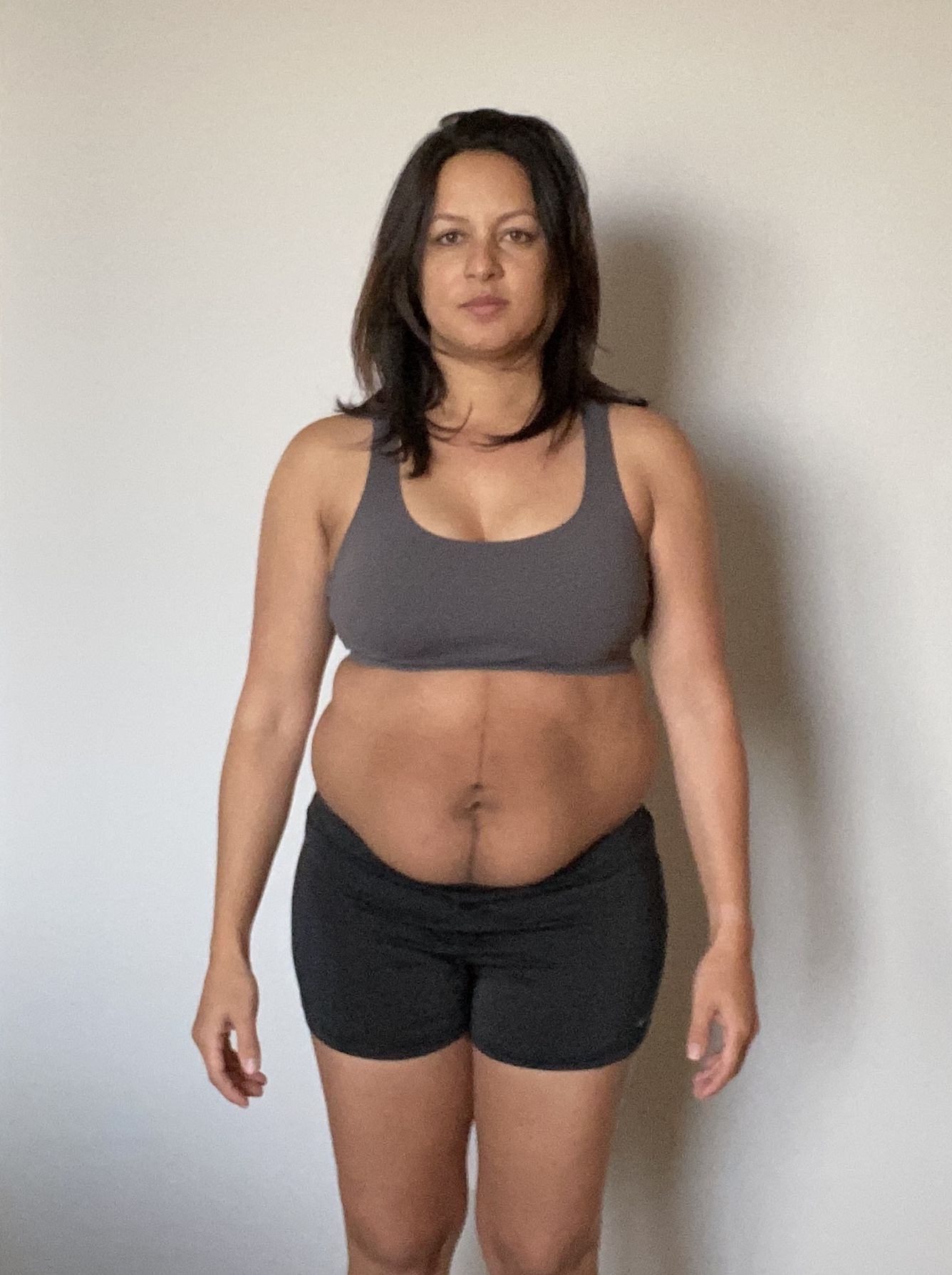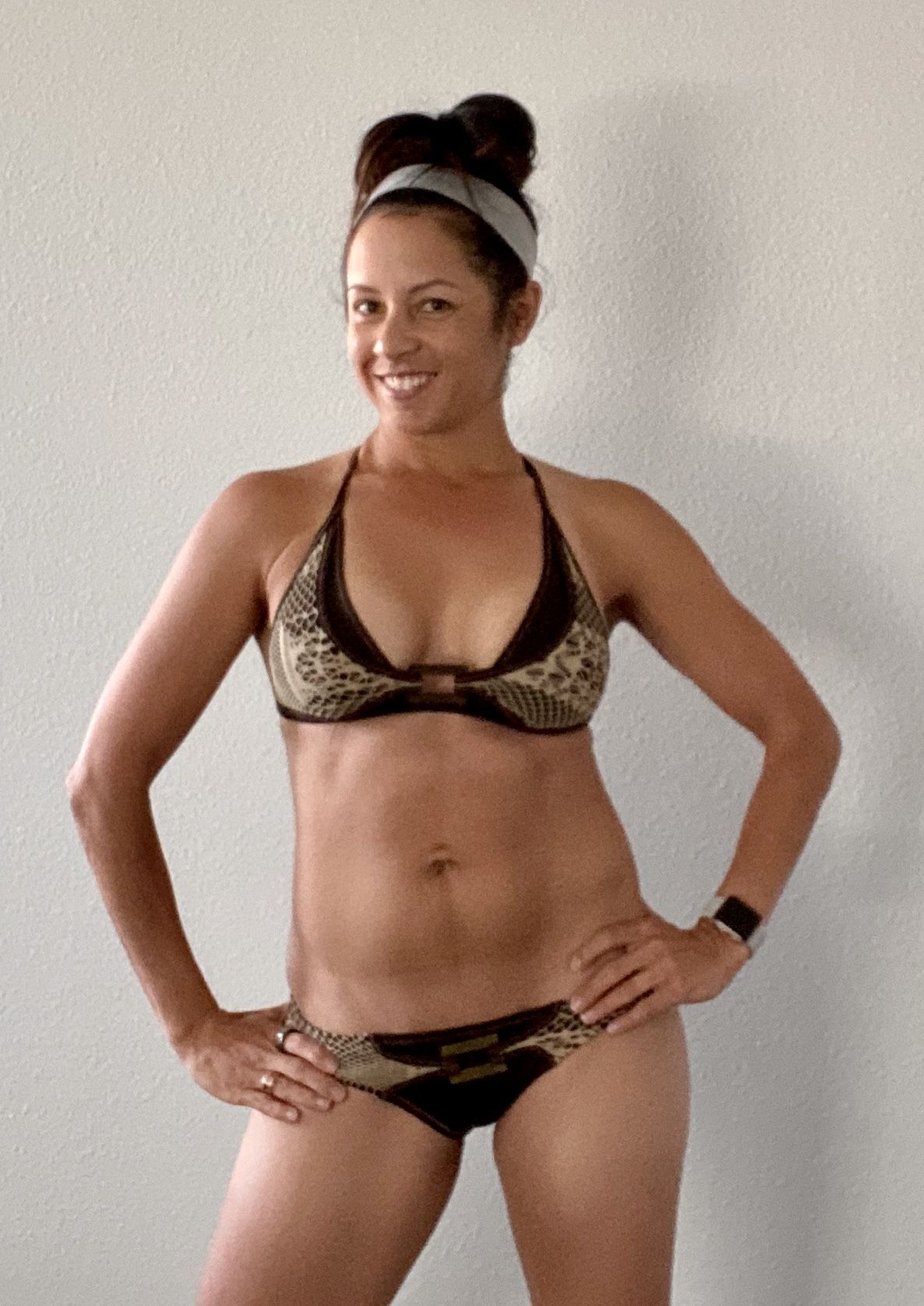 I saw my brother undergo a massive transformation—he lost 60 pounds* and was the happiest I've ever seen him. With all I had already been through, I was skeptical that it would work for me, but knew I needed a new approach to wellness—one with real shift and structure. So in 2015, I decided to start my OPTAVIA journey. I connected with a coach, and she helped me adopt small and achievable healthy habits and inspired me to keep improving my health one day at a time. (TBH, this was the component of this program I didn't know I needed.) Before working with her, I had been on an island trying to do everything by myself and constantly feeling like I was failing. But my coach offered a change in perspective. She celebrated my small wins (like working out for just 15 minutes instead of skipping the gym altogether) which gave me the confidence to build upon those little changes. I felt amazing!

My husband and I then decided we wanted to start a family.
After suffering two miscarriages, we were thankfully able to get pregnant a third time. We had a healthy pregnancy and welcomed our son, who is now 16 months old and the love of our lives. But between the miscarriages, pregnancy, and post-partum life, I had gained about 45 pounds, and I was motivated to get back on track after recovering from my C-section. So once again, I turned to OPTAVIA. I was still implementing learnings from the first time on the plan and eating small, frequent meals but, like most people, my life drastically changed after having a child. As a new mom facing the overwhelming task of making my health a priority, I felt lost all over again.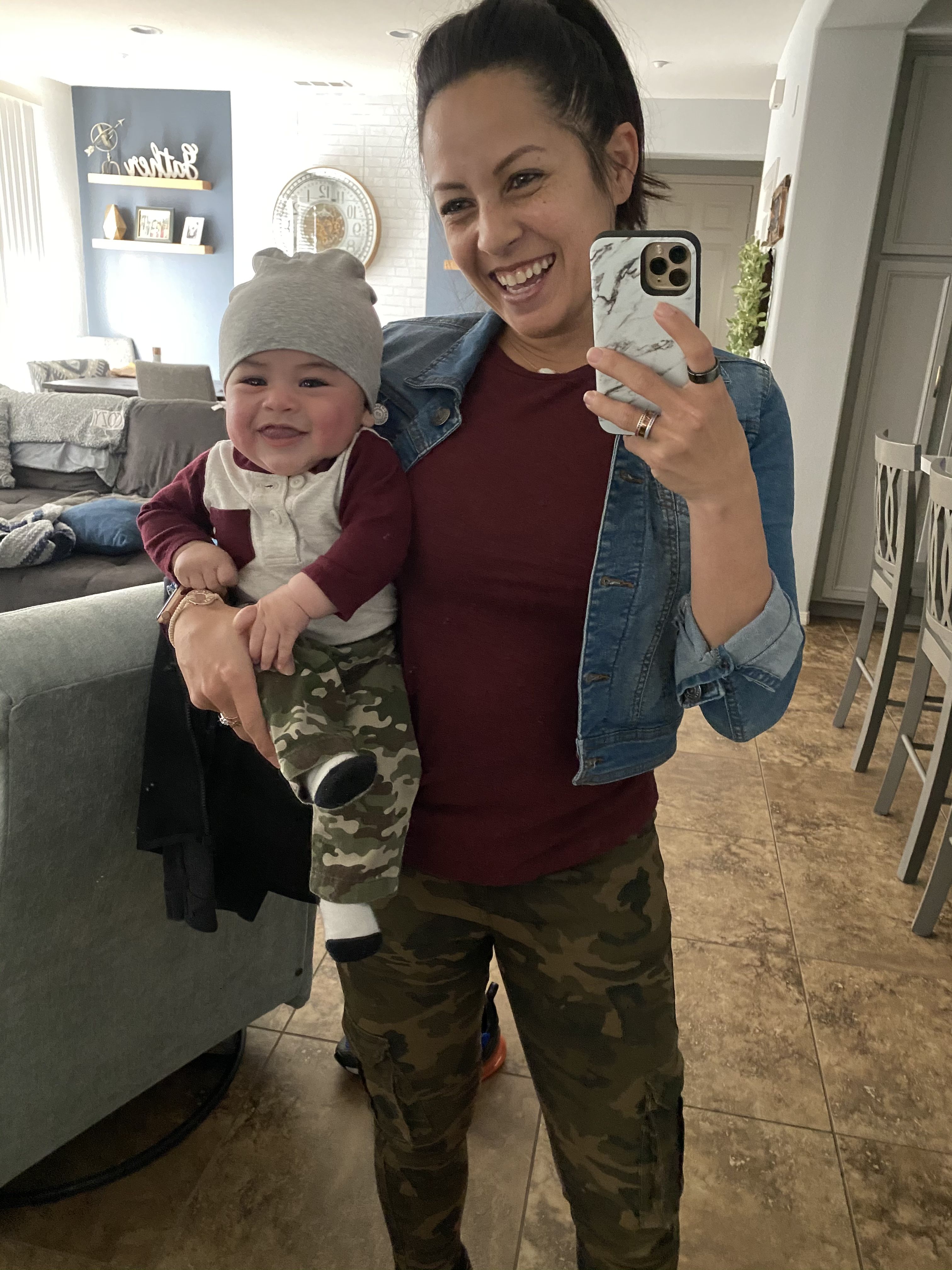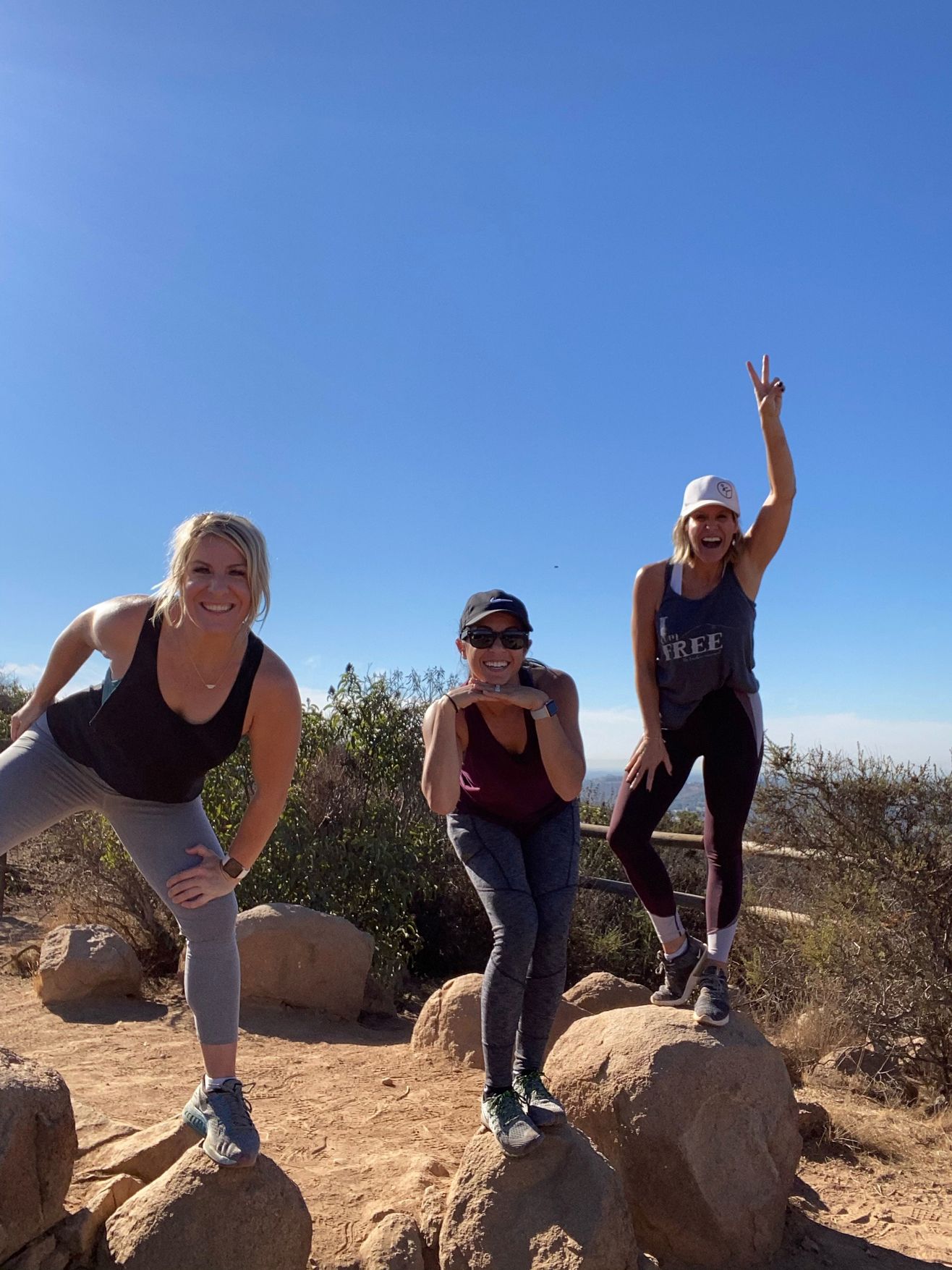 In the early days of motherhood, there were days I didn't even know if I had brushed my teeth! So having a coach to check in with was beyond helpful and I leaned back into the support and structure I know worked. She reminded me that I didn't need to be perfect to make progress, and cheered me on when I took steps in the right direction which kept me motivated.
I also relied on the Fuelings and Lean & Green recipes to help give me the nutrition I needed. I love that the dishes are easy enough to make that even with my son crawling around nearby, I can still get dinner on the table within 30 minutes. Also, having the structure of the program has been such a lifesaver.
Now that I've achieved a healthy weight, here's what I typically eat in a day:
Breakfast: I actually have two breakfasts. I start my day with an OPTAVIA
Fueling (I love the Chocolate Mint Bar or the Caramel Macchiato Shake). Then, when my son wakes up, I have an omelet with toast, yogurt with granola, or a smoothie.
Lunch: A big salad with romaine lettuce, lots of veggies, and pre-cooked chicken.
Snacks: Veggies with hummus or fruit.
Dinner: A Lean & Green meal (5 to 7 ounces of cooked lean protein, 3 servings of non-starchy vegetables, and up to 2 servings of healthy fats). My favorite is theChicken Crust Pizza.
Dessert: An apple with a tablespoon of natural peanut butter or another OPTAVIA Fueling. One of my favorites is the Brownie with Greek Yogurt Chips.
A post shared by Ashley Monzon • HEALTH COACH (@_ashley_monzon_)
(Here's what you can expect to eat while on the plan in the weight loss phase, BTW.)
I lost 25* pounds in 4 months—and learned to celebrate my wins both big and small.
Losing weight after having my son has boosted my confidence, sure. But more importantly, this program has helped me build a healthy relationship with food and shifted my all-or-nothing mindset. I now have the mantra, "progress over perfection," and take my goals one small step at a time.
OPTAVIA has also given me the power to create a life that allows me to become the best version of myself so that I can give my best to my son, my husband, my family, and friends.
Thanks to the tools built into this program, I have the mental toughness to overcome adversity while also giving myself grace along the way. My son is learning to walk right now. Watching him get back up after he falls is a beautiful process that reminds me that I can always get back up along my wellness journey. And while it is also full of progress and setbacks, it's a lifelong journey that's worth the effort.
*Average weight loss on the Optimal Weight 5 & 1Plan® is 12 pounds. Clients are in weight loss, on average, for 12 weeks.
Source: Read Full Article