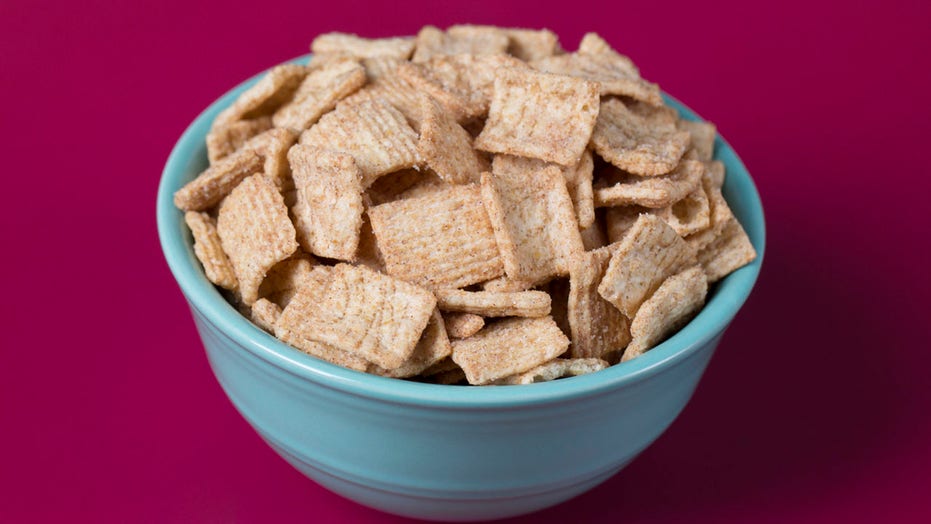 Fox News Flash top headlines for March 23
Fox News Flash top headlines are here. Check out what's clicking on Foxnews.com.
Science is going to get to the bottom of this shrimpy mystery (or shrimpstery) once and for all.
A man who says he found shrimp tails in a box of Cinnamon Toast Crunch is now claiming that the items will be analyzed by a crustacean expert. This latest news comes after Cinnamon Toast Crunch replied to his Twitter posts, claiming the objects in his photograph were merely "an accumulation of cinnamon sugar."
Jensen Karp, a writer and producer who has worked on such TV shows as "Unleashed" and "The Masked Singer," posted a photo of the strange find to Twitter on Monday, asking the makers of Cinnamon Toast Crunch about the alleged "shrimp tails in my cereal."
He concluded the tweet by confirming that this was not "a bit."
Since then, he posted a message to his Twitter account confirming that the items will be analyzed by a "carcinologist (crustacean expert)" who works for the Natural History Museum of Los Angeles. The expert will reportedly analyze the objects for DNA to determine if they are, in fact, shrimp tails.
While Twitter users have been captivated by the story, some people have found a further level of entertainment by pointing out that Karp is married to actress Danielle Fishel, who is famous for playing Topanga on the show "Boy Meets World."
Karp confirmed that this was true to a seemingly amused fan.
Fox News originally reported that Cinnamon Toast Crunch responded to Karp's initial tweet by promising to send another box and report the incident to the brand's quality control team. Karp, however, said he wasn't sure he was "ready" for a replacement box.
Cinnamon Toast Crunch responded again, but this time denied that Karp had actually found sugar-coated shrimp tails.
"After further investigation with our team that closely examined the image, it appears to be an accumulation of the cinnamon sugar that sometimes can occur when ingredients aren't thoroughly blended," the brand wrote. "We assure you that there's no possibility of cross-contamination with shrimp."
CLICK HERE TO GET THE FOX NEWS APP
Karp fired back. "Ok, we'll after further investigation with my eyes, these are cinnamon coated SHRIMP TAILS, you weirdos," he claimed. "I wasn't all that mad until you now tried to gaslight me?" His post also included photos of the sugary objects sitting in his hands.
He later tweeted an image of a box of Cinnamon Toast Crunch coverd with sticky notes, reading "do not eat."
In a statement obtained by Fox News, a spokesperson for General Mills, which produces Cinnamon Toast Crunch, hinted that Karp's cereal may have been tampered with, but only after leaving the production facility.
"While we are still investigating this matter, we can say with confidence that this did not occur at our facility," said General Mills spokesperson Mike Siemienas. " We are waiting for the consumer to send us the package to investigate further. Any consumers who notice their cereal box or bag has been tampered with, such as the clear tape that was found in this case, should contact us."
FOLLOW US ON FACEBOOK FOR MORE FOX LIFESTYLE NEWS
Several Twitter users reacted to the Cinnamon Toast Crunch's account's initial response, with one user writing, "Wow, this is amazing, I never knew sugar and cinnamon together can entirely mimic the obvious appearance of a shrimp tail, complete with shell structures and sub dermal veins."
Another user asked, "At what stage in the accumulation process does cinnamon sugar grow veins?"
"Hypothetically speaking let's say this guy has a shell fish allergy and you're saying it's an accumulation of sugar," added another. "Yikes guys!"
Source: Read Full Article