Prepare to love Reese's even more than you thought was possible. Cold Stone Creamery has turned the classic chocolate and peanut butter combo into an ice cream treat!
The handcrafted Reese's Peanut Butter Ice Cream Cup starts with a chocolate cup, and is filled with layers of Reese's Peanut Butter Sauce and chocolate ice cream, as well as fudge ganache, sea salt, and a Reese's Peanut Butter Cup on top.
What better way to celebrate I love REESE'S® Day than with our NEW REESE'S® Peanut Butter Ice Cream Cup?! REESE'S® Peanut Butter Ice Cream Cups are an indulgent treat made with a Chocolate Cup filled with layers of REESE'S® Peanut Butter Sauce and Chocolate Ice Cream topped with rich Fudge Ganache, Sea Salt and REESE'S® Peanut Butter Cup.
A post shared by Cold Stone Creamery (@coldstone) on
The ice cream brand launched the Reese's dessert on May 18, aka I Love Reese's Day. There's no indication that the Cups are a limited-time offering, so I'm just going to assume they'll be around for years to come (or that's what I'll hope for, anyway).
If you're looking to serve Reese's ice cream on a larger scale, Rich Products Corporation recently released a Reese's ice cream cake in grocery stores. It consists of ice cream, peanut butter whipped frosting, Hershey's chocolate sauce, and a layer of actual Reese's Peanut Butter Cups.
I'm loving this Reese's ice cream trend happening at the moment, so any and all brands should feel free to keep it going!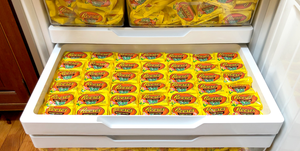 Source: Read Full Article