Now that the holidays are over, we have our sights set on the next reason to celebrate: Valentine's Day. With hot chocolate bombs becoming the must-have drink accessory last year — especially that Baby Yoda one — it's only natural that it continues on into every holiday. That's why we need the Strawberries & Cream Hot Cocoa Bomb from Maud Borup.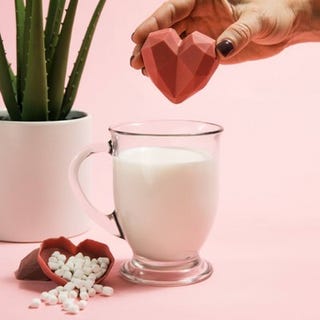 This new hot cocoa bomb works like any other, but it's much more festive for Feb. 14. The geometrical rose pink-colored heart is made of strawberries and cream white chocolate. Just drop it in two cups of hot milk and watch the heart melt, followed by mini marshmallows popping out to the surface. Prepare to take the ultimate video or Boomerang.
You can get the 1.7-ounce hot cocoa bomb at Target for $2.99. It's already been popping up on shelves, so you can get into the Valentine's Day spirit … now. The Strawberries & Cream hot cocoa bomb has also popped up on Amazon (at a higher price), so that gives you another option to get it.
https://www.instagram.com/p/CJhn4pkHEHo/?utm_source=ig_embed&utm_campaign=loading
A post shared by Target Shares (@targetshares)
Maud Borup certainly knows how to do holiday-approved treats. Last year, we were introduced to the Let's Avo-Cuddle Chocolate, a chocolate avocado with a heart-shaped pit, that's also back for 2021. If we're going to indulge in all the chocolate goodies, they might as well be as festive as possible.
Source: Read Full Article