SALAD-CENTRIC restaurants are growing like wild dandelion greens across the country. (Hot ingredient: wild dandelion greens!)
Depending on where you're located in the country, you've likely seen a Saladworks, Mad Greens, Just Salad, Tender Greens, or another greens-based, made-to-order restaurant chain sprout up near where you live.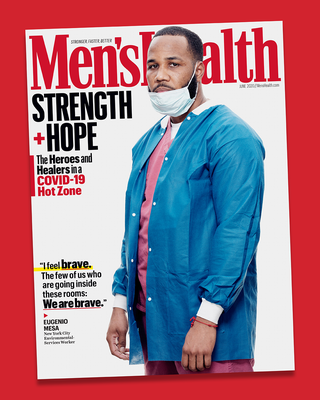 And that's a good thing because, if you're being honest with yourself, your typical fast-food chain doesn't do a great job with salads. Most chains known for burgers fill a plastic clamshell with kinda-fresh iceberg lettuce, drop on two tasteless cherry tomatoes, and add a few measly strands of carrot peel. What nutrition!
And if you are so BOLD as to ask for protein, well, your options are limited. There's fried chicken, which doesn't taste like all that much, and grilled chicken, which also doesn't taste like all that much.
Salad-based chains aim to fix all that. They've Subway-ified the salad, allowing customers to mix-and-match their salad ingredients to their taste—and nutritional needs. (For the just-give-me-a-dang-salad crowd, they have standard options too.)
But, still, dietary pitfalls await. Ordering a salad does not exempt you from calorie overload, sugar sabotage, and general disappointment.
So we did the work for you, trawling the menus of four of the most popular salad-based chains in America for the best options. We were looking for salads that were high in protein, fiber, and flavor, while keeping sugar and calories on the low side.
What follows are our Men's Health recommendations for the best high-protein options at popular salad chains—plus ways to raid their menus to DIY a bowl that's all good.
Mad Greens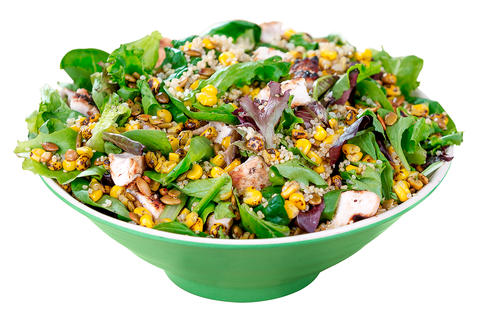 You find this chain in Arizona, Colorado, and Texas. They have a fully customizable menu that doesn't take itself too seriously. (They have a salad named after, of all people, Edgar Allen Poe.) They also have some scary-good dressings: smoky cider, sherry molasses, and spicy sriracha almond vinaigrettes.
What you're having: Pancho Villa

At Mad Greens, you can double your greens for just a buck more. Do it with this salad to balance all the quinoa, roasted corn, spiced pumpkin seeds, avocado, southwestern chicken, and cilantro chili lime dressing. Nutrition per salad: 782 calories, 44g protein, 5 4g carbs (12g fiber), 55g fat
DIY HACK: This spot infuses its dressings with heat, dusts peppery spice over its pecans, and features a piri-piri spice rub on its shrimpand tofu. To add heat at home, lean on ingredients like pickled jalapeños, chili powder, and hot sauce.
Tender Greens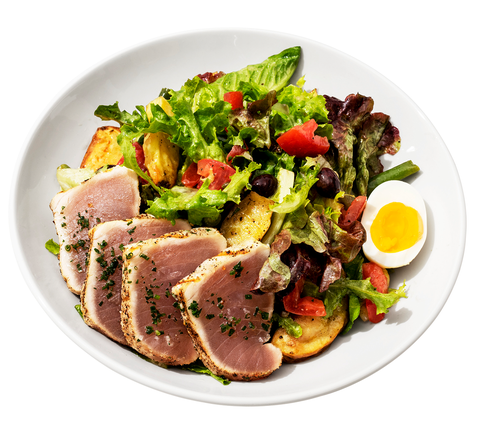 Each location is helmed by an executive chef, and the offerings adapt to the location of the franchise and the season. It's California-based so expect lots of avocados, fresh seafood, and the word "artisanal." You'll also find locations in Massachusetts and New York.
What you're having: Tuna Nicoise
Seared ahi tuna, tomatoes, potatoes, capers, green beans, egg, olives, baby greens, and a sherry vinaigrette. It's a formidable post-workout meal, with enough protein to help rebuild your muscles. 650 calories, 32g protein, 17g carbs (6g fiber), 51g fat
DIY HACK: This salad chain drops a dollop of hummus into one of its salads—and it works. Hummus is creamy, like a dressing, yet strong enough in flavor to stand up to bitter arugula, char-grilled chicken, or even that seared ahi tuna.
Saladworks
Saladworks is the largest greens-based chain in America. And their list of toppings is loooong. Some highlights from their 55-plus options: shrimp, smoked pumpkin seeds, marinated tomatoes, and goat cheese. They also offer pre-selected combos for the indecisive eater, too.
You're having: Bently Salad
It's a powerlifter's chef salad: ham, roasted turkey, egg, tomatoes, and provolone on romaine and iceberg lettuce with green-goddess dressing. 560 calories, 60g protein, 20g carbs (8g fiber), 32g fat
DIY HACK: Roasted vegetables make salads awesome. Batch-cook some: Set your oven to 400°F. Toss a bunch of roughly chopped Brussels sprouts, sweet potatoes, and onions onto a baking sheet with oil, salt, and pepper. Roast till tender. Cool. Pop onto greens at will. You can even roast cherry tomatoes for your at-home version of the Bently.
Just Salad
Nutrient-dense salads, some catered to keto, Paleo, vegan, and gluten-free diets, all packed up in a reusable big blue bowl. You'll find them in Florida, Illinois, New Jersey, New York, North Carolina, and Pennsylvania.
You're having: Chipotle Cowboy Salad
It's a romaine grilled-chicken salad, but fired up with pepper jack cheese, black beans, avocado, crunchy onions, and a chipotle vinaigrette (tortilla chips optional). 590 calories, 33g protein, 32g carbs (13g fiber), 38g fat
DIY HACK: Do your crunches. Just Salad has all kinds of crunchy toppings: roasted pumpkin seeds, roasted almonds, wontons. There's a world beyond croutons. Explore it.
Source: Read Full Article