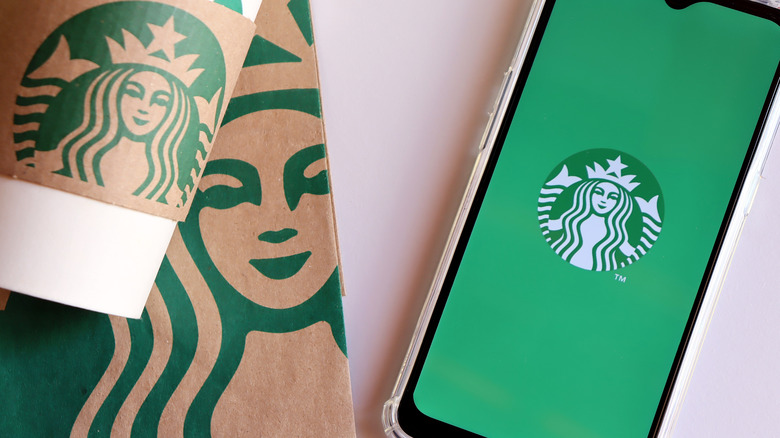 If you were hoping to hit up Starbucks all summer long to try out some of their refreshing drinks, you might have to find another place to go.
Over the past few months, Starbucks has been experiencing significant supply shortages that are leaving customers disappointed and thirsty. People began to notice the shortages upon opening their Starbucks app, only to find an ominous message that informed customers of a country-wide shortage of items (via Twitter). According to a spokesperson for Starbucks, "Specific items will vary by market and store, and some stores will experience outages of various items at the same time" (per Delish). The source added that they are working as quickly as possible to restock the items, but it's unknown how long the shortage will continue.
Some of Starbucks' most popular drinks will be on hiatus as a result of the shortage, including the Peach Green Tea Lemonade and the Very Berry Hibiscus Refresher, per Today. Starbucks also appears to be out of Chai Latte, Strawberry Acai Refresher, Mango Dragonfruit Refresher, White Chocolate Mocha, Cinnamon Dolce, Kiwi Starfruit Refresher, and Dark Roast Coffee, per Taste of Home.
Starbucks employees are shopping for ingredients at local stores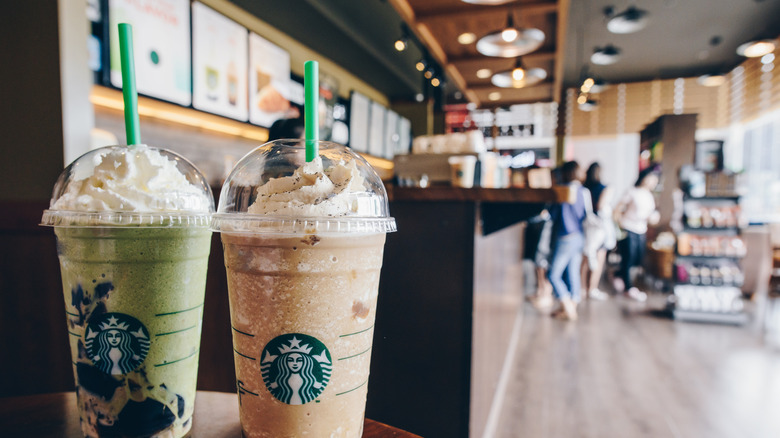 But it's not just customers looking for a refreshing sweet drink that are being left high and dry — indeed, it's even those looking for some caffeination. According to BuzzFeed, TikTok has been quick to cover the shortage, with videos all over the country of users' local Starbucks being low on more than a few items. According to one TikTok user, their Starbucks posted a sign written in chalk that listed the missing items, including White Mocha, apple juice, strawberries, Dark Roast, Matcha, Chai, and even drink trays. Videos have even shared that Starbucks employees have been forced to make runs to grocery stores and Target locations in order to pick up vital items and ingredients, such as lemonades and syrups (via BuzzFeed).
Unsurprisingly, social media is totally buzzing about the apocalyptic decline of their favorite cafes. One Twitter user wrote, "There is a starbucks chai and spinach feta wrap shortage in the bay and I have not ordered anything else for the past 2 years so I walked out with a water and a cake pop because I have absolutely no idea what else to order." In addition, a Starbucks employee Tweeted, "bro starbucks is outta everything [cry emoji] biggest shortage ever and customers are still mad at us."
Source: Read Full Article