IT WAS ONE of those make-or-break Shark Tank-like moments that fill entrepreneurs' fantasies.
March 2019. The NCAA tournament. Michigan State, a number-six seed, was facing top-ranked Duke in the Elite 8. Duke's Cameron Crazies were in full feral-sports-fan effect, and Washington's Capital One Arena boomed. A successful three-point shot—and a failed free throw—gave the Spartans a one-point edge and the victory in the last minute.
After the buzzer sounded, Kareem Cook knew it was time to take his shot. Accompanied by his college buddy, fellow Duke alum and NBA player Grant Hill, he approached legendary Lakers point guard Earvin "Magic" Johnson with his sales pitch. They'd met before at a 2016 political fundraiser in California.
Cook wanted to tell Johnson about Naturade, the supplement company Cook and his Duke fraternity brother Claude Tellis purchased back in 2012. Naturade, now one of the nation's few Black-owned supplement companies, was introducing Organic VeganSmart, a line of plant-based protein supplements. Cook wasn't sure if Johnson would remember him, but he figured that Johnson would be riding high from his alma mater's win.
"So we went over to Magic. Even though they just beat us, he didn't gloat," Cook says. And to Cook's surprise, Johnson remembered hearing about his previous business venture at that fundraiser.
Almost a year after the Elite 8 pitch, the Lakers veteran announced that he had decided to invest in the company. Cook won't disclose the details, but he says that the partnership has already paid off. Not just in financial capital but also in terms of social capital: Magic has opened doors to boardrooms and playing fields that Naturade wants to be on.
For Johnson, the investment partnership made sense. "Claude and Kareem have healthy products that not only taste good but also serve to replace the food options that lead to diet-related illnesses in minority communities," he says.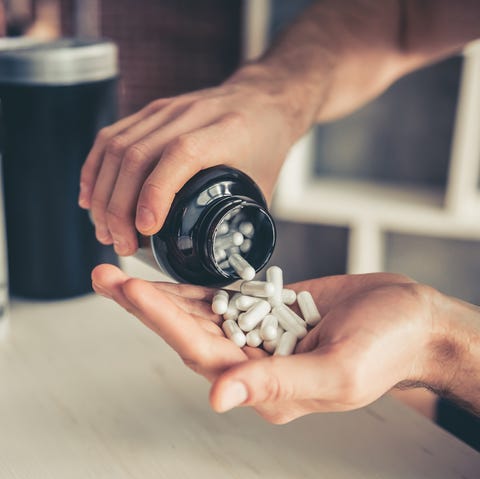 Within the past two years, Cook and Tellis have faced a groundswell of competition from other athletes promoting their own dietary supplements.
In 2018, LeBron James partnered with (among others) Arnold Schwarzenegger to found Ladder Sports Nutrition. Tom Brady went all in on TB12 Sport, his holistic wellness line, which includes a flight of diet books, protein powders, and electrolyte elixirs. In the past year alone, Odell Beckham Jr. and Brandon Marshall have also launched their own wellness brands.
More men are spending more money on dietary supplements, an industry worth an estimated $122 billion, according to the latest statistics from the trade group Council for Responsible Nutrition (CRN). And athlete-powered companies like Naturade may possess the marketing edge. Except that just because an athlete believes in, invests in, or signs on to a nutritional supplement doesn't necessarily guarantee the benefits promised.
The Athletic Allure
CELEBRITIES HAWKING products is nothing new, with the earliest endorsements appearing on (of all things) tobacco cards—the precursor to baseball cards—in the 1870s.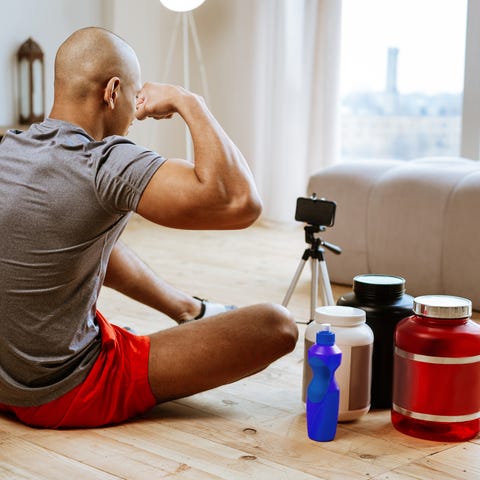 Since then, athletes' endorsements have run the gamut from quaint to questionable. A classic 1979 Coca-Cola commercial argued that a cute kid's gift of a soda could make even the growly, limping Mean Joe Greene smile on the way to the locker room. Tennis great Björn Borg and Chicago Bears running back Walter "Sweetness" Payton appeared in early ads for Nutrament, touted as a milk-based meal replacement or post-workout boost. Ever the iconoclast, Charles Barkley once contorted and squeezed himself into a little black dress to show off his newly trim waistline and devotion to Weight Watchers.
Regardless of who endorses what, the marketing benefits are clear. Seventy-five percent of millennial men (18 to 34 years old) said that they were more likely to buy a supplement if a celebrity endorsed it, according to a 2016 survey by the research firm Packaged Facts.
And what's more, college-aged men are already primed to buy supplements that claim to enhance physical performance—like protein powders for muscle gain or electrolyte drinks for workout recovery—reports the National Institutes of Health.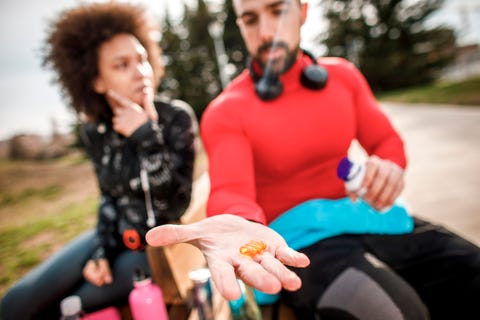 That doesn't surprise David Leonard, Ph.D., a Washington State University scholar who explores race, gender, and sport. The endorsements suggest that these supplements yield not only the perfect body, characterized by the "six-pack, bulging muscles, but a life that includes financial success, a beautiful girlfriend, and the American dream," he says.
You could, in the words of the iconic Gatorade campaign, be like Mike.
For a more recent example of lifestyle-centric sells, check out LeBron's 2019 ad for Ladder supplements, in which he spends the first few seconds dribbling on an empty court, his arm muscles glistening.
Moments later, he's in a shirt and tie, laughing with a group of businessmen. Then cut to a domestic scene in what is presumably his home, with him tossing his work bag on the kitchen countertop and finding a picture drawn by one of his kids. This guy has it all, you might think. And then, the close of the ad: "Life is a workout."
Odell Beckham Jr. may take a more reserved approach to the way he's marketed the Brand X line of supplements, in which he's a partner. Although Beckham was occupied with preseason training and couldn't speak for this article, Brand X spokesperson Kevin McIntosh Jr. says that the partnership began with the wide receiver's realization that he struggled with fatigue, sluggishness after workouts, and focus problems.
This past April, Beckham released a YouTube video to promote Brand X. But before he mentioned his Sleep VibeZZZ pills, he talked about how he was dealing with weeks of self-quarantine: a deck of cards to play spades, Call of Duty: Warzone, football, and red wine.
Whether the sell is hard or soft, the commonality is that the athlete is larger than their sport, has diverse interests, and in a way is just like you, says Kirk Wakefield, Ph.D., a sports-marketing professor at Baylor University. Wakefield studies how pro athletes influence sports enthusiasts, and he says he's also noticed the recent swell in athlete-backed supplement brands.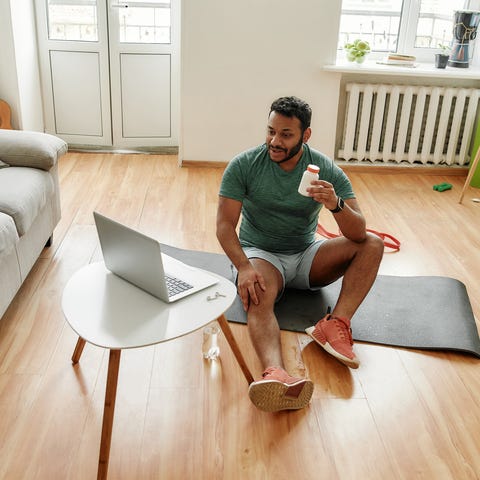 The trend has actually been building for years, he says. "Players now have agents telling them since they're in college on that they are their brand," says Wakefield. "Plus, they've got trainers and nutritionists and all these people telling them that nutrition is the key to performance. Many of these young guys grew up hearing this."
But that's just the supply side. There's also demand. Supplement sales have spiked. According to the global consulting company McKinsey, the U. S. supplement market skyrocketed by $6 billion just between 2007 and 2012, the year Cook and Tellis bought Naturade. Seventy-nine percent of all Americans reported taking dietary supplements in a 2019 CRN consumer survey. A 2018 NPR/Marist poll found that vitamins made up 26 percent of sales on Amazon; the category ranked third behind clothing and electronics.
For those wary of going to the doctor—and Americans' trust in their physicians has been waning since the 1960s—supplements may look like a good and sometimes cheaper alternative to "treat" mild health issues such as infrequent insomnia. Because why undergo extensive medical testing for sleep problems at a high deductible when you can pop a Sleep VibeZZZ pill ($32 for 60) and rest easy? It works for Odell Beckham Jr.
The Truth Behind the Sell
LONG BEFORE COOK and Tellis bought Naturade, the company sold, of all things, laxatives. Founded in 1926, Naturade marketed Kolen-Ade, a plant-based (no, really) carbohydrate food that alleviated constipation, "the greatest single cause of ill health." On its packaging: a chiseled athlete about to hurl a discus.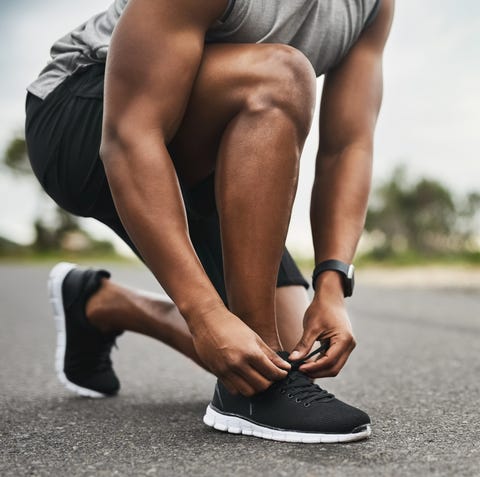 Naturade went on to lead production of protein drinks in the 1950s. Due in part to investor failures, it filed for Chapter 11 bankruptcy in 2006. Six years later, Tellis and Cook acquired the company at a deep discount.
They were determined to remake the nearly century–old brand in light of 21st–century demographics. But they also had to deal with a 2013 class-action complaint contending that a product owned by Naturade, the FlexAid supplement often sold in Walgreens stores, made false claims about its ability to improve joint health.
If all this sounds Wild West, that's largely because the supplement industry is.
Because the U. S. Food and Drug Administration does not test supplement products for safety or effectiveness, consumers are mostly on their own when it comes to discovering the truth behind the advertising.
Protein shakes, herbal remedies, and wellness pills aren't subjected to the same scrutiny as over-the-counter drugs. Yes, the FDA tracks consumer complaints, but only after products go public. And unless a brand decides to apply for a third-party seal, such as that offered by NSF International, the ingredients that the company advertises on the product label may not even be in the product at all.
Or, worse yet, the supplement might contain banned substances, contaminants, unsafe quantities of active ingredients, or chemicals that can potentially clash with medications.
Abby Langer, R.D., a Toronto-based nutrition expert, says she has the same concerns about this new wave of athlete-backed supplements that she has about most supplements.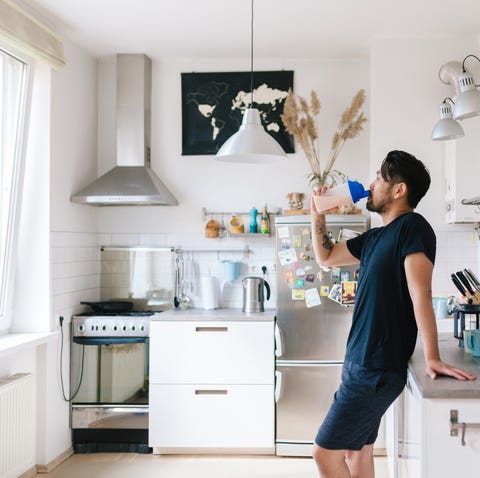 "My red flags with supplements and diets alike are any kinds of claims you can't prove or measure, like 'adrenal function,' " Langer says.
Every person is different, she says, and no one pill or protein potion has the power to cure all. "Celebrities are a completely different class of people and live completely different lifestyles. Just because you take LeBron James supplements doesn't put you any closer to being LeBron," she says.
And there's another level of psychology: Say you decide to buy into an athlete–backed supplement and find that it doesn't do what it promises. Well, Wakefield's research states that you will likely "explain away" why the product didn't work for you—instead of blaming the athlete who sold it to you.
This is not to say that all supplements are junk. In fact, some are thoroughly studied and effective. It's just that the bulk of the labor rests on the buyer of the supplement—not on the manufacturer.
Naturade's VeganSmart product will debut on Costco.com this month. By January or February, it will appear in 40 physical stores. Although the line does not yet carry NSF certification, Cook says it's in the works. But given the largely unregulated nature of the industry, they may not need the certification to succeed.
After all, they've got Magic.
This article originally appeared in the December 2020 issue of Men's Health.
Source: Read Full Article