From his generosity and impatience on the set of Dirty Dancing to having to stop jumping out of planes for Point Break, how the late actor was all in, on everything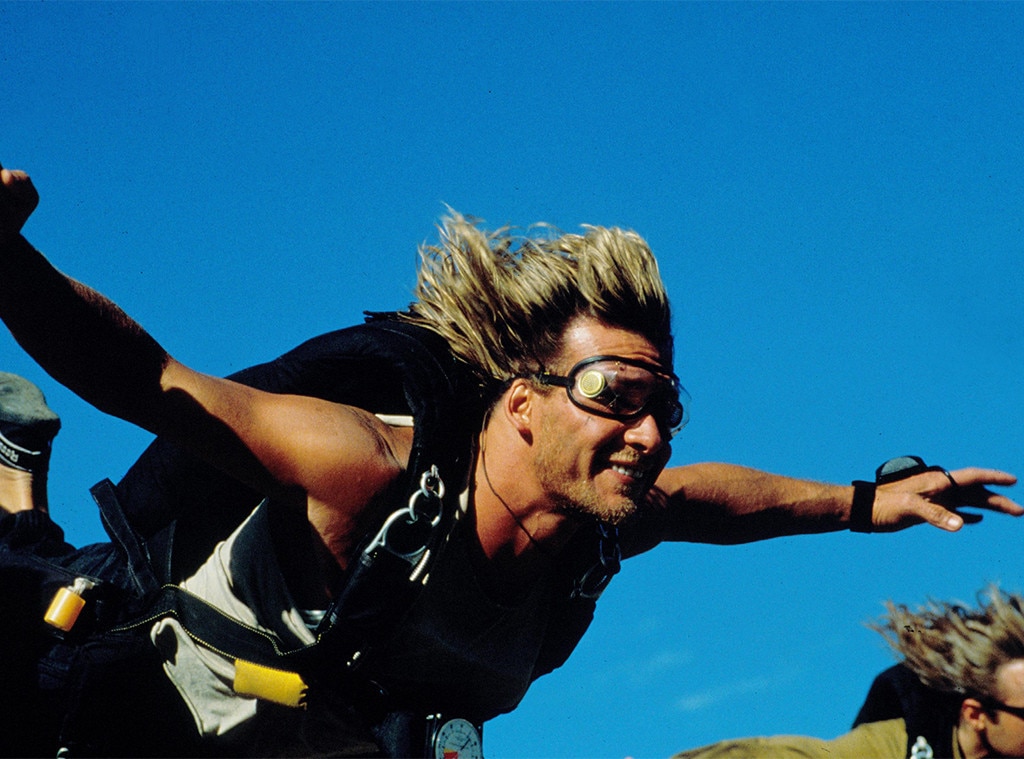 So many of Patrick Swayze's roles have a certain adjective in common.
He was the hunky dance instructor, the hunky bouncer, the hunky surfing bank robber, the hunky ghost, the hunky drag queen…
But all of the above, plus a dozen others, also share the inexplicable extra that Swayze brought to every part, a sensitivity and earnestness that radiated from the screen when he was uttering an iconic line like "nobody puts Baby in a corner" or pleading with Johnny Utah for the chance to catch just one last wave. Swayze treated movie-making with utmost gravity, respectful of every chance he was given, even when the film itself didn't turn out to be a winner.
But no matter the genre, the classically trained dancer, gymnast, horseback rider and outdoorsman, pilot and daredevil from Texas was always a reason to watch.
And he approached movies as he did life—always up for trying something new.
"The thing that I observed from afar is that Patrick as an actor had much less respect for the script than most other actors I worked with, which at first I resented," admitted James Cameron, who executive-produced Point Break, in a 1990 Q&A with the film's director and his wife at the time, Kathryn Bigelow. "In the long run, I think it annealed what was good about the script, because he challenged everything."
Bigelow agreed that Swayze not simply going with the flow and scrutinizing those ever-quotable lines made for a more committed performance on his part. "It was his method of territorializing the character," she said. "It was like an exorcism. And in his case, that was exactly what attracted him to the material." 
In the 2019 documentary I Am Patrick Swayze, the actor observed in an old interview, "I was just looking for any way to make a mark." The raw look at his life and legacy took an in-depth dive into his goals as a performer; his incomparable work ethic; his 34-year marriage to Lisa Niemi, who met him before he made his first movie; and the demons that he fought behind the scenes at every turn up until he died of cancer at the way too young age of 57 in 2009.
Trending Stories
Check Out All of the Celebrity Couples You Forgot Existed
Hannah Ferrier Sounds Off on Her Below Deck Med Firing & More
Ellen Show Fires 3 Producers Amid "Toxic" Workplace Allegations
He had an all-consuming, full-body approach to roles, whether he was kicking ass in Road House, skydiving in Point Break or spending hours in hair and makeup for To Wong Foo, Thanks for Everything! Julie Newmar. He also wasn't averse to meaty character parts, such as the puritanical motivational speaker with a nasty secret he played in Donnie Darko, one of the few true villains he ever played.
Any way he did it, he left that mark.
In honor of the much-missed movie star, on what would have been his 68th birthday, check out some fascinating behind-the-scenes stories about the roles you remember him for most—and some you may have forgotten about.
In his 1979 movie debut, Swayze (who also skated competitively, among his many other qualifications) played Ace Johnson, a hunky skating stud who's challenged by the head of a street gang to face off in a competition at the local roller disco.
Scott Baio was Ace's manager and Maureen McCormick played his rival's sister. The setting: Flipper's Roller Boogie Palace in West Hollywood, which for awhile was all the rage.
Many scenes were filmed at the Hollywood Palladium and across town at Venice Beach and by the Santa Monica Pier. And, according to McCormick in her 2008 memoir Surviving Marcia Brady and Finding My True Voice, "Like a disco, there was a lot of cocaine being done on the set. Many people were open about it."
Where to begin with the cast of Francis Ford Coppola's teen-idol-heavy ensemble drama, which started shooting in 1982 and led to an off-set friendship between Swayze and Tom Cruise.
Perhaps that's because Cruise was Swayze's most enthusiastic student when the gymnast was demonstrating how to do a backflip on set.
"When it comes to flips, I'm a pussy. I don't flip," co-star Rob Lowe wrote in his 2011 book Stories I Only Tell My Friends: An Autobiography. "I don't even dive into a pool—straight cannonball for me. No, thanks. Cruise, not surprisingly, is all over it. 'How about this!' he says, almost pulling it off without even being spotted. He wipes out, but tries it again immediately."
Swayze was "as cool as you want," Lowe remembered, "wearing tight jeans and a tattered, sleeveless Harley-Davidson T-shirt revealing his massive, ripped arms. (This is his uniform, he never changes it, and if I looked like him, neither would I.)"
Chris Hemsworth aside, the remake couldn't hold a candle to the 1984 original, starring Swayze as a high school student who heads into battle with his classmates when the Russians invade (in person, not via Facebook) to start World War III. The guerilla fighters call themselves the Wolverines, after their school mascot.
The modest box office hit was actually Swayze's first movie with Jennifer Grey—and there were rumors that the young actors didn't get along.
"I was cast before he was," Grey told Glamour in 2015. "He came in [to test] along with a bunch of other guys. I didn't think we had chemistry. But you either do or you don't. It's a weird thing, though. It doesn't have to do with whether you like someone or not. It's just you either have it or you don't."
Well…
He played Confederate soldier Orry Main in the sweeping six-episode miniseries, which aired in 1985 and put Swayze on many more radars.
According to Wendy Leigh's Patrick Swayze: One Last Dance, the actor was a descendant of Reverend Samuel Swayze, who settled in New Jersey in the 1700s but led a congregation to Natchez, Mississippi—where part of North and South was filmed—and they became known as the Jersey Settlers.
Billy Zane was the original choice to play Johnny Castle. Because apparently they wouldn't have minded if people were blasé about Dirty Dancing.
Story creator Eleanor Bergstein, who first wrote the treatment in the 1960s, pictured a bad boy with "very hooded eyes that can be dangerous"—so Zane, handsome but easily menacing, does make sense in that respect. But once Bergstein saw Swayze's photo, she knew he was the one.
Non-dancer Jennifer Grey admitted that she was as terrified as Baby to hit the floor with the ballroom and ballet expert who'd been dancing since he was a foot high, even though she had already worked with him in Red Dawn. And despite some built-in difficulties (that lake water was cold), she remembered having the time of… you know.
"He smelled really good, his skin was really nice," Grey told The Hollywood Reporter in 2016. "He was really strong and he was very protective and his heart was very much in it."
Swayze was "a great dancer and he was fearless," the actress said. "His fearlessness with my fearfulness—like his lack of Jewishness and my super Jewishness—together was like a marriage where you have two opposites. He'd do anything and I'd be scared to do anything."
Grey did "a truly phenomenal job," Swayze remembered in his memoir The Time of My Life, released posthumously in 2009. "We did have a few moments of friction when we were tired or after a long day of shooting. She seemed particularly emotional, sometimes bursting into tears if someone criticized her. Other times, she slipped into silly moods, forcing us to do scenes over and over again when she'd start laughing." 
So Baby's bursts of laughter were the real deal, while Johnny was as impatient as he looked. "I was on overdrive for the whole shoot," Swayze acknowledged, "staying up all night to do rewrites, squeezing in dance rehearsals, shooting various scenes—and was exhausted a lot of the time. I didn't have a whole lot of patience for doing multiple retakes." (He also sang "She's Like the Wind.")
But if we were Jennifer Grey, we would have been trying to make that shoot last for as long as possible.
Not a sequel to Red Dawn, though both involve World War III. Rather, Swayze plays Nomad, a peaceful warrior with mad sword-fighting skills in a post-WW3 dystopia where water is a scarce commodity. It's a take on the Western Shane, a cousin of Mad Max and the dry version of Waterworld, and Swayze is basically a hunky pirate from a recognizable future.
While he acquitted himself accordingly, he's said to have taken the part in the first place because his wife, Lisa Niemi, would be playing his romantic interest, and he more than anything wanted to work with her. The two do share a very hot kiss, and not just because they shot in the Kalahari Desert.
"We expected to sleep in a sand dune, but instead they had incredible German food," Swayze later recalled. "We had a thatched cottage on a lagoon, and there were thousands of flamingos right outside our front door."
Steel Dawn was shot before Dirty Dancing, but didn't come out until after, and it did not ride the wave of Swayze enthusiasm to box office success. But, it's become a cult classic among sci-fi and apocalyptic-landscape enthusiasts, as well as appreciators of stellar action sequences.
The Cadillac of cheesy Swayze action flicks. Swayze's muscles, hair and martial arts skills are working overtime in the role of Dalton, a Missouri bouncer trying to protect the locals from an interloping corrupt businessman, played by Ben Gazzara. Sam Elliott played Dalton's sonorous mentor bouncer, Wade.
Swayze trained with kickboxing champ Benny Urquidez, Michael Jackson's Thriller cranked up in the background for motivation.
Playing Dalton was "like a study in cool," Swayze told MTV's The Big Picture at the time. "This guy who has the reputation for being the best bouncer in the country and has paid a lot of money to come in and clean up bad situations, I try to be like the eye of the hurricane."
But don't worry, he was aware of the inherent comedy. "All that 'pain don't hurt' and 'I used to f–k guys like you in prison,' all those lines, we would be roaring at the time," Kelly Lynch recalled to AV Club in 2012. "I mean, it was just hilarious, you know? But no one winked at it. Everyone played it straight. I wore my tablecloth miniskirt dress, and we just had the best time. And I think it shows. And it lives on."
Annette Bening was originally onboard to play Swayze's love interest, according to Lynch, but apparently he was no Warren Beatty in Bening's eyes. "Patrick just didn't feel any chemistry with her or something," said Lynch, whose Doc first meets Dalton when she's patching him up after a fight. "I don't know what it was. But I didn't know who she was, I didn't know what this movie was, all I knew was who Patrick Swayze was, and that's because he'd just done Dirty Dancing, which was a big movie. And I thought, 'Man, he's a really interesting guy,' so I took the script, but then I read it and I was like, 'Okay, I don't understand what this is. There's a big-wheel truck, there's a bad guy, there's a doctor in a mini-dress, and there are bouncers.' It was just, like, a goulash. So many elements were thrown into this movie that it just didn't make any sense to me."
The romantic tear-jerker that did for pottery what 9 1/2 Weeks did for food (Kim Basinger, incidentally, was among the many actresses considered for the role of Molly). Swayze is banker Sam Wheat, who is gunned down in his prime and can't pass on to the afterlife until he solves his own murder and ensures that his beloved, played by Demi Moore, is safe.
"We had no idea that was going to turn into the most famous love scene in history," Swayze said about the scene that gives new meaning to the term claymation. (Also, that pot wasn't supposed to collapse.)
Despite being a big star, Swayze had to audition for skeptical director Jerry Zucker, who had just watched Road House, but he nailed the reading. Then, Swayze had never met Whoopi Goldberg before, but according to her, he insisted she be cast as the fraudulent psychic turned real-deal medium who serves as Sam's earthly lifeline, or else he wouldn't do it. Goldberg later won one of the film's two Oscars.
Bruce Willis, Moore's husband at the time, ironically turned down an invitation to read for the role, thinking it wouldn't be a good idea to play a ghost for the duration of a film.
While Swayze was very proud of the movie, calling it one of his favorites among everything he'd done, it proved haunting as well. Seeing the dummy used as a stand-in for Sam's dead body reminded him of his father's funeral.
"I had pushed that memory out of my life until that moment on location when it all came back, big time," he told People in 1990. "There were a few scenes where something happened to me that was very scary."
And apparently everyone was the target of someone's skepticism: Zucker was also skeptical of Tony Goldwyn as the film's villain; screenwriter Bruce Joel Rubin (who won an Oscar for his original screenplay) was reluctant to hire Zucker, one-half of the Zucker brothers, known more for comedies like Airplane!; and Moore thought the film would either be "really amazing" or "an absolute bust."
An attempt to recapture the magic was made in 2015, but nothing could ever match the bro chemistry of the original 1991 action caper, directed by Kathryn Bigelow and starring Swayze as  zenned-out surfer Bodhi, who moonlights as a Reagan mask-wearing bank robber, and Keanu Reeves as Johnny Utah, the undercover FBI agent trying to take Bodhi's crew ("the Ex-Presidents") down.
"In a way, the reason I wanted to do this role was an opportunity for me to sort out my adrenaline-junkie side," Swayze, who had jumped out of a plane dozens of times before he was asked to please stop (for insurance purposes) when filming got underway, said in a making-of featurette. 
The "100 percent pure adrenaline" skydiving sequences were rigged to look like they were thousands of miles in the air, but the only actual mid-air jump comes after Swayze says, "Adios, amigo!"
"He did the flips and falling to the ground, and he did it with an open heart," Reeves later remembered of his co-star. "He was a beautiful person, an artist. Patrick, he just wanted to experience life and for his work he wanted to take the opportunity of the film and it gave him that sense."
Swayze also learned how to surf and cracked some ribs shooting one scene, but big-wave expert Darrick Doerner was his double when he paddles out for the last time. However, that didn't stop one of Bodhi's custom-designed boards from selling for $64,000 at a movie memorabilia auction in 2017. In addition to boasting an inscription on the bottom with the designer's name, reading "Dennis Jarvis, California, 02635, for Patrick Swayze," there was apparently an extra divot built in to accommodate Swayze's "pronounced chest bone."
In the 1992 drama, Swayze plays a demoralized Houston doctor who comes to Calcutta in search of spiritual enlightenment, and after a series of misfortunes finds himself at a bustling medical clinic, though he's reluctant to get emotionally attached. He eventually begins to heal when he immerses himself in the joys and sorrows of the city's people.
"I could see someone who is very rigorous with himself," director Roland Joffe said at the time about his leading man, "who obviously had a tremendous amount of discipline as a dancer, probably very young had an enormous desire to achieve. But he was never going to fill the cup—that was set up from the early days. Someone had worked out how to put the carrot just out of reach, and it was going to stay out of reach forever."
The title didn't roll off the tongue, but the sweet story about three drag performers who get stranded in a small Nebraska town, where some minds don't want to be opened, still charms and remains perfectly relevant.
"From the first time I heard about [the movie], I knew I wanted to be in it," Swayze, who played the matriarchal Vida Boheme, wrote in his 2009 memoir, The Time of My Life. "It would be an amazing challenge to transform myself into a convincing woman, and playing a man in drag would really stretch me."
It was 1995 and, multiple sources told Yahoo! Entertainment 20 years later, an array of Hollywood leading men—from Mel Gibson and Robert Downey Jr. to John Cusack and Willem Dafoe—agreed to screen-test in drag for the part of Vida, which was cast after John Leguizamo and Wesley Snipes had signed on.
"I just took Patrick Swayze's life growing up in redneck Texas, having a mother as a choreographer, and trying to find out who I was," Swayze later told The Advocate. "I just took that life and changed it to a boy who has had feminine tendencies all his life and discovered that is who he is. I found Vida very easy to identify with."
He wrote in his book that he modeled Vida after Lauren Bacall, Demi Moore, Audrey Hepburn in Breakfast at Tiffany's, and his choreographer mother, Patsy. And the co-stars hung out with actual drag queens, of course.
"Spending time with these men was incredibly eye-opening," Swayze wrote. "Not only did they have an amazing sense of humor, they also had amazing courage. It takes cojones to be exactly who you are, especially when it's so different from what society has dictated for you."
Meanwhile, he was in the makeup chair by 4 a.m. every morning and needed a shave five times a day to combat stubble. 
And Jennifer Grey need not feel bad. Tensions ran high between Swayze and Leguizamo, both of whom wrote about their rocky relationship on set, including a fight that broke out when Swayze lost it over the comedian's tendency to improvise. "Finally, completely fed up, I snapped, 'Oh, God! Would you just shut the f–k up for once?'" Swayze wrote.
"Patrick swings. And I swing. Both of us in Frederick's of Hollywood," Leguizamo wrote in Pimps, Hos, Playa Hatas, and All the Rest of My Hollywood Friends. "I'm in hot pants. He's in f–k-me pumps.… They break it up before we can start pulling each other's hair and scratching each other's eyes out."
The motivational video that touts Jim Cunningham's guide to conquering your fear and being your best self was shot on a Saturday at Swayze's ranch in Calabasas, Calif.
"It was one of those pre-production mini-micro-shoots that you do," director Richard Kelly told Vulture in 2017, when the film was getting a 15th-anniversary re-release in theaters. "And it was the most fun experience. It was just incredible, because we got to go to Patrick Swayze's house and his amazing wife came out, she brought out all his '80s wardrobe! His real '80s wardrobe, which he wears in the sequence! And that's his backyard. We had the three additional actors and we were just doing yoga and calisthenics. It's just all this improvisation, and it was just the most fun ever. And I think we edited together a rough cut within a day or two."
In addition to having a small role, Drew Barrymore was an executive producer on the film and, according to Kelly, she and production partner Nancy Juvonen couldn't wait to get the rest of the show on the road once they saw the Swayze infomercial.
Back in 2003, at a Q&A hosted by Madstone Theaters and the San Diego Film Critics Society, Kelly said that Swayze was "the nicest guy," according to LiveAbout.com. "I cant tell you some of the actors we met with, like really weird game show host-type people that we were considering. We asked Patrick and we knew it was going to be so perfect.
"He wanted to take a flame-thrower to his image. He was fearless. We shot the infomercials on his ranch. Those were his real clothes from the '80s. He frosted his hair specifically for the part. He totally got it and was so cool about it."
After endless talk about a direct sequel to Dirty Dancing never went anywhere, Swayze was nice enough to pop up as "Dance Instructor" in the otherwise forgettable 2004 follow-up. (Even star Diego Luna cringes when it's mentioned.)
Some things don't change: the ladies in town are still lining up to take a turn around the floor with the veteran teacher, and when Romola Garai's Katey first lays eyes on him, he's dancing the mambo routine Johnny and Baby performed at the Sheldrake, to the same music. No lift, but it's still good.
In what turned out to be his last movie, Swayze channels the glam-rock era with a wig and eyeliner to play Velvet Larry, the shady owner of a Los Angeles club called Wild Velvet, where an ensemble of grieving outcasts convene for Christmas. It didn't make much of a mark but boasts pre-Oscar Eddie Redmayne as a mortician cosmetologist with jet-black hair and Jessica Biel playing a stripper whose son is in a coma, and the cast also includes Forest Whitaker, Ray Liotta, Kris Kristofferson and Lisa Kudrow. (And, incidentally, Don Swayze, Patrick's brother.)
And Biel, just the right age to have been properly obsessed with Dirty Dancing, made the most of the experience.
"I watched it every day after school in eighth grade," she later recalled. "We were actually watching it in the trailer one day and [Swayze] sat down and watched the last half hour with me. It was a really cool moment."
To Parade in 2009, she said of Swayze, "He is beloved by everyone, including me. I grew up watching Dirty Dancing. I watched it every day after school. Every day. I've seen it probably 80 times or more, no joke. Patrick was wonderful and full of energy. He was involved in the process and literally coming to the set even when he wasn't even working and saying, 'Here's my idea for that scene tomorrow.'"
He shot the pilot for the A&E series, in which he plays a hardened, stop-at-nothing FBI agent, in 2007. Hours after they were picked up for a full 12-episode season, the crew found out that their leading man had been diagnosed with pancreatic cancer.
That meant the production couldn't insure him as it normally would, but they pressed on anyway. And dipping into that wellspring of grit and discipline he'd displayed throughout his career, over five months of shooting Swayze only missed a day and a half of work.
"You forget sometimes Patrick is going through treatment for cancer," show creator and executive producer William Rotko said at a panel during the TCA Winter Press Tour in January 2009. "It brings us closer together as a tight-knit group. It makes you stop and think before you say you have a tummy ache."
Asked if they were approaching the story so that another actor could take the lead if Swayze couldn't go on, showrunner John Romano said, "We're taking our cues from Patrick. The only rough conversations I have with Patrick is him asking, 'Are you writing me down? Are you having me climbing fewer walls than usual?' [CSI is] not our model. All of our thinking is about Barker as played by Patrick Swayze vs. the Beast."
Swayze had flown from his ranch in New Mexico to L.A. to be at the panel, but had to be hospitalized with a persistent cough that turned out to be pneumonia.
Asked how he planned to rebound from his latest setback, he told People at the time, "One foot in front of the other. And never lose sight of some goal—whatever that happens to be—when you wake up in the morning."
Swazye died that September.
A few months beforehand he wrote in what would be the foreword to his book, which Niemi helped finish, "Together with Lisa, I'll keep on pushing, keep on believing. Because that, in the end, is the greatest gift we have."
(Originally published Aug. 18, 2019, at 4 a.m. PT)
Source: Read Full Article