A friend of mine was working on a project for Yarra Plenty Libraries, and asked if I'd write a few sentences about what my local library means to me. Not an unreasonable request, yet one that caught me off guard and left me struggling for something meaningful to say.
My problem was that I hadn't used my local library in years. Not since my children were pre-schoolers. These days I'm more likely to buy a book than borrow one, and if there's research to be done I head to the State Library.
It was a very different matter when I was a child. Most Sundays, Dad would take us kids to our local library in Sydney, where we'd be left to wander among the stacks, browsing the seemingly endless collection of books, so imposing when compared with the contents of our single modest bookshelf at home.
I remember ranging into the adult collection for the first time, leaving the children's books behind for the excitement of the unknown. It seemed like the whole world was laid out there, and now I was allowed to borrow it and take it home, bit by bit.
Dad would also borrow on these library visits, not just books for himself, but cassette tapes too, audiobooks, which we'd listen to in the car on our long family holiday drives.
And, reminiscing about all this, I suddenly realised that I had visited many local libraries in recent years. Not for myself, but for my father. In his final years, my Dad started losing his eyesight, until he was unable to read. My father was an intelligent man with an active mind and I think this was the hardest part of his many illnesses.
I bought him an iPod, thinking it might be a partial solution. "You can listen to podcasts on this!" I'd enthused. But he wanted none of it, insisting he'd never get the hang of the thing. Instead he dug out an old portable CD player, and started listening to audiobooks. "The library has shelves full of them," he insisted. "I just need someone to take me down there."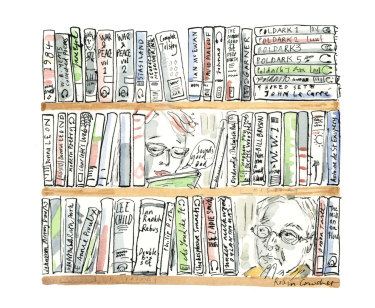 Credit:
Those trips to the library became the constant for us, the first point of order when I visited him in Sydney. Dad would stand next to me while I ran through the titles, reading out the blurbs. "No, already read it," he'd say, or "Can't remember, put it in the bag". One way or another, we'd always leave with his bag bulging and he'd be set for another fortnight.
For the next two years, that CD player was my dad's constant companion. Whenever I flew up to Sydney I'd find him sitting in his lounge chair by the window, earbuds in, a stack of audio books piled next to him. On the other side of his chair would be a supermarket shopping bag, where he'd put the CDs he'd finished, ready to be returned to the library.
Dad's final years would have looked very different if it weren't for those audiobooks, and the libraries that provided them.
When he went to hospital, the CD player would go with him, along with a bag of fresh batteries. It stayed next to him in palliative care too, in use until his last week, when he wasn't well enough to listen any more.
Dad's final years would have looked very different if it weren't for those audiobooks, and the libraries that provided them. Yet I'd taken them all for granted, to the extent that when I was asked to write about what local libraries meant to me I'd been unable to think of anything.
I remember one of our final library visits, when Dad told me about a story he'd been listening to, involving a little girl who was gravely ill. A story that had deeply moved him. "Makes you realise how lucky we are, doesn't it," he said.
By then Dad had to sit on a stool while I read out the CD titles, because he couldn't stand for long. He'd been sick for years, his vision was almost completely gone, he was losing his hearing and I suspect he felt far more pain and discomfort than he admitted. Yet that story made him feel grateful for his life.
That's what local libraries meant to my Dad. What they meant to me was precious time spent with him in a place he once took me to open up my world, now transformed into a place that kept his world open. How many other lives must be similarly changed by our seemingly modest local libraries, their quiet importance only fully felt by those who rely upon them?
@monicadux
Source: Read Full Article