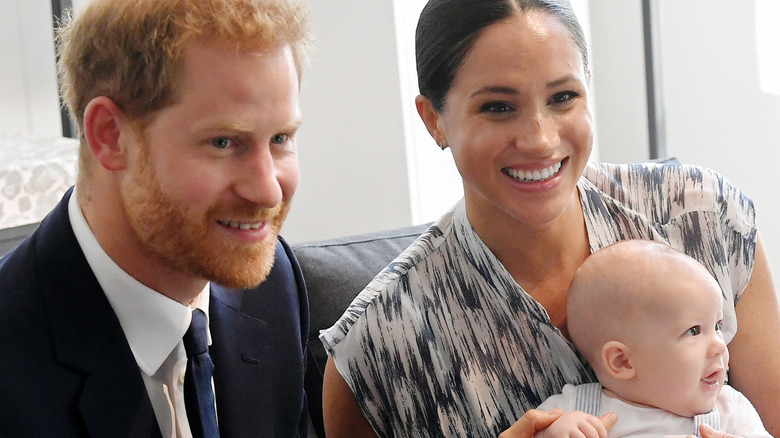 When Prince Harry married Meghan Markle in 2018, he was given a number of titles — Duke of Sussex, Earl of Dumbarton, and Baron Kilkeel — the second being his Scottish title, and the third is the one he is known by in Northern Ireland (via Tatler). 
Now it appears that Harry and Meghan decided to not have Archie use the Scottish title — which was first created in 1675 for a peer in recognition for his service — because it had the word "dumb" in it. The Telegraph, which reported the story, quoted an unnamed source as saying, "They didn't like the idea of Archie being called the Earl of Dumbarton because it began with the word 'dumb' [and] they were worried about how that might look." The concern, another insider said, didn't just come from Meghan, but from Harry too. As Harry's firstborn son, Archie would have been entitled to that title. 
Discussions over the use of titles for Archie, and now his younger sister Lili, have not stopped swirling because of the March interview their parents gave Oprah Winfrey. Before then, Harry appeared determined that any children he would have would be raised like his cousins Peter and Zara Phillips, who don't have any titles. 
The Telegraph has said a spokeswoman for Harry and Meghan "declined to comment."
Social media users rose up to defend the Scottish town of Dumbarton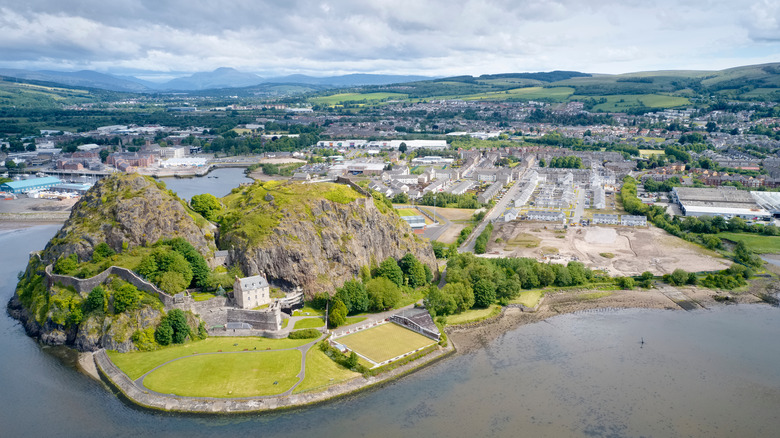 The report didn't sit too well with a number of social media users, particularly those who know of the town with the now-maligned name. One thoughtfully provided the etymology of the area's name, tweeting: "The name 'Dumbarton' comes from the Scottish Gaelic Dùn Breatainn meaning 'fort of the Brythons (Britons)' and reminds us that the earliest inhabitants of Clydesdale spoke a form of Welsh." A Dumbarton resident also took to Twitter to explain what her town was known for: "History of shipbuilding, glassblowing and of course whiskey. A great many ships were built in the town, the most famous of which is probably the Cutty Sark she was one of the final Tea Clippers to be built, and one of the fastest. The ship is the last survivor of its type."
But not all the tweets were as highbrow. One tweeted: "Bet the inhabitants of Dumbarton are thanking their stars for their lucky escape but also on the other hand it's an insult to the villagers with the implication of them all being called dumb."
Source: Read Full Article