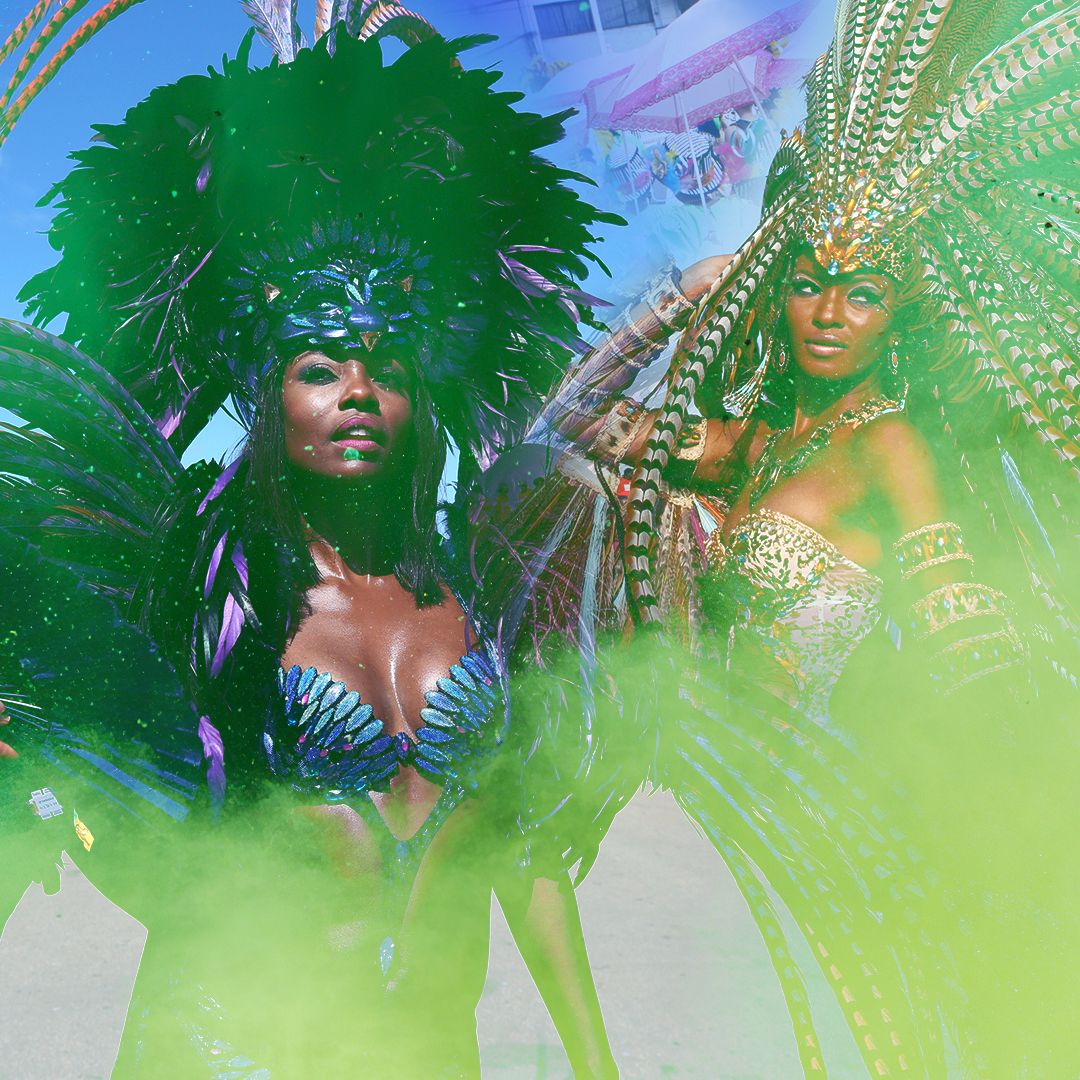 Carnival, Crop Over and the West Indian Day Parades of the Caribbean Diaspora have always been sites of release and exuberance. This year, with so many celebrations cancelled or delayed and so many unable to travel and join in, Caribbean and Caribbean American writers reflect on the many meanings and experiences of Carnival.
My first February in America was endured. It seemed unnecessarily spiteful that the coldest month in New York coincided with Carnival season back in Trinidad. My gut-wrenching homesickness mocked by deceptively bright freezing days, banks of hardened black snow, and foreign leafless trees. How could this same planet also house a warm emerald island in the Caribbean Sea that was in the lead-up to the most frenzied party in the world? I was miserable.
The pang lessened in late summer, when, in addition to surprising levels of humidity, Brooklyn, revealed a tropical surprise: Carnival in the form of the West Indian Day Parade, also known as the Labor Day Parade. It's a misnomer to call Carnival a parade, though. Parades are slow and boring, their floats carrying military veterans or beauty queens or, I don't know, roses? Carnival, to the contrary, is all the best reasons for being alive: music, food, alcohol, glitter, love, and people.
I love Carnival unabashedly, insanely, even irrationally, an unconverted celebrant might think. Crown Heights in early September had it all: hot sun, skimpy beaded-and-feathered costumes, elaborate king and queen ensembles, rum, nonstop feting for days leading up to the big bash, soca music the way it's meant to be played—blasted from slow-moving semitrucks stacked to the sky with throbbing speakers. And best of all, throngs of hyphenated Caribbean-Americans: Haitians, Jamaicans, Trinis, Bajans, and all the rest. Carnival compressed and squared.
If the music touches you, it is useless trying to curb the impulse to move.
I found home on Eastern Parkway. Lost amid reveling bodies, many of which contorted during the rest of the year into positions of domestic labor: nannies and nursemaids, caretakers, housekeepers. Freed in the anonymity of belonging, we partied like our very lives depended on the sustenance of this day. Anyone could celebrate, but Labor Day was a day for we. In 27 years, I missed carnival only three times.
Saying goodbye to Brooklyn was hard. A tenure track job teaching Creative Writing is a very good gig, but was there Caribbean culture in Orange County, Orlando? Technically, I'd moved closer to the islands; poet Derek Walcott describes Florida as a foot dangling in the Caribbean Sea. Close, but no Labor Day or Crown Heights or Caribbean community.
Another first year to endure. I found 45 minutes of solace every morning, when I popped in headphones and listened to DJ BuzzB, a Toronto selector with Trini roots who I imagine similarly marooned. He plays strictly soca. I moved to Orlando and became an urban legend. A colleague saw me running around Lake Baldwin. Doing, like, Jazzercise? Not quite, but soca music demands externalization. It's excruciating, really, to feel the bass and not be able to dance. In How It Feels to Be Colored Me, Zora Neale Hurston writes about visiting a Harlem jazz joint with a white friend and being flung to Africa when the music starts. She takes a spiritual journey to the motherland, dancing wildly inside herself, and when she returns, baptized by the rhythms, her companion drums his fingers on the tabletop, and says, "Good music they have here." If the music touches you, it is useless trying to curb the impulse to move.
I found Ian in IT. He had lived in America for more than 20 years and sounded as if he'd just deplaned from Port of Spain. When we met for lunch, he told me he was hosting a fete on campus. Not "a party," a fete. "Yeah, man. All inclusive. Food and liquor. You should come."
A rhell fete. At our predominantly white, elite, and expensive private college in genteel Winter Park? A fete for who? Students, colleagues? I shelled out $65 for the all-inclusive ticket. iLAN Productions. Good People, Good Food, Powerful Vibes. It sounded authentic.
Fittingly, the fete was on Memorial Day weekend. I took the now familiar cobblestoned path to the campus art museum. The semester had just ended, but I thought about the bodies that usually inhabited this space. Despite our proximity to the islands, not very many were Caribbean. It was the end of my first year, and though I considered it a success, I was starved. The strangeness of going to a fete at 6:30 p.m. Ian explained that he could book the venue only until midnight, and even framing the museum patio as "the venue" was enough to summon delicious memories of long closed Caribbean clubs in Brooklyn, Tilden Hall, and Golden Pavilion. I wore a sparkly top, tailored shorts, and shoes meant for dancing. Regardless of who was there, I planned to dance.
The bass thumped. Someone checked my ticket. A lady bouncer pat me down, and someone else tagged a yellow bracelet on my wrist. It read: Fun Til d Party Dun. A photographer snapped my picture under a welcome banner. I slipped around to the back of the museum and entered a portal to a Caribbean wonderland. I was at a fete. The caterers served roti and jerk and pelau and souse. The bar served white and red rums, and Carib and Red Stripe. And there were hundreds—it looked like hundreds—of mostly Black people, dancing, eating, laughing, feting. I didn't know a soul, and yet I knew everyone. It is not a coincidence that the most popular band in Trinidad Carnival is called Tribe. The only hard and fast rule for membership is dancing. I got a rum and Coke, melted into the melee, and danced until midnight. It was enough to last until the next year.
Like every other event, Ian canceled last year's fete, and I'm not hopeful for 2021. It's a small sacrifice, in this time when so many have been sacrificed. For now, I have BuzzB. The urban legend has returned. Some say that if you're out early in the morning, you can see her on the corner of Hall and University, waiting for the light to change, but look again and she's dancing, shaking her entire body, and then the light changes and she's gone.
Source: Read Full Article