Out of the entire Kardashian-Jenner clan, Khloé Kardashian has undoubtedly had the most tumultuous love life. I say that without an ounce of shade: Khloé's my favorite Kardashian. And as is the case with all Cancers in my life (her birth date is June 27, 1984), I feel deeply for her. Cancers have a low B.S. tolerance in every aspect of their life — incompetent co-workers, demanding professors, the rando who cut them off merging — except their love life. Looking back at her dating history, Khloé Kardashian's most astrologically compatible ex is actually the one you'd least expect.
The frustrating and wonderful fact about Cancers, Kardashian included, is that they're deeply loyal. They'll go to bat for their loved ones and their loved ones' loved ones. I mean, has there ever been a controversy where Kardashian didn't hop on Twitter and pipe up in defense of her sisters?
Still, Cancers will also do anything to pave over rifts and move on from conflict. This includes forgiving friends' and family's bad behavior, even when they don't deserve it. Looking at Kardashian's dating history, that quintessential Cancer move is all too familiar. That being said, here's a look at Kardashian's astro compatibility with past partners — and the one who wins out might surprise you.
Lamar Odom, a Scorpio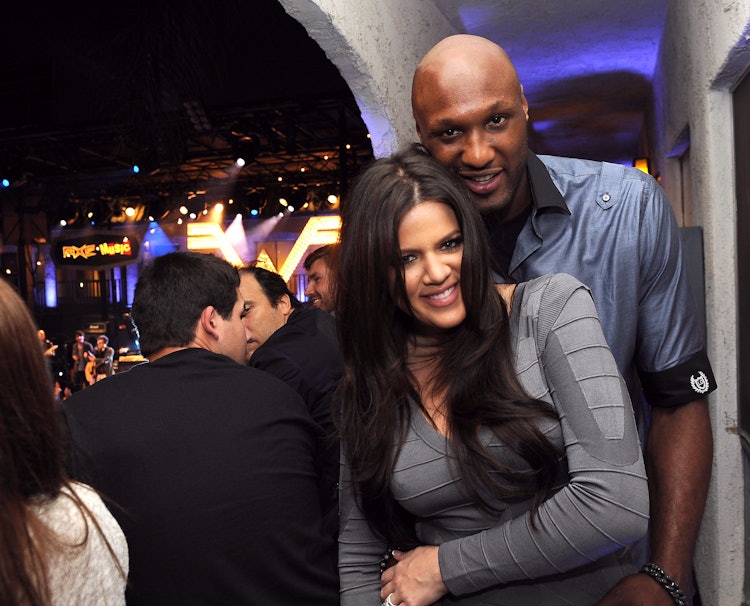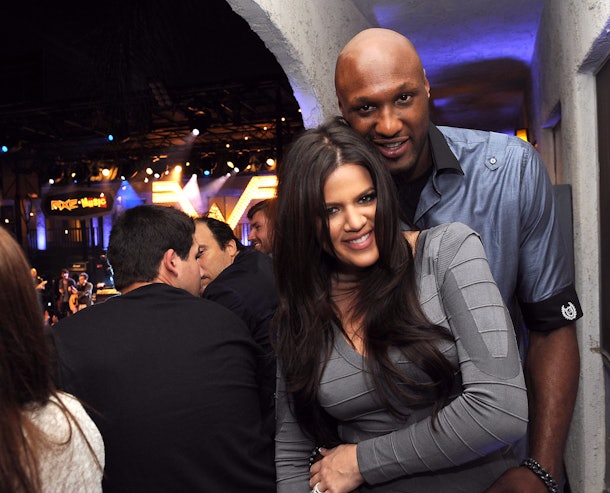 With Nov. 6, 1979 birth date, NBA player Lamar Odom was born in Scorpio season (Oct. 23 — Nov. 22). When talking about Scorpios, there's no getting around it: They have a reputation as the super sexual sign that's def down to try kinky stuff in bed. They're also dark, a bit petty, and "tough to crack," which only adds to Scorpio's appeal and mystery. It can also make them difficult partners, because they'd rather keep their emotions and problems to themselves than work through their issues.
Scorpios may sound like the opposite of what a sweet Cancer is all about. But they're both water signs, meaning that a Scorpio-Cancer couple will always be on the same page when it comes to their emotional needs being met. It kind of makes sense that Odom and Kardashian got engaged and married within one month of meeting each other in 2009.
Still, for two years, Odom and Kardashian struggled privately with Odom's drug addiction and alleged cheating. Then in 2013, after Odom went missing for 72 hours (reportedly on a drug-related binge), Kardashian filed for divorce. But Odom almost overdosed in 2015. And in true Cancer form, Kardashian halted the divorce proceedings to help her ex make a recovery. They officially divorced in 2016.
French Montana, another Scorpio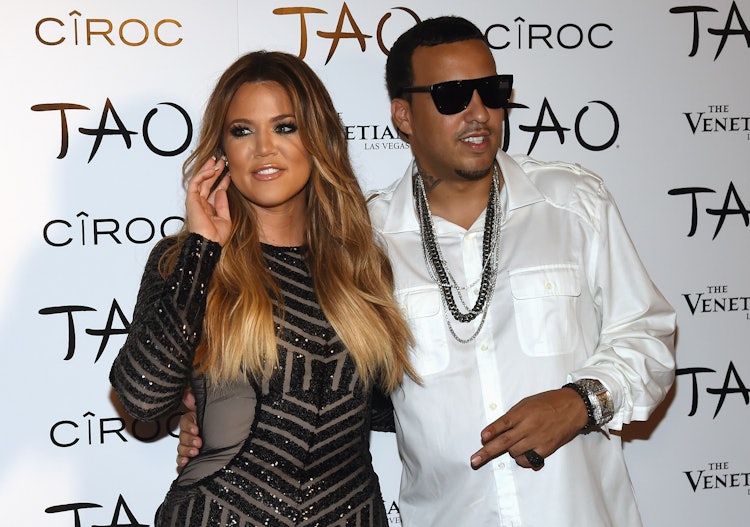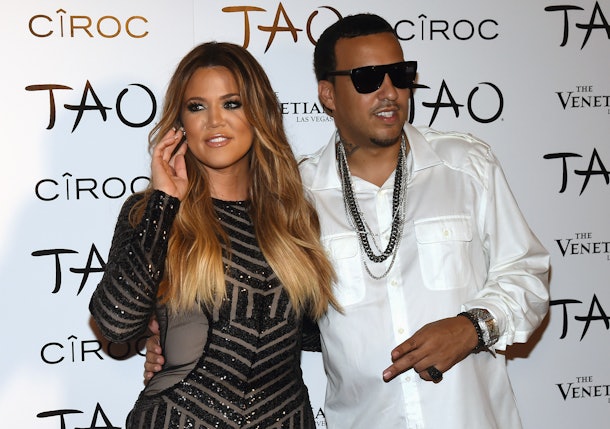 French Montana's birthday is a few day after Odom's: He was born Nov. 9, 1984. Knowing that Montana is a Scorpio, dating him was probably fun for all the reasons dating Odom was. (See Montana's "Bust It Open," "Freaks" ft. Nicki Minaj, and "Pop That" ft. Rick Ross, Drake, and Lil Wayne for classic examples of a Scorpio's sex drive.) Kardashian very publicly dated French Montana, from 2013 — 2014.
But, considering how short their union was, all the not-so-fun things about dating a Scorpio that probably reared their head, too. Kardashian would go on later to say, "I jumped into something because I was just lonely and destructive."
Tristan Thompson, a Pisces
Apart from the archetype of tall, brown men and/or athletes, we see that Kardashian's type is truly a water sign man. Pisces, like Scorpio, is a water sign. And Thompson's March 13, 1991 birth date drops him into Pisces season (which runs Feb. 18 — March 20).
So, like Odom and Montana, Thompson has the emotional depth and mystery that come with water signs. But Pisces in particular are deep thinkers, creative, and intuitive. They also have a tenderness about them that is missing from Scorpios, and this contributes to them being super devoted in bed. This is why Thompson is actually the best astrological fit for Kardashian: Pisces have the sweetness and sensitivity of a Cancer, but the sexual passion and dreaminess of a Scorpio.
It's probably why, apart from sheer Cancerian determination to make things work, Kardashian has held on so tightly to her relationship with Thompson. The story goes that Kardashian's best friend Malika Haqq introduced the two in 2016. Shortly after, they were seen taking vacations together. In September 2017, news of Kardashian's pregnancy with Thompson's child broke. And you might remember how, right as Kardashian went into labor with her daughter True in April 2018, allegations of Thompson's cheating surfaced. This all came before the alleged Jordyn Woods drama of early 2019.
It's tough, because as a Cancer, Kardashian is soft at her core. It's probably extra tough to balance seeing the good in someone (as Cancers eternally do, especially for family) and confronting their terrible behavior, as well.
As it stands now, Kardashian is firm in her choice to not date any time soon. As a guest on the podcast Divorce Sucks with Laura Wasser, Kardashian said she's focused on giving her love to true. "I don't feel a sense of urgency to be in a relationship or even go on a date," Kardashian explained. After all that she's been through? Sounds healthy and very understandable! When Kardashian is ready to start dating again, though, here's hoping she finds another water sign (preferably a Pisces!) who can treat her like the Cancer queen she is.
Source: Read Full Article