The Princess of Wales is currently making a case for dopamine dressing and we are loving it. She recently gave the Barbiecore trend a royal glow-up, and now fans have gone wild for the major red suit she wore to a BAFTA event on January 30. Eagle-eyed sartorial fans were quick to question if she wore the exact same blazer that Meghan Markle wore last year.
Kate Middleton wore royal go-to designer Alexander McQueen, wearing the brand's Leaf Crepe Drop Hem Jacket and matching Narrow Bootcut Trousers in 'Welsh Red' (an apt colour name). The Princess was bang on-trend, as red was a major street-style trend at Couture Week 2023.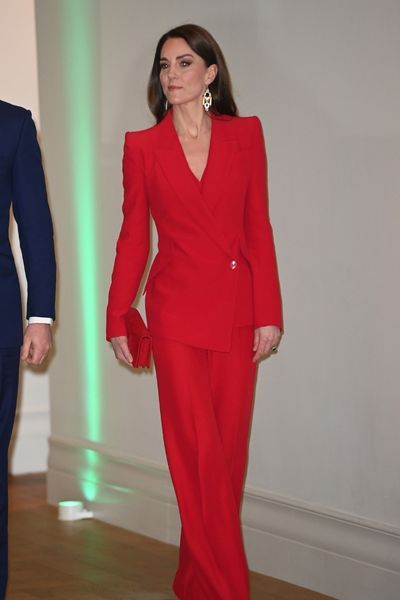 The Princess wore an asymmetric blazer from Alexander Mcqueen
MORE: Princess Kate just added another stunning pair of affordable earrings to her jewellery collection
RELATED: Princess Kate just gave the Barbiecore trend a royal glow up
The design details that made this suit stand out against her usual stunning tonal two-pieces, was the drop hemline and off-centre button on the blazer, forming a flattering asymmetrical silhouette.
This distinguishable style is identical to a blazer the Duchess of Sussex wore last year.
Meghan wore a pant-suit with the same single-breasted blazer, drop hemline design and matching straight leg trousers for The Cut, though Proenza Schouler confirmed that Meghan's two-piece was its design. She wore a "custom off white bi-stretch crepe cinched jacket".
Oversized blazers have been having their moment for a few years as the go-to style to exist in an evergreen wardrobe, giving a smart feel to relaxed style agendas. We've already predicted that Rosie Huntington-Whiteley's feather trim blazer will become the ultimate 2023 partywear trend to try this spring, but if that's not your cup of tea, perhaps try a drop-hem tailored silhouette for a royal-approved look.
MORE: Princess Kate and Prince William step out for special night ahead of royal's campaign launch – best photos
LOOK: Queen Letizia's styling hack is the perfect alternative to Princess Kate's ball gowns
This isn't the first time the two have worn matching styles. Last month Prince Harry and Prince William's wives wore similar dangle earrings, proving that the classic bijouterie is back. Meghan Markle wore a pair from Carolina Herrera that were a complete designer steal, meanwhile Kate sported a similar pair to the annual christmas concert at the Royal Albert Hall from Accessorize, which cost just £14.
The Princess also sported a pair of affordable earrings with her red suit. Hello! Fashion's digital editor Natalie Salmon explained: "The royal wore a pair of affordable earrings, which come in at a modest £75 from Chalk. Chalk's collections are influenced by architectural elements, everyday objects and bold colourful cultural patterns."
Yet again, our modern monarchy proves their status as royal fashion icons.
Like this story? Sign up to our Hello! Fashion newsletter to get your weekly 'Fashion Fix' delivered straight to your inbox.
Source: Read Full Article