Kate Middleton and Meghan Markle are the Duchesses of Cambridge and Sussex, respectively. The women married into the royal family at very different times, but they both have had to adjust to the various rules and protocols that come with being a royal. Whether it's public behavior, dress code, or showing affection, each of these two women has broken protocol before. But who does it more often?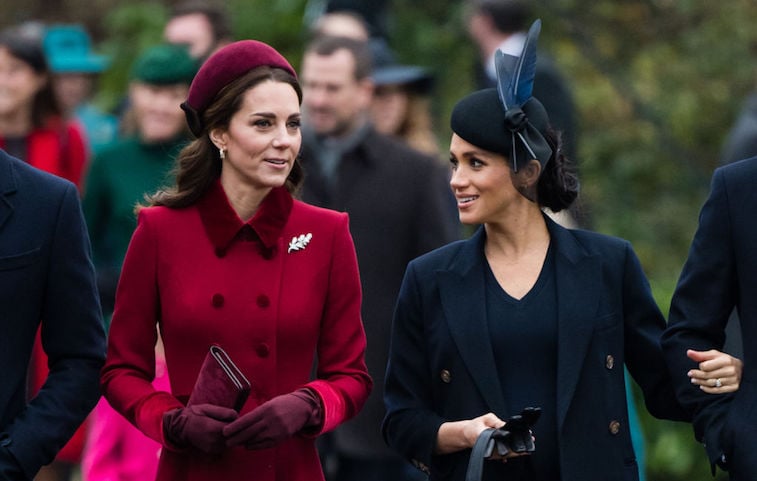 Meghan has earned a reputation for defying the royals ever since she married Prince Harry
The minute the news broke that Harry was dating an American, everyone could tell things were about to be shaken up within the royal family. Although the queen and Meghan appear to get along, Meghan definitely isn't a traditional royal. She's done things her own way from the start, from wearing black nail polish to a public event (the British Fashion Awards) to completely redefining the royal birth tradition. However, people have also been very quick to judge Meghan for not easily adapting to royal life; it's a completely different way of living, and though she's broken many rules, it doesn't appear to be out of animosity.
Kate has a more intense set of rules that she's more likely to break
Kate and Meghan might both be duchesses, but as time goes on, their roles in the royal family will grow increasingly different. Meghan is married to Harry, who is far down the line for the throne and likely will never rule. On the other hand, Kate is married to Prince William, who is guaranteed to rule provided he has good health and a sound mind. Kate will one day be the Queen Consort, which means her royal rules are more intense than Meghan's. While Meghan can get away with the dark nail polish, Kate wouldn't dare. And there were reports that Kate even had to cut her hair shorter at the queen's suggestion. The future Queen Consort definitely has a lot on her plate, and she's been much more traditional in her decisions than Meghan, but that's more or less because it's more important for her to do so.
Both women have defied the dress code several times
When it comes to the royal dress code, both women have made their mistakes. Meghan has worn off-the-shoulder dresses in the past, which are normally not tasteful to the royals. (She happened to wear an off-the-shoulder dress on the same night she wore dark nail polish — a double whammy.) And Kate has been spotted wearing dresses that are a shorter than the queen would like; both women tend to wear short dresses. Kate also wears tight-fitting pants frequently. While Meghan and Kate have very tasteful styles, there are many rules to play by in the royal family, so they break the dress code more often than we probably realize.
Meghan appears to be doing everything her own way — including parenting
At the end of the day, Meghan is probably less traditional than Kate and follows protocol less often than Kate does. But a major reason for that is because Meghan isn't married to the future king. Even when it comes to parenting, Harry and Meghan appear to be taking a different approach than the rest of the family. Harry walked out with Archie when the couple introduced him at Windsor Castle, which was believed to be a statement by the two that they would take an equal responsibility in parenting. Although Meghan might break royal rules more than Kate, both women appear to be respected by the queen, and that's all that matters.
Check out TheCheat Sheet onFacebook!
Source: Read Full Article